Jill Biden And Mary J. Blige Team Up For An Important Cause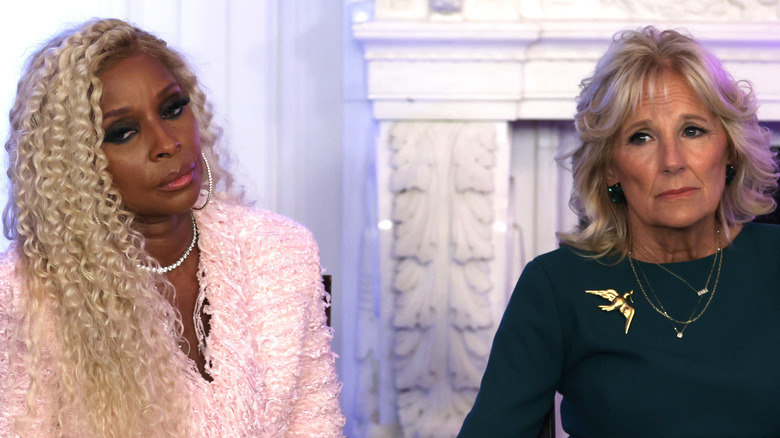 Alex Wong/Getty Images
The White House is no stranger to celebrity visits: from Olivia Rodrigo's press conference on COVID-19 vaccines to the Mental Health Youth Action Forum featuring Selena Gomez, celebrities have taken to the White House to promote the causes that are important to them, hoping that their star status will encourage positive change (via USA Today). In less than two years in office, the Biden Administration has already worked with many celebrities who have personal connections and experiences with the administration's initiatives to amplify the importance of these causes.
One of the Biden Administration's latest efforts is the "cancer moonshot" initiative, aimed at funding cancer research with the hopes of finding a cure. According to a press release back in February, the White House aims to "reduce the death rate from cancer by at least 50 percent over the next 25 years." In addition to these efforts, they seek to raise awareness for cancer prevention and enlisted the help of the queen of Hip Hop Soul, Mary J. Blige, to use her voice to promote the importance of this cause. Blige connected deeply with the cause of cancer prevention, making her the perfect spokesperson to inspire others and make a difference.
Cancer screenings save lives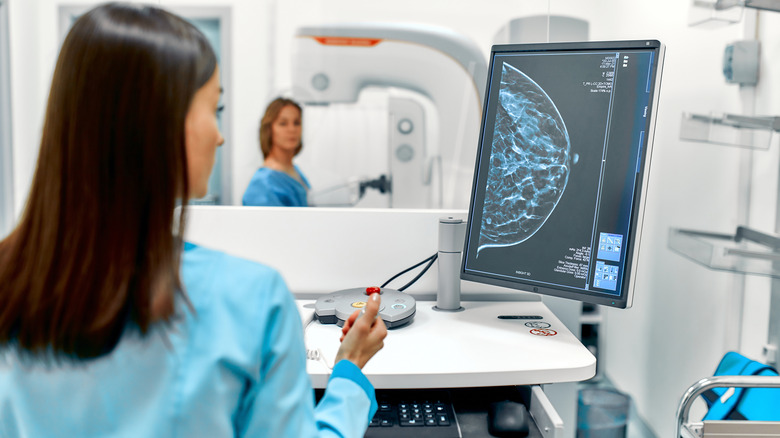 ORION PRODUCTION/Shutterstock
The American Cancer Society held a roundtable in the State Dining Room of the White House on October 24, and First Lady Dr. Jill Biden invited Mary J. Blige to help promote their message of prevention for breast and cervical cancers and the importance of accessible cancer screenings. According to US News, Blige became emotional at the roundtables as she spoke about how important this message is to her personally, revealing that she has lost many family members to cancer that she believes could have been prevented with proper screenings. She spoke about the disproportionate number of Black women who are affected by types of cancer due to stigmas surrounding screenings in the community.
Breast cancer is the leading cancer in women, and is the number two cause of death among Black women, after heart disease (via CDC). When discussing breast and cervical cancer, promoting prevention and treatment in the form of thorough screenings are at the top of the to-do list. Per the Brain and Spine Neuroscience Institute, women should begin getting screened for breast cancer via mammogram at age 25, and screened for cervical cancer at age 21 during their yearly pap smear. You can also detect symptoms of breast cancer early by performing at-home breast exams, and talking with your doctor if you sense anything abnormal.