Tights Are In For Fall, But Not In The Way You'd Expect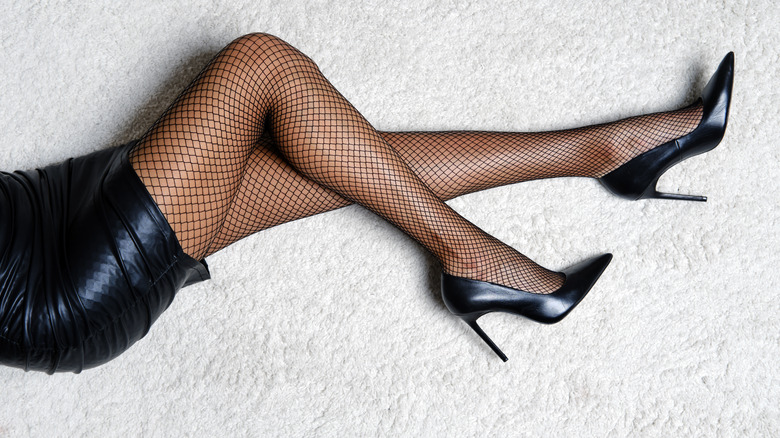 Aleksei Isachenko/Shutterstock
Tights are convenient, chic, and stylish, making them a wardrobe staple for even marginally cold weather, so it's no surprise some people wear tights every day of the week regardless of how cold it is. There is also a wide variety of ways to style tights, whether you're wearing them under skirts, dresses, or even with ripped jeans for a grungier look. 
When you think of this light garment, the first image that probably comes to mind is a subtle beige, black, or gray pair for a classic, ladylike appearance. But, believe it or not, the tights trend for this fall is the complete opposite. As the weather gradually gets colder, fashionistas are saying goodbye to traditional pairs of tights and trading them for something bolder. 
"It seems like a natural progression that we are seeing more of an evolution with tights themselves," Brigette Crisp, a fashion creator, and creative director, told Byrdie. Here's how you can update your tights game as the weather gets colder, and the nights grow darker. 
Bold and colorful tights are big this fall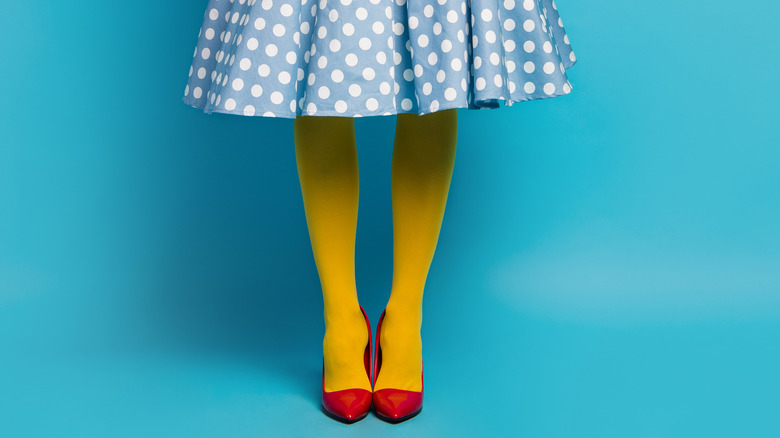 Roman Samborskyi/Shutterstock
As Brigette Crisp explained to Byrdie, "Tights are playful to me. I feel mischievous when I wear a bold tight. It's also a fun way to incorporate color or patterns without it overtaking the whole focus of the outfit." At the time of writing, there are already thousands of posts under the #colorfultights hashtag on Instagram, so clearly, this is a big trend for fall.
In "Me Before You," the main character, played by Emilia Clarke, screams with excitement upon receiving a pair of bumblebee-style yellow tights with black stripes as a present (via YouTube). While her style was considered quirky, she'd be very trendy today, fitting right in with the popular "weird girl aesthetic."
Wild tights are all about being playful and expressing yourself, so be creative and have fun! There are plenty of eye-catching tights on Instagram, including green floral tights, bright pink tights, and daring neon red tights. You can also find a ton of content related to the trend on TikTok. For instance, one user paired a blueish-purple pair with a chic miniskirt. 
Elsewhere, another TikToker showed herself rocking yellow, blue, purple, white, and pink tights, all with differently styled, unique outfits. Of course, this fun, fall fashion trend isn't everyone's cup of tea, as people with more minimalistic styles will likely be intimidated by the look. But, if you think it seems like a good way to express your individuality, why not give statement tights a try?