The Best And Worst Ways To Style Tights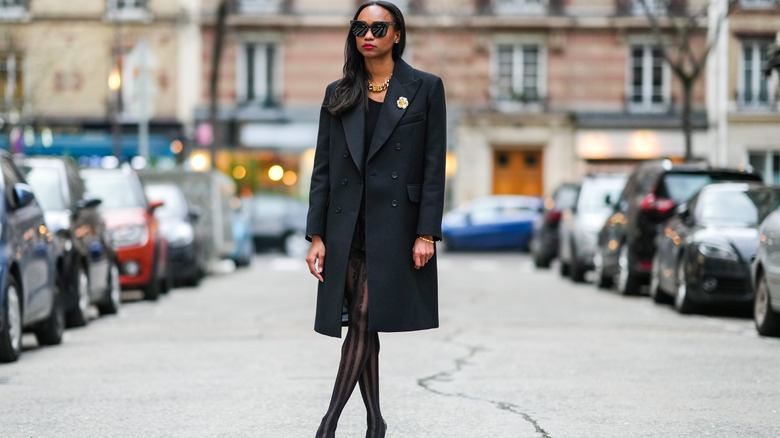 Edward Berthelot/Getty Images
In the words of "Game of Thrones," "winter is coming." Well, we mean it's already here and feeling very cold. With wintertime comes all the bundled-up clothes and accessories we associate with the season. Gone are the summer days where a floral slip dress would do, paired with sandals and sunglasses — whether going to a beer garden or dinner at a friend's house. Winter is another ball game, involving layers upon layers to make sure you don't freeze. While some of us are tempted to brave the (snow) storm with a mini dress and a huge coat on top, there's no denying that legs get really cold if not shielded from the icy wind. Yep, the days of bare legs in under 40-degree weather are gone for us, so a little thing called tights are as crucial as ever.
If you live in a cold weather city, chances are you have tights in your drawers already. The staple is common in most of our wardrobes for a reason: Tights are convenient, allowing you to wear shorts, miniskirts, and dresses even when it's cold. This means you can use more pieces in your wardrobe when it gets chilly, instead of whittling down your winter style to just pants, boots, and sweaters. The thing is, sometimes tights can be a bit confusing to get right. If you've ever doubted how to style your tights for fall and winter, we've outlined exactly the best ways to do so and the worst.
The absolute best ways to wear your tights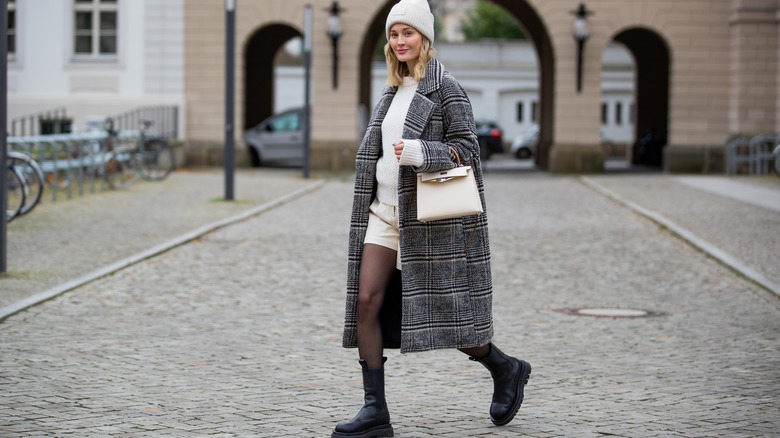 Christian Vierig/Getty Images
There are tons of different styling options with tights that are chic, fashionable, timeless — and very importantly, as warm as can be. According to Vogue, one of the best ways to style tights in any fashionista's playbook is pairing them with shorts. While you might scratch your head at the combo, the end result is actually extremely cute, while still being weather appropriate. As per the outlet, the pair is "the ultimate transitional styling hack" and is the perfect answer to your "French girl wardrobe" dreams — aka the kind of outfits so often seen on French street style influencers like Jeanne Damas and Sabina Socol. According to the magazine, one of the best ways to get this Chanel-approved pairing right is by mixing black tights with rock-n-roll approved leather shorts, boots, and a sharply tailored white shirt. You can also wear tights under a shorts suit in a cool hue for fall-to-winter glam, or get inspired by "Emily in Paris" and opt for a tweed blazer or oversized plaid coat with shorts or a miniskirt instead.
If you're planning on wearing nude tights to the office, Fashion Week Online says you should remember to choose a pair that matches your skin tone and is completely matte for a natural, airbrushed look à la Kate Middleton. If you plan on going for dark tights, remember to stick to closed toe boots or loafers, and if opting for patterned tights, keep your outfit simple.
Avoid styling your tights these ways at all costs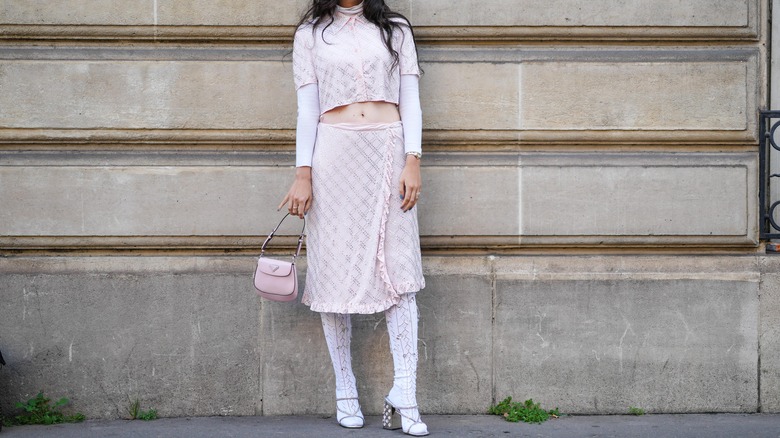 Edward Berthelot/Getty Images
Now, let's go through the wrong ways to wear tights that you should always avoid. While wearing tights seems simple enough (just put them under anything, right?), there are several fashion faux pas people make all the time.
As explained by Fashion Week Online, there are a few ways to get winter tights wrong, making the finished look seem frumpy instead of sleek and chic. First major "don't" is wearing your tights with open toe shoes. Tights pair best with chunky boots, loafers, or cool closed toe heels — not sandals, peep toe pumps, wedges, or any other kind of open toe footwear. Why? According to the outlet, closed toe shoes don't just look nicer with tights, but they also shield your feet from the cold and ensure your tights don't snag.
Another styling mistake to avoid is pairing colorful or patterned tights with an equally busy outfit. These kinds of tights should be paired with muted, simple pieces so as not to overwhelm the look. Even more "don'ts" include wearing tights with snags or holes, putting visible socks on over your tights, and wearing white tights. Detroit News cites the latter as something to always avoid no matter what. Fishnets can be interesting with an all-black outfit if heading out to a glitzy club or cool nighttime affair, but don't really work in regular day-to-day life. Also, midi skirts with tights can make you look shorter, so beware of that, too!