Fixer Upper-Approved Ways To Improve Your Home's Curb Appeal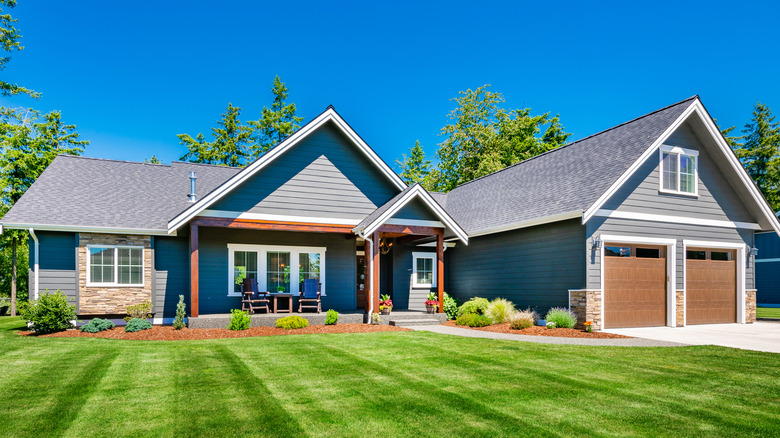 Sheila Say/Shutterstock
No one knows exterior and interior design better than Chip and Joanna Gaines. The stars of HGTV's "Fixer Upper" showcased their renovating and design skills throughout the town of Waco, Texas, gaining immense popularity with their audience. Today, the Gaines' run their empire Magnolia, a Texas-based home and lifestyle brand that includes Magnolia Network, Silos Baking Co., and Magnolia Home. Their newest venture follows the couple while they refurbish a hundred-year-old castle in the limited series "Fixer Upper: The Castle."
So when it comes to enhancing your home's exterior, this celebrity couple knows what they are talking about. If you're selling your house, you may need to amp up the curb appeal before placing it on the market. And even though we spend most of our time indoors, a well-designed facade sets the tone for the whole property. In fact, New York City Real Estate Guide, Off The Mrkt, says that a home with enticing curb appeal can boost your property value by up to 20%.
On the other hand, maybe you just take pride in your beautiful home and want to show it in the best light. Either way, Chip and Joanna Gaines have some terrific (and easy) design and decorating ideas for your property's exterior. Here are the best Fixer Upper-approved ways to improve your home's curb appeal.
Landscaping and flowers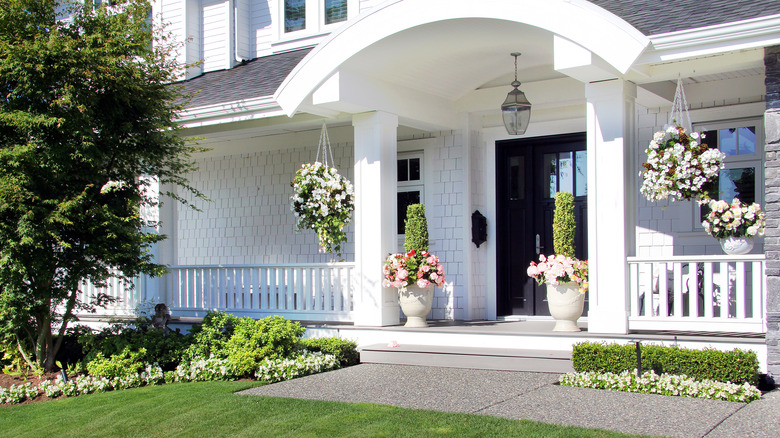 Hannamariah/Shutterstock
Maybe it's obvious, but a beautifully manicured lawn certainly tops the list of ways to amp up your curb appeal. The best Fixer Upper exteriors go beyond the basic green grass and boring shrubs by incorporating modern outdoor foliage such as ferns and monkey grass, per Nest of Posies.
But the grass isn't always greener. House Digest points out that the Gaines still manage to create inviting exteriors in desert climates using gravel and rock landscaping instead of grass while accenting with drought-resistant greenery.
A classic Fixer Upper renovation always has eye-catching planters sitting alongside the front door filled with small trees or seasonal flowers. "I also get excited about the change of seasons and love switching out the flowers in my planters to create a fresh feel . . . convert my summer planters over to fall, adding plants with different textures, which make[s] a big visual difference," Joanna Gaines told My Domaine.
Brick walkways, fresh mulch, and exterior lighting polish off a Fixer Upper-approved front lawn, as shown in this round-up by HGTV.
Dress up your door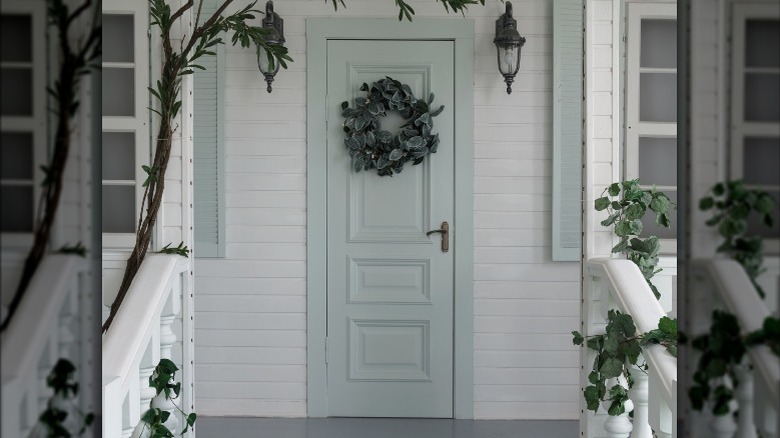 Ayman alakhras/Shutterstock
Chip and Jo consider the front door the focal point of a home's exterior design, as evidenced by a slew of their past remodels. They've been known to paint the main entrance in pops of color like red-orange and are usually adorned with their signature matte black hardware. But Joanna's favorite color for a door is actually black, she revealed to My Domaine.
Joanna can't get enough of holiday decorating — both inside and outside of her home. "Any place where I can add Christmas greenery, I do; I probably go overboard with it. There's nothing like holiday greenery in your space to help cozy up your home!" Gaines said during an interview with House and Home. She especially loves changing out the wreath on her front door each season. In fact, her lifestyle and home decor company, Magnolia, creates wreaths to decorate your front door and home all year long.
The Fixer Upper celebs assure us that you don't need to spend a lot to make an impact. Seasonal flowers, a newly painted door, and a great doormat are all you need to start amping your home's curb appeal, the couple told My Domaine.