What Can You Wear When The Dress Code Is Creative Black Tie?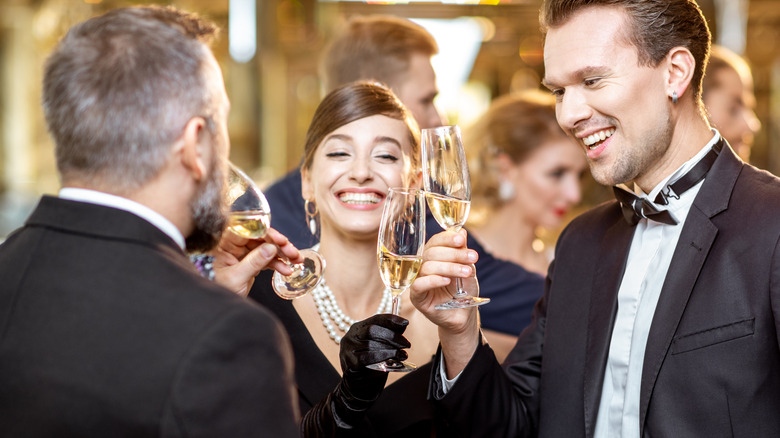 RossHelen/Shutterstock
You've received an invitation to a wedding, party, or another formal event. You think the dress code will be black tie, but on the invite is written "creative black tie." Now what? Deciding what you should wear to a wedding or other formal event can be a tricky task. Many people have managed to figure out the perfect outfit to wear to a super formal black tie event, but creative black tie is another ballgame entirely, and one that can cause frustration and impatience due to the finicky nature of dress codes.
Despite meaning to be useful, dress codes are, without a doubt, a nightmare for many. From business cocktail to smart casual, there are actually 10 main dress codes hosts can ask their guests to adhere to (via Brides). Creative black tie isn't as scary as it sounds, though. Ironically, it doesn't require that much creativity, either. According to etiquette blog Emily Post Etiquette, creative black tie is essentially black tie with more freedom. So, what exactly can you wear, and what should you stay away from?
Creative black tie allows you to get, well, more creative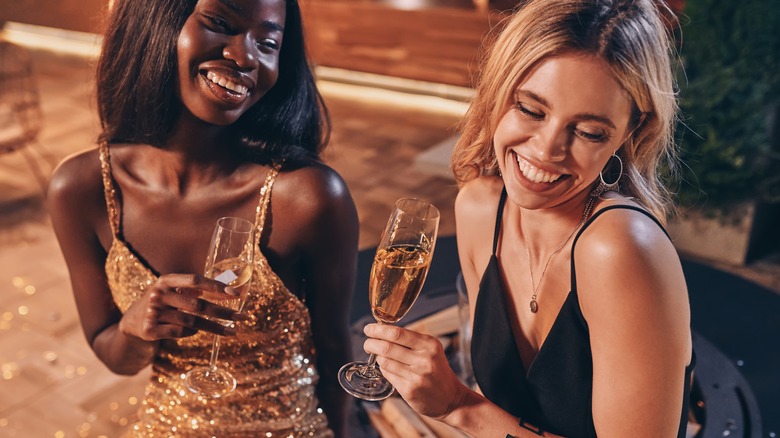 G-Stock Studio/Shutterstock
Creative black tie means you can get bolder with colors and textures instead of sticking to black. Per MasterClass, these colors should still be darker. Some good examples are jewel tones like burgundy, plum, gray, and navy blue — nothing too crazy.
Before you start to go all out with the glitziest dress you can find, it's important to review the facts you do have. As stated by Vogue, basic black tie usually means a dress, preferably long, in materials that are deemed more formal — think velvet and silk instead of cotton. However, if it's a wedding where you know the bride and groom love color, then a red velvet dress would go down better at that event than it would at a fancy birthday party with a more conservative host.
For most events, creative black tie still means a long formal gown, but you can jazz it up with sequins and patterns. Alternatively, a shorter cocktail gown is okay with some creative black tie dress codes, as is a more contemporary pantsuit look if you don't like wearing dresses.
However, there are still some do's and don't when it comes to attire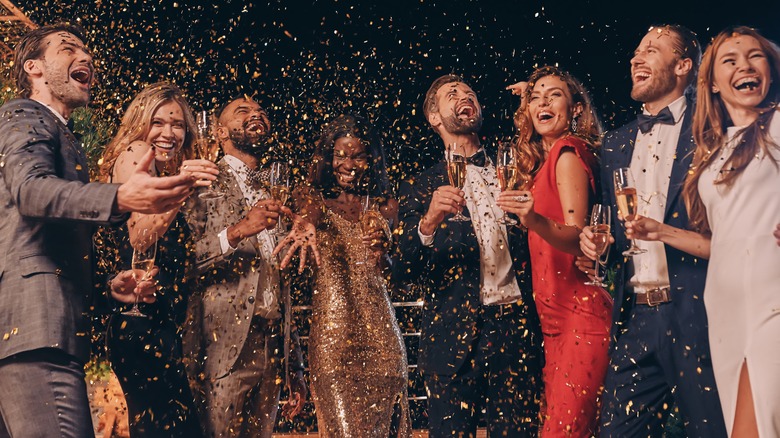 G-Stock Studio/Shutterstock
Men can think a little outside of the box when it comes to creative black tie, too. Emily Post Etiquette states that men should stick with a classic tuxedo. Nevertheless, you can make a black tuxedo more interesting by pairing it with a black or burgundy shirt instead of white. If that's not your style, a colored or patterned bowtie will add some creative flair without looking out of place.
The Gentleman's Gazette also recommends men add some creativity to their tuxedo with a cummerbund or waistcoat in pastel colors. If you're a bowtie fan, a silk tie with a striped or paisley pattern will go a long way when paired with a traditional black suit. Pastels not for you? No worries. A bright pocket square or even some colorful socks will still adhere to the theme in a subtle way.
The most important thing is to judge your outfit by what the hosts usually wear, and then make it your own.