Move Over Barbiecore Pink, This Color Is Taking Over The Limelight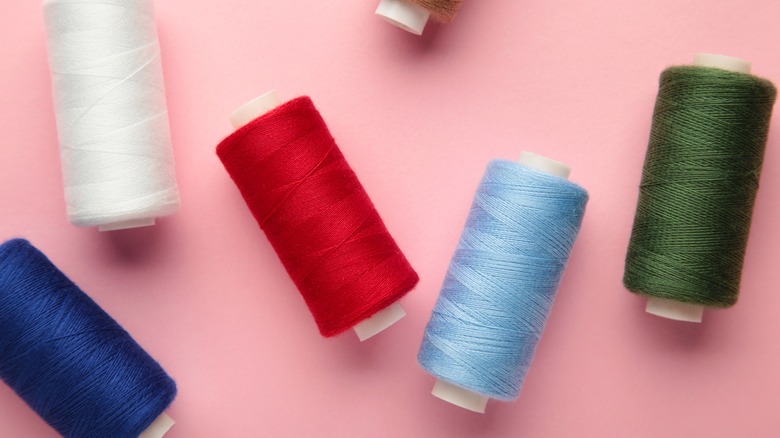 Mouse family/Shutterstock
Barbiecore, and its iconic hot pink color, has been all the rage in 2022. In part inspired by Greta Gerwig's upcoming "Barbie" movie, starring Margot Robbie and Ryan Gosling, and popularized by trend-setting TikTok, Barbiecore is an aesthetic featuring all things girly, pink, and classically Barbie (per Fanbytes).
Beyond TikTok's For You page, Barbiecore hot pink has also been popular in high fashion, with Valentino's Paris Fashion Week show featuring monochrome hot pink looks back in March (per USA Today). Many celebs, such as Anne Hathaway, Erykah Badu, and Madelaine Petsch, similarly wore daring pink outfits to the show (per Page Six and Mermade Hair).
Since then, an abundance of stars have stepped out in Valentino's barbie-pink looks (per People), and other fashion brands like Prada and Versace have incorporated the color into their lines. With this in mind, it seems like Barbiecore pink has cemented its place in 2022 pop culture, but another color seems to be edging into the spotlight.
Various shades of blue are growing more fashionable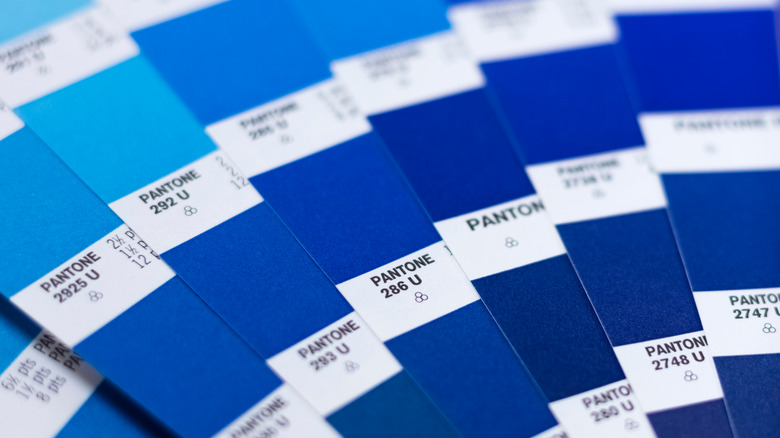 Art_rich/Shutterstock
For the fall and winter of 2022, you'll want to keep an eye out for trending hues of blues, as experts think this color is climbing the ranks (per InStyle). If you're wondering where this color trend is coming from, Marie Claire explains that blue has been a consistently popular color in the high fashion sphere, and L'OFFICIEL specifically mentions the popularity of cobalt blue in the previous fashion season.
Experts also discuss the calming influence of blue as a key to its popularity, as the color is often associated with healing. InStyle goes on to explain that cyan, a bright shade of blue currently experiencing popularity, takes the positivity and boldness associated with Barbiecore pink and makes it much more wearable.
In addition to cyan, cobalt blue seems to be sustaining the regard it gained in the last fashion season, with the color projected to be popular all throughout 2022 (per Woman and Home). Being rocked by stars like Anne Hathaway and Kendall Jenner, the trendiness of cobalt is reflected in some recent celebrity looks, too (per The Zoe Report).
Blue is also dominating the home design space this season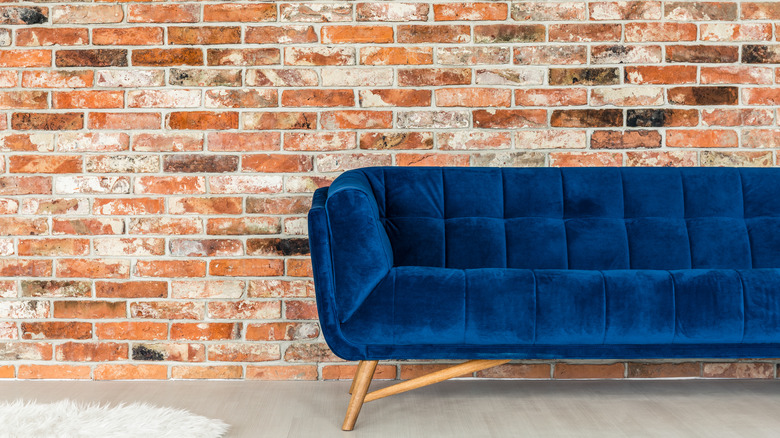 Ground Picture/Shutterstock
Beyond fashion, the popularity of blue is extending into home design, with many sources reporting on the prevalence of this color for fall and winter. Similarly to its popularity in fashion, the incorporation of bright blue hues, specifically cobalt blue, into home design is inspired by the color's mix of boldness and tranquility.
The Zoe Report explains that this color pairs well with many warm autumnal staples, such as brown and beige neutrals. The real appeal of the color is its versatility, though, as it can be dressed up or down to go with many different aesthetics.
Even in home design, blue can't seem to escape the popularity of Barbiecore pink with Brabbu reporting that both cobalt blue and hot pink are trending this season. Bold colors with longstanding histories, both the electric hues of blue and the feminine shades of pink seem to be trending this year, with only time telling which will be most popular by the end of 2022.