Here's What Makes M.A.C. Cosmetics' Latest Collab Doubly Special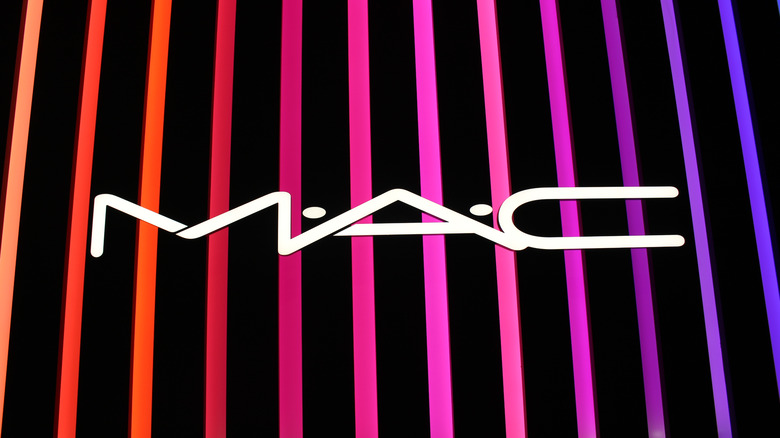 Mariia Semenova/Shutterstock
With the approaching premiere of the highly anticipated sequel "Black Panther 2: Wakanda Forever," fans and brands alike are ready to pay tribute to the game-changing franchise and its late star Chadwick Boseman. In September, Marvel announced a collaboration with Target that would see toys, home goods, and other "Black Panther" merchandise hitting the shelves ahead of the sequel's release. And M.A.C. Cosmetics wasn't far behind, announcing their "Black Panther: Wakanda Forever" collection, which drops November 1.
The sequel's trailers — which dropped in July and October, respectively — showcased some of the film's beautiful makeup design, as well as the franchise's award-winning costuming. Ruth E. Carter was the first Black woman to win the Oscar for best costume design for her work on "Black Panther," per Essence, and in 2018 she told Forbes about her inspiration for the film's color palettes and costuming. "So many African tribes were an inspiration to me," she shared. "The Masai, the Suri tribe, the Northern African Tuareg. The oxidized red clay, the vibrant colors of Africa ... you can translate it, seamlessly, to a futuristic model."
Afrofuturism has also played a key role in makeup design for both films, perfected by legendary makeup artist Joel Harlow. He told Bustle about the sequel's looks, "There's cultural significance there in a technologically-advanced version, but all rooted in the traditions of those tribes and cultures."
M.A.C.'s new palette has a special significance on and off screen that's sure to make fans feel like they're in their favorite movie.
The makeup corresponds to certain scenes
In an interview with Bustle, the makeup artist for "Black Panther: Wakanda Forever," Joel Harlow, explained that both the sequel film and the M.A.C. collection will build on the aesthetics featured in the original global sensation. "The shades picked for the collection are significant to the various tribes that were represented in the first film," he shared. "And [they] were then extrapolated into a futuristic version of what the looks and colors would be for this film."
After watching the film's trailer, fans may be ready to rock Letitia Wright's white eyeliner accents or copy Angela Bassett's smokey-eye look. Thankfully, there's something for everyone in the new collection from M.A.C., which will include an eyeshadow palette, four cream and four liquid lipsticks, gloss, liquid and pencil eyeliners, highlighters, and beauty tools.
As Senior Artist for the beauty brand Fatima Thomas said in a statement, "Like the vibrant world of Wakanda, #MACxWakandaForever features lavish, saturated hues that look fantastic on everyone — especially those with rich skin tones" (via Style Caster).
And it won't be hard to spot moments in the movie that nod to these looks. Harlow told Bustle that the film's funeral sequence is one to watch out for. "[It] shows dancers in white and with white markings on their faces," he said. "We incorporated a white [liner] into the collection [because of that scene]." The collection will also match up with other looks in the movie, which Harlow noted "play with the characters and what is going in the performance of each scene."
M.A.C. Cosmetics' "Black Panther: Wakanda Forever" collection drops November 1, and the movie comes to theaters November 11.