These Are The Best Ways To Wear White Eyeliner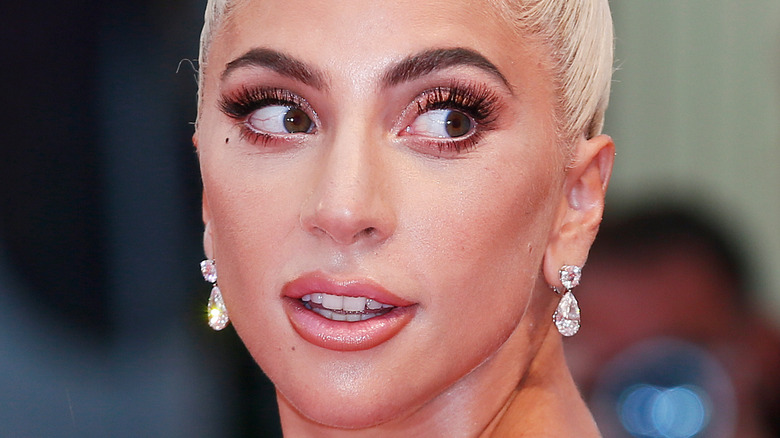 Andrea Raffin/Shutterstock
If you love makeup, you definitely have eyeliner on your makeup table. Whether you're a fan of the classic cat-eye, sexy smokey eye, or use it to subtly line your lash line, makeup routines seem incomplete without it. Many people have a favorite go-to black eyeliner, whether pencil, liquid, or gel.
Makeup artist Jessie Butterfield is a fan of black eyeliner, and told Allure, "It's bold and unapologetically glamorous. After this year of chill beauty, I wanted something that felt very dressed up." The reason for its popularity is that it looks good on everyone, and that's why it's been a makeup staple for decades; what changes is how you wear it.
If you want to have a little fun, you can choose colorful eyeliners for that pop because it's unexpected and a slight stir from the timeless black. Jasmine Ferreira, the Lancôme director of makeup artistry education, recommends choosing a color based on your eye color. She told InStyle, "Green eyes should opt for purple, pink, and blues, and hazel eyes should opt for green and golds." She added that gold, orange, and plum work best on blue eyes, while all colors look amazing on brown eyes.
Speaking of colors, don't be too quick to dismiss white eyeliner because it can amp up your look, too. Celebrity makeup artist Jamie Dorman told Byrdie, "It always helps to brighten the eye and make you look more awake." And, you can wear white eyeliner in more than one way.
Trendy ways to wear white eyeliner
If you didn't get enough sleep the night before, who knew you could trust your white eyeliner to fake being well-rested? "White eyeliner not only makes your eyes look larger, but also makes you look more awake," makeup artist Geo Brian Hennings told Cosmopolitan. He said to use the white eyeliner to line your waterline, and you'll instantly notice the magic. 
You can also go bolder with the white eyeliner on the waterline. Dior's creative and image director Peter Phillips previously told Byrdie, "I drew a sharp, graphic line of vivid, white eyeliner using the Diorshow On Stage Liner in 001 Matte White under the eye and extending it towards the inner and outer corners of the eye." Another way is to draw little wings at the corner of your eyes, which is less dramatic but definitely noticeable.
A quick and easy way to use this liner is on the inner corner of your eyes because it'll instantly transform "tired and dull eyes," per Style Craze. White eyeliner can also work as a highlighter on your cupid's bow to make your lips look more prominent.
Feeling creative? White eyeliner is also great for drawing graphic lines and playing with shapes on your eyelid or outer corner of the eyes, too (via InStyle).
Here are some of the best white eyeliners
Maybelline New York Tattoo Studio Waterproof Eyeliner in Polished White is considered one of the best and most affordable white eyeliners in the market. It's waterproof and can last an impressive 36 hours without budging (via Byrdie). This drugstore find has over 29,000 reviews on Amazon alone, with one customer saying, "Best white eyeliner! I use it for my waterline, and it's fabulous, the color just stays there and didn't vanish for hours!"
If you love liquid eyeliners, you know Stila Stay All Day Waterproof Liquid Eye Liner is the OG of liquid liners, and they also have it in white. Good Housekeeping rates this as the "most durable" eyeliner, and it's perfect for drawing a cat eye. With over 25,000 reviews on Amazon, one happy reviewer said, "This is the best white liquid eyeliner ever. I used it nonstop for a bunch of looks on Halloween. I love this and will never stop raving about it. So worth it."
Cosmopolitan's selection for "Best Cult-Favorite Gel Eyeliner" is Urban Decay 24/7 Glide-On Waterproof Eyeliner Pencil because it applies exceptionally smoothly, and doesn't irritate your eyes — and their white liner has a shimmery finish. One impressed reviewer on Amazon wrote, "Love it. A fun white color for those wilder times."