Where To Find A Dupe Of Rachel Brosnahan's Wedding Dress From The Marvelous Mrs. Maisel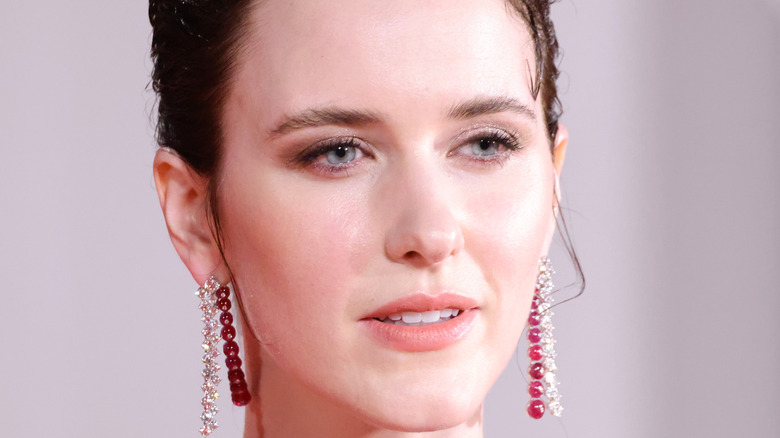 Andreas Rentz/Getty Images
Rachel Brosnahan's charisma and clever quips as Midge in Amazon Prime Video's "The Marvelous Mrs. Maisel" rivals no one (via The Hollywood Reporter). Throughout Brosnahan's career, she's embodied many characters outside of her eponymous role and brought a distinct quality to each one. But part of Brosnahan's charm as Midge is her comedic timing and her glamorous vintage closet. 
To get their defining 1950s style, Caroline Aaron (who plays Shirley Maisel) revealed the Emmy-winning series actually imports fashion pieces true to the time period. Aaron told The List that the costume department is so committed to channeling the fashion of that decade that the actors are given girdles, bras, and garter belts to wear beneath their outfits. There's no question that Midge's own closet is a conglomerate of style icons, as the Audrey Hepburn and Grace Kelly influence is undeniable.
In her book "Madly Marvelous: The Costumes of The Marvelous Mrs. Maisel," two-time Emmy-winning costume designer Donna Zakowska detailed her creative process for selecting the colors, materials, and overall aesthetic for the characters.
"I used color to depict [Midge's] emotional landscape and give emphasis to moments in which she needed to be particularly comic or heroic or even proactive," Zakowska wrote. "I started to refer to her coats as 'multi-colored' armor. I considered [them] to be the equivalent of a superhero cape — transfiguring, protective, emotional armor that emboldens and empowers her as a character."
Of all of the outfits featured on the show, Midge's wedding dress is one fans cannot forget. 
Midge's wedding dress in the pilot episode is inspired by an era-defining 1950s style icon
In the pilot episode of "The Marvelous Mrs. Maisel," Midge's wedding dress took center stage. Her tea length wedding dress fell gracefully on her frame and channeled Audrey Hepburn in the best ways. According to costume designer Donna Zakowska, each season pulled inspiration from a vintage Hollywood siren. Fashion Magazine pointed out that season one's lookbook was a style tribute to the iconic "Breakfast at Tiffany's" star.
Midge's wedding dress mirrors the Givenchy masterpiece that Hepburn wore in "Funny Face," per The Talko. Zakowska told Entertainment Weekly that she was aiming for a light, "simple and elegant" look. Celebrity style apparel shop The Celebrity Dresses has a dupe of both Midge's wedding dress and the one it was inspired by. 
This dress is one of many showstopping moments in "The Marvelous Mrs. Maisel." Not only have Etsy sellers recreated other fabulous looks from the hit series, but there are also Reddit threads dedicated to imitating Midge's closet.
Copy Midge's everyday makeup routine
Everything about Midge's look is understated. Vintage fashion blogger and model Miss MonMon paid tribute to Midge's effortless makeup looks in a YouTube tutorial and broke down her beauty routine into a few simple steps. After using her concealer brush for even coverage, she applied the Charlotte Tilbury Magic Foundation in the shade 1 fair. Alternatively, you can pick up any foundation that matches your skin tone.
Staying true to the series, Miss MonMon also mixed in authentic retro makeup products. In her beauty tutorial, she used the Coty Airspun Loose Face Powder. One of the biggest benefits of wearing face powder is that it will keep your makeup in place, and eliminate the shine from oily skin, per HelloGiggles. The beauty blogger opted for natural-looking brows and defined her own using a brown pencil.
For your eyes, Miss MonMon recommends following Midge's lead by using a natural eyeshadow palette to draw attention to the crease of your lids. Top this look off with a sharp line on your lash line and Midge's signature red lip.