The Home Decor Line You Never Knew Drew Barrymore Started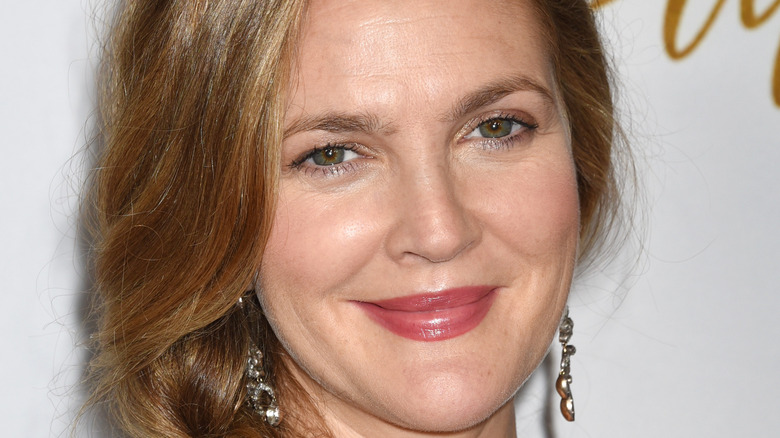 Ga Fullner/Shutterstock
We have all witnessed the stunning transformation of Drew Barrymore over the years. She has gone from child actor — starring in box office hits including "E.T." and "50 First Dates" — to a successful producer who launched her own company, Flower Films, with good friend Nancy Juvonen. Together, they have produced "Never Been Kissed," "Charlie's Angels," and the Jake Gyllenhaal breakout, "Donnie Darko." The company is now involved in a wide range of film and TV projects.
Barrymore is also the host of her own talk show. "The Drew Barrymore Show" is currently in its third season, and ratings are up 60% from last year, per The Wrap. One reason for the rise in viewers could be Barrymore honing her interviewing skills. "I learned to become a better listener. In the beginning, I over-talked to people, which I felt embarrassed about," she told Variety. "There's an art figuring out how to navigate a conversation — and when to stop talking."
And while she has found success in the entertainment industry, Barrymore has also branched out in the business world, including launching a home décor line that you might not know about.
Drew Barrymore launched a home collection with Walmart
Drew Barrymore expanded her business endeavors to include a home décor collection with Walmart in 2020. Flower Home boasts "eclectic designs" inspired by the actor's personal tastes, her travels, and her favorite destinations. The result is a collection that "combines a variety of styles, patterns and materials to create a look that is cozy, unpretentious, enveloping and fun."
"I have always had a love for creating joyful spaces — places where unexpected prints and patterns, shapes and styles, and colors and textures come together in the most delightful way," Barrymore said in a press release (via My Domaine). "My new collection of furniture and home décor is inspired by this passion and I hope it inspires everyone to make themselves at home."
The line included everything from small decorative items to large pieces of furniture, with the price point starting at $18. And in 2021, Barrymore partnered with Made By Gather founder and CEO Shae Hong to release a line of retro-inspired kitchen appliances called Beautiful, also through Walmart. "I've always dreamed of designing kitchen appliances that are functional and practical, but also look BEAUTIFUL on your countertop," Barrymore revealed in an Instagram post.
Drew Barrymore also has a successful cosmetics line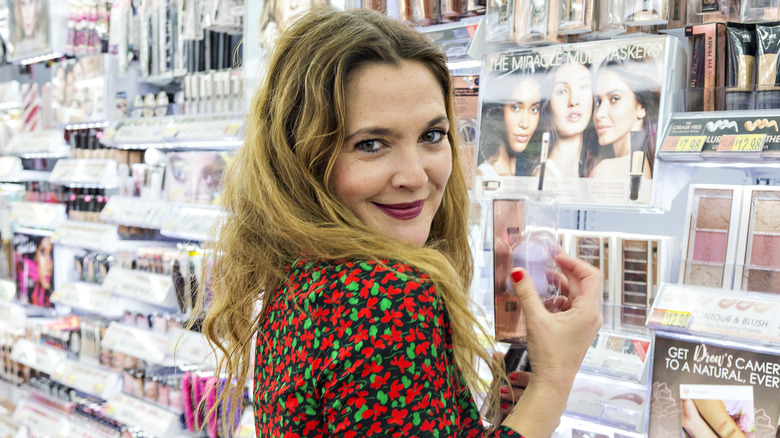 Wesley Hitt/Getty Images
In addition to her home collection, Drew Barrymore also has a successful makeup line, Flower Beauty. She grew interested in cosmetics after modeling and co-creative directing for CoverGirl. "I knew that space so well, I'd been in it my entire life," she told Harper's Bazaar. "I'd just come off of my contract with CoverGirl where I was co-creative director of my own campaign, so I'd had this intense six year education that I was aching to apply to something."
Barrymore's goal was to create "accessible, affordable, fun for your face." The line is also cruelty-free, meaning that the company never tests any of its products on animals. While the line was launched exclusively in Walmart, it is now available at a variety of retailers. And Barrymore is committed to coming up with new products that people around the world will love.
"I love to curate and show the things that are boosting my life and that I'm really loving. When it comes to beauty and skin care, I am the biggest student. I study everything," she told Women's Wear Daily.