Fashion Trends That Will Completely Take Over 2023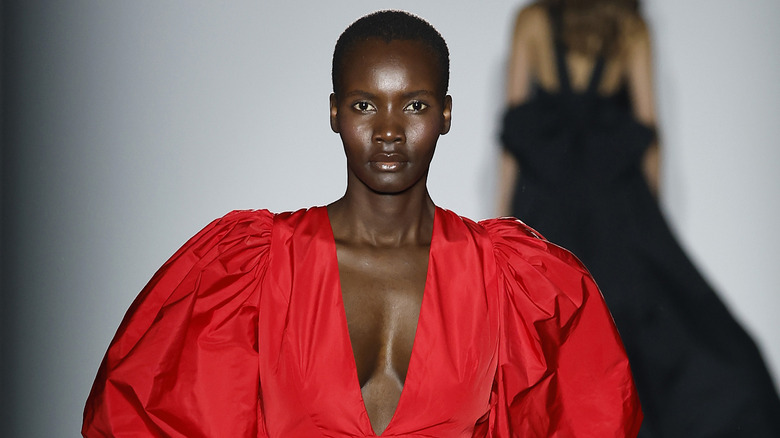 Estrop/Getty Images
It can be pretty tricky trying to keep up to date with every new trend — after all, things move pretty quickly in the world of fashion. If you're looking for the latest fashion trends, however, you've surely arrived at the right place! As 2023 approaches, brands ranging from bargain to haute couture are beginning to drop their 2023 collections, and we've already started to see some exciting new style trends promising to be everywhere. 
We've compiled a list of the biggest new trends we expect to see over the course of the next year, and we're prepared to discuss everything from tassels to leather to fur to sequins and more. One thin appears to be for certain — in 2023, fashion promises to be bigger and bolder than ever, and with a distinct throwback to fashion days gone by. So, without further ado, let's delve into the trends you'll want to add to your wardrobe in 2023.
Expect to see a lot of leather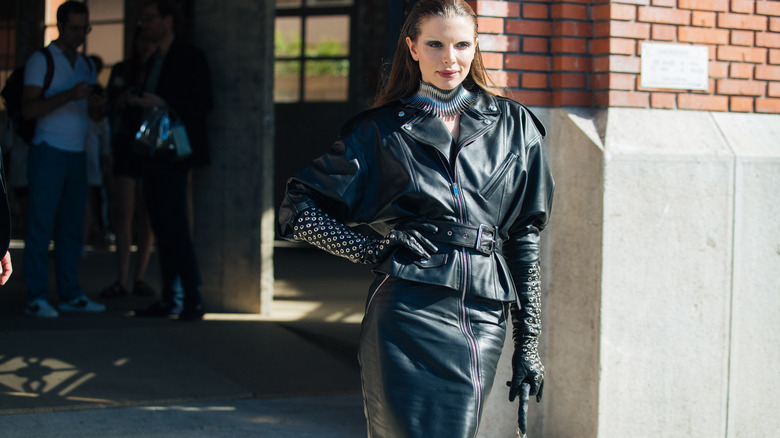 Melodie Jeng/Getty Images
Leather is officially in for 2023. As StyleCaster noted, leather jackets were everywhere during this year's New York fashion week, along with both mini and maxi leather skirts. In 2023, leather won't just be reserved for the winter — it will also be making appearances in the summer and spring, too, with colorful mini leather skirts, leather shorts, and even leather crop tops appearing on the shelves. As Tiffany Hsu, vice president of womenswear and kidswear fashion buying at Mytheresa, told Vogue,  "We're generally more used to seeing leather feature heavily in autumn/winter, but this time around, it was on almost every runway, showing us that the seasons aren't as set in stone as they once were."
So go ahead, channel your inner cool city girl and invest in some leather this year. Or, be bold and embrace the trend of going all-leather from head to toe. Celebrities like Kim Kardashian, Julia Fox, Rihanna, and Hailey Bieber have all done it this year. While it may feel like an extremely bold look, rest assured, this year, the vibe is definitely the leather the better.
Ballet flats are back in style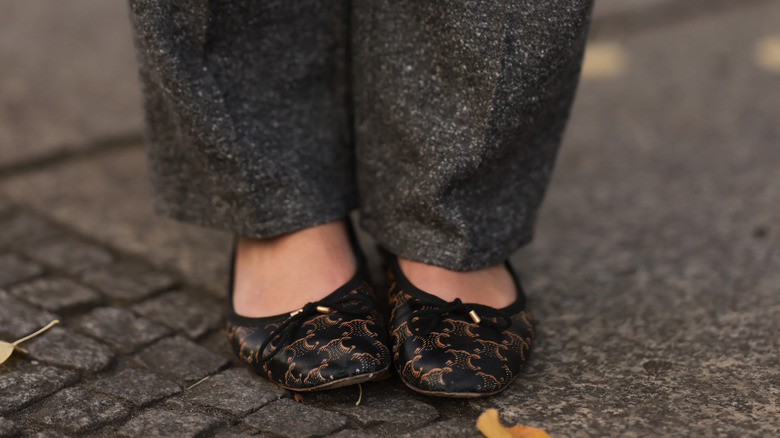 Jeremy Moeller/Getty Images
Let's face it — ballet flats haven't always been in favor of the fashion world. The dainty, girly shoes were extremely popular in the 1950s when Brigitte Bardot popularized them. They then came back into fashion in the 2000s. Now, with a resurgence in the "French girl" look, the shoes seem to be coming back (via Refinery29). "The ballet flat was definitely an aughts staple," fashion writer and ballet flat enthusiast Tyler McCall told said. "I can think of so many tabloid moments, whether it was Amy Winehouse in literal ballet slippers or Alexa Chung in a pair of denim cutoffs and bright Chanel flats. We're all about mining that nostalgia at the moment."
Fashion Marketing lecturer at London Metropolitan University, Giovanni Bordone agreed. "This coming season ballet flats are making a huge comeback and this is aligned with the casual and relaxed look proposed by many houses," he told us. "This style was probably launched within the cosplay environment in Japan and in South Korea, expanded in a few major cities in China and then picked up by major fashion houses and launched on the catwalk. I cannot think of a better example of bottom-up trend generation than this."
You heard the experts — it's definitely time to pull out that old pair of ballet flats!
Fur coats are going to be in style in 2023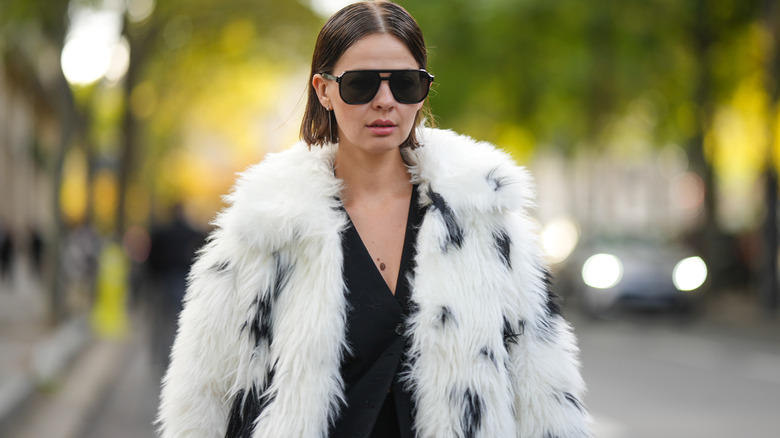 Edward Berthelot/Getty Images
High drama and Golden Age Hollywood glamor are back. And that means fur coats are making a comeback, too — at least, fake fur coats are. According to Cosmopolitan, the ultra-cozy look has been popping up everywhere lately. Try to update the classic look by opting for a colorful fur coat or a coat with a subtle faux fur collar.
As Kym Canter, the founder of the faux fur brand House of Fluff explained to Vogue, most young people are turning away from real fur. "Young people today do not see real fur as a status symbol — they define luxury as innovation and sustainability." Added Olivier Rousteing of Balmain, "I made the decision to not use fur about a year and a half ago. I saw so many documentaries and just thought, I cannot do this anymore. Now suppliers are working to make sure that faux fur can look like a real fur, and it's already pretty insane what they can create."
Knee-high 1990s boots are back in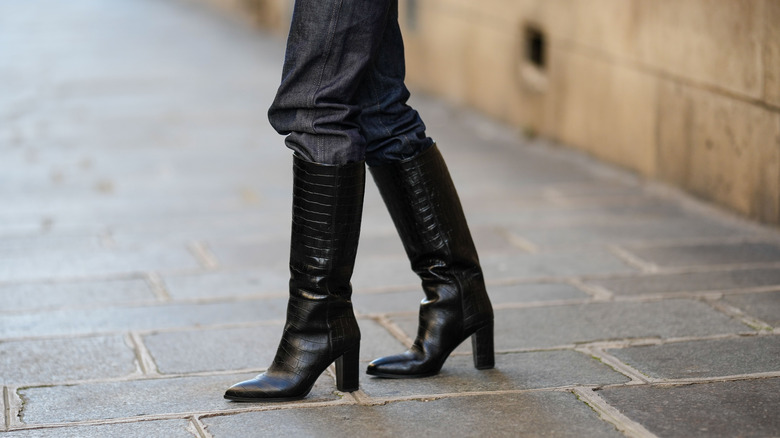 Edward Berthelot/Getty Images
As fashion fans probably already know, trends tend to be cyclical, going in and out of style every few decades. Well, one old trend seems to come back into fashion in 2023 — 1990s boots. As Hello! noted, Hailey Bieber is leading the charge. In October 2022, she appeared at the WSJ Tech Live Conference wearing a stunning pair of knee-high heeled leather boots with a pointed toe that screamed 1990. 
"The glossy finish, vampy spike heel, tough buckle hardware — these boots mean business," said Hello! Fashion's editor-in-chief Jill Wanless explained, "Unapologetically sexy, especially when worn with a bare leg and mini skirt, they spell a return to overt power dressing and work perfectly with the barely there cutout dresses we're seeing across the catwalks."
As Glamour noted, everyone from Jimmy Choo to Ganni to Ted Baker is coming out with their own version of the classic boot. We can definitely expect to see this retro trend everywhere very soon.
We'll be seeing a lot of clogs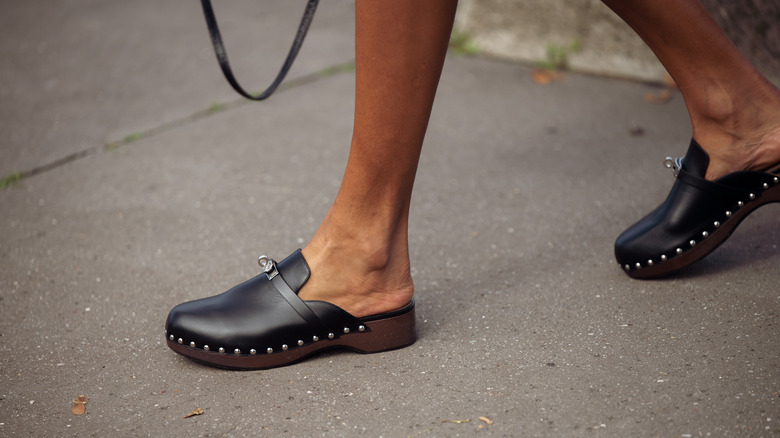 Raimonda Kulikauskiene/Getty Images
Wait — clogs are back in? Clogs were the epitome of a fashion faux pas for a long time. But as the BBC noted earlier this year, they have become the "style statement of the year." Why? Well, according to clog superfan and editor at US Vogue, Lauren Mechling, "There are multiple factors that have converged into a perfect storm of the clog's comeback, the first being that, in our post-#girlboss moment, feminism isn't just in fashion, but is ingrained in the culture like never before."
As Grazia noted, clogs have already been spotted on Dua Lipa and the Hermes runway. As LA-based designer Rosetta Getty told the publication, something about the shoe just works. "The clog is an incredibly practical and comfortable shoe. I think it's interesting that they date back to the 1200s, but still feel so modern today because of the clean, architectural silhouette."
As New York-based personal stylist Katie Rivera told us, "The key to wearing this style of shoe is to have some type of volume with your pant leg. If you wear a skinny jean/pant or a legging, the clog ends up looking out of proportion on your foot." In the winter, she added, you can even wear them with socks!
Make it sheer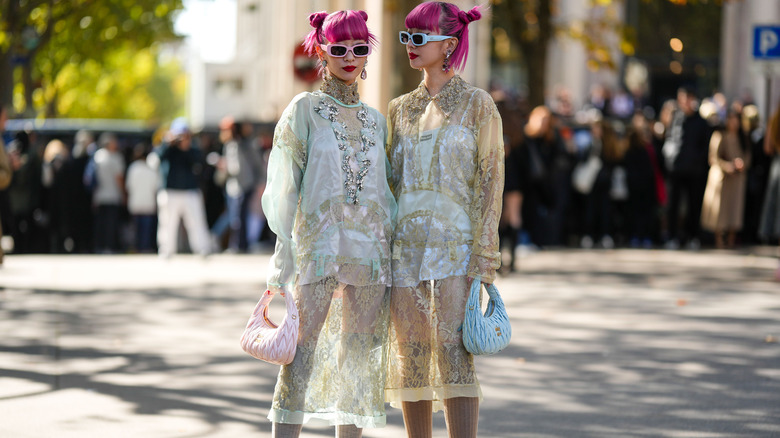 Edward Berthelot/Getty Images
Yet another bold trend for 2023 is the all-things-sheer trend. That's right — next year, you can expect to see a lot of see-through tops and dresses. According to StyleCaster, this trend started with Fendi's Fall/Winter 2022 collection. Fendi featured numerous sheer maxi dresses on the runway, and suddenly, everyone seemed to be hooked on delicate, see-through fabrics. 
As Jessica Richards, a trend forecaster, explained to Marie Claire, the surge in sheer fabrics was partly down to the 2022 political climate. "With challenges against women's rights on the forefront, hyper-feminine and body-baring trends defy a climate created by legislation that restricts women's autonomy of their bodies," she said. "These silhouettes, created in sheers that emulate 'nakedness,' strip down the volume of their co-trend and instead promote a presence that a woman's body is her own and not to be ignored, she will make it seen and acknowledged in a fashion-forward response to the socio-political environment of the times." 
Add a few sheer pieces to your wardrobe this year, and you won't' just be making a fashion statement — you'll be making a powerful political statement, too.
Jeans are going to be baggier than ever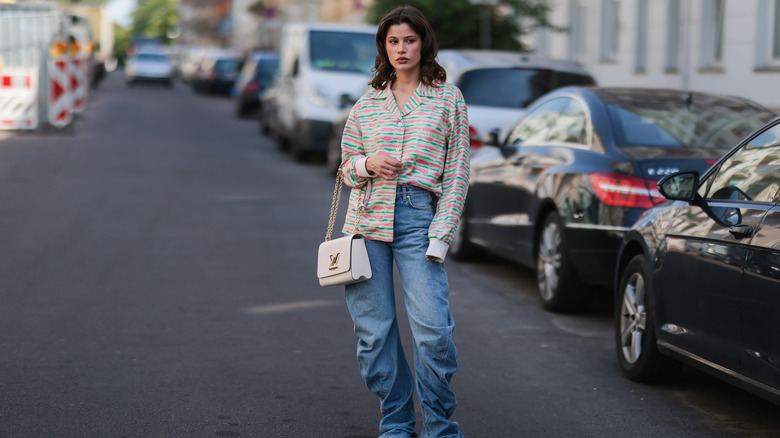 Jeremy Moeller/Getty Images
Remember a few years ago when it was announced that skinny jeans were out? Well, it seems that skinny jeans are still off-limits for anyone who's trying to follow the latest trends. In fact, this year, the general rule is the baggier, the better. There's never been a better time to pull out those grunge jeans and those mom jeans from the back of your closet.
So far, plenty of stars have been spotted in the trend, including Emily Ratajkowski, Tracee Ellis Ross, Jennifer Lawrence, and Katie Holmes. Baggy jeans are also increasing in just about every big brand's collection this year (via Vogue).  
We love that this trend is still going strong in 2023. After a few years of lockdowns and working from home in our sweats, the idea of squeezing back into our old skinny jeans feels particularly cruel. Luckily, baggy jeans offer a more comfortable alternative.
Sequins and sparkle are in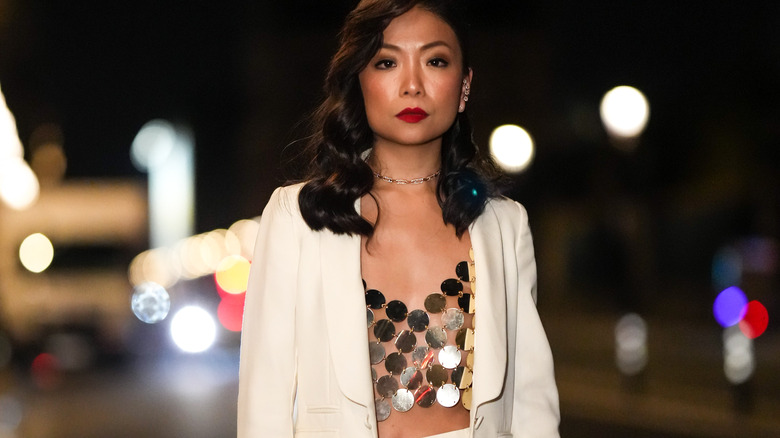 Edward Berthelot/Getty Images
With Taylor Swift's shimmery tenth album "Midnights" breaking streaming records, it seems that we're all in the mood for some glitz and glamor. Just like Swift's new disco-inspired "Midnights" era, 2023 promises to be full of sparkle. That's right — according to WWD, sequins are well and truly in.
As Elle noted, designers like Tom Ford, Nensi Dojaka, Area, and Michael Kors have all jumped aboard the sequins train. This year, it's all about high-drama glitter, so go for a maximalist look. Think big colors, bold cuts, and, of course, sequins everywhere.
And we couldn't be more excited. After all, sequins are the perfect way to add some much-needed pizzazz to our wardrobes. After several laid-back years of lockdowns and limited socializing, it's clear we are all more than ready to have a little fun. And what better way to embrace our new-found joie de vivre than with some sparkle?
The color purple will be everywhere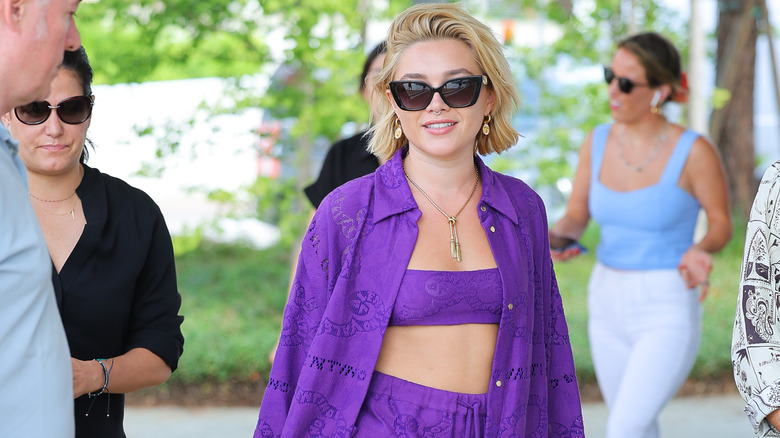 Jacopo Raule/Getty Images
Trying to decide on which new color to add to your wardrobe? The jury is in, and it's official — purple is the next new It-girl color. As InStyle noted, the color was absolutely everywhere during New York Fashion Week, with designers like PatBO, Coach, Caroline Herrara, Tory Burch, and Prabal Gurung all showing off bold, popping shades of purple on the runway. Actress Florence Pugh also embraced the trend during the Venice Film Festival when she appeared in a stunning all-purple set by Valentino, complete with purple shoes and a purple bag. Other celebs, including Sandro Oh and Lily-Rose Depp, followed suit.
In fact, it seems that purple has become so popular it's on its way to taking the place of pink in the fashion world (via Vogue). Purple is also making its way into the beauty industry (via Elle) — so next time you try making your own monochromatic purple look, you can even add a dash of purple eyeshadow to complete the effect.
Blazers are going oversized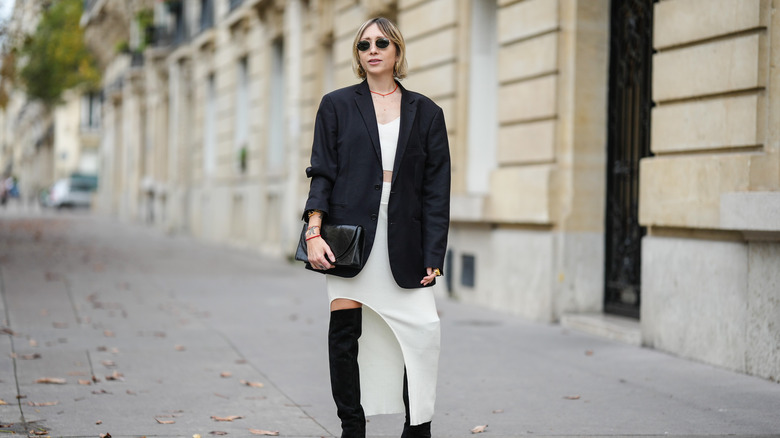 Edward Berthelot/Getty Images
Annie Hall, who? This year, we are expecting to see some retro shapes when it comes to outwear. Blazers are going oversized. Think boxy shapes and shoulder pads. Stars like Kim Kardashian and Isabelle Huppert have already been spotted adopting the trend. As blazer specialist Peter Do told Vogue, "I like that it takes time to make, that you don't need to buy many, and that when you find a good one, it becomes your safe space."
As Bordone told us, oversized blazers have been popular for a while, so this might be your last chance to try the trend before it goes out of style. "We have seen oversized blazers for the last four or five seasons, and this might mean the last appearance of this trend on the catwalk for a few years," he said. "What seems very common in many fashion houses and very much on trend is asymmetric and double-breasted pieces."
Add some tassels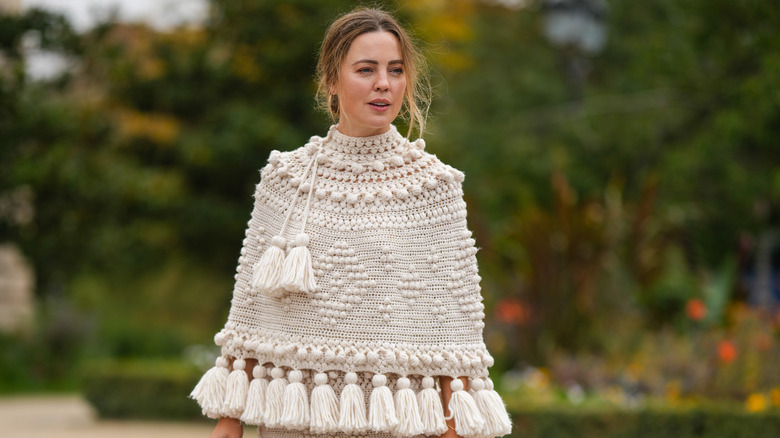 Edward Berthelot/Getty Images
Are you looking for a way to have some fun with your clothes in 2023? Look no further. Tassels are back in style. And they're the perfect way to add some swing and movement to any look. As Refinery29 noted, fringes and tassels seemed to crop up all over New York Fashion Week from designers like Proenza Schouler, Chloe, Jonathan Simkhai, and Gabriela Hearst, to name a few. While the trend definitely borrows from the fringes of the 1920s and 1960s, the 2023 tassel has its own unique look with knots and other maximalist details.
"Tassels and fringing are a great way to add drama to your look for spring," stylist Antonia Kraskowski told Woman & Home. "From subtle fringing on skirts and knits to full-blown flapper-inspired dresses, this is a trend that you can take as far as you fancy." 
Next year, you'll find tassels hanging off of hems and sleeves on dresses, tops, jackets, trousers, and even bags. It's the perfect way to add some excitement and drama to your look, no matter your style.
Cargo pants are in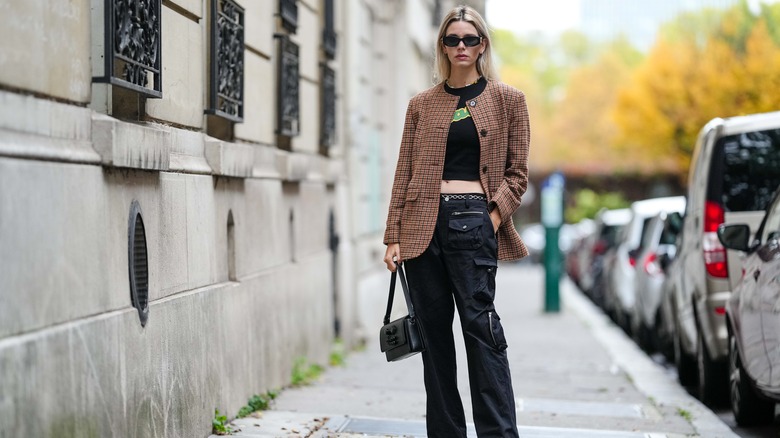 Edward Berthelot/Getty Images
Gone are the days of sleek, fitted trousers and in are the days of the slouchy, pocket-covered cargo pant. "In this season, cargo pants are back and overly popular, in the streets as well as in the catwalks," said Bordone. "Not sure if this a renewed desire for comfort and practicality inherited from two years of COVID or an unlikely outcome of this terrible war in Ukraine that is on our daily news feeds."
Of course, for many of us, cargo pants don't exactly mesh with our personal style. But never fear — there are some clever ways around it. As Rivera said, "With cargo pants some of us are either super excited that this trend has returned or cringing at having to navigate a pant with bulky pockets. Luckily, while there are some heavy, bulky cargo pant options out there, a lot of designers have put a sleeker spin on this pant for the upcoming season." Rivera even suggested trying a pair of silk or satin cargo pants. "Brands like Banana Republic and Cami NYC have some great options," she said.
Feathers are going to be huge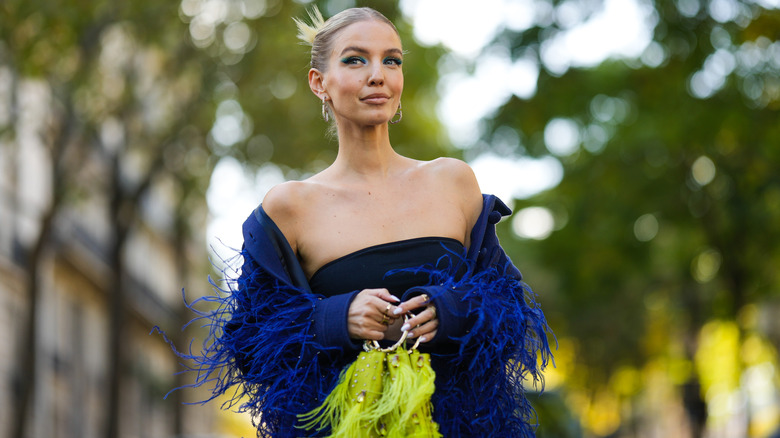 Edward Berthelot/Getty Images
Another glamorous trend of 2023 is fluff and feathers. It shouldn't come as a huge surprise after that viral feathered pyjama Sleeper set from last winter (via InStyle). As StyleCaster explained, feathers have long had a place in fashion, dating all the way back to the era of Marie Antoinette. This year, we're seeing feathers one everything from skirts to sleeves to shoes to bags. And, of course, feather earrings are making a comeback, too. As Woman & Home noted, many designers, such as Siriano and Molly Goddard, are making a statement with feathers in their latest collections.
While feathers may look pretty high-maintenance, they're actually quite practical. "Believe it or not, feathers are actually one of the easier ways to incorporate some glamor into your wardrobe," Rivera told us. "Pair your feather piece with another simple, understated piece to keep the look from feeling too over-the-top. And just make sure to place the feathers where you want the attention on your body."
Strap on those Mary Janes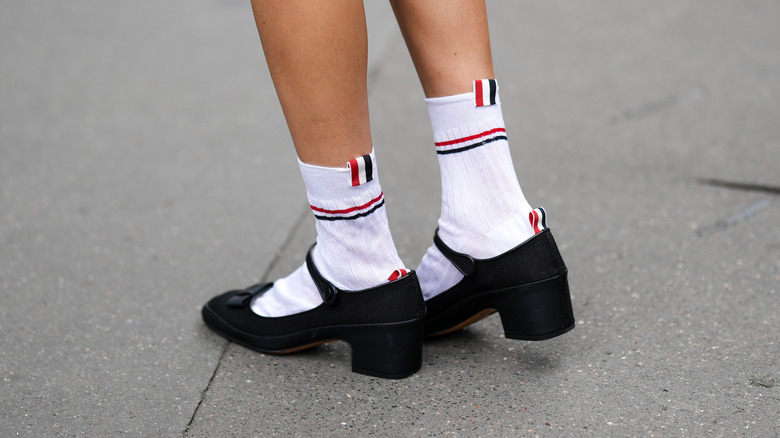 Edward Berthelot/Getty Images
Most of us probably associate Mary Janes with 1950s schoolgirls — but in 2023, the long beloved Mary Jane is being reinvented. And yes, it's actually cool again (like, again-again). On the catwalks at New York Fashion Week, numerous models were spotted sporting Mary Janes. And in the stores, they've been selling out quicker than they can be restocked.
But not all Mary Janes in 2023 are exactly 'classic.' As W Magazine noted, the Mary Jane has morphed over the years. These days, you can expect to see platform Mary Janes, heeled Mary Janes and even Mary Janes with numerous straps going all the way up the calf.
Looking for Mary Jane inspiration? Well, numerous celebs have flaunted their own Mary Janes over the past few years. Alexa Chung famously loves Mary Janes, while Sarah Jessica Parker is often seen wearing hers. Zoe Kravitz is another big fan (via InStyle).