What You Don't Know About Julia Fox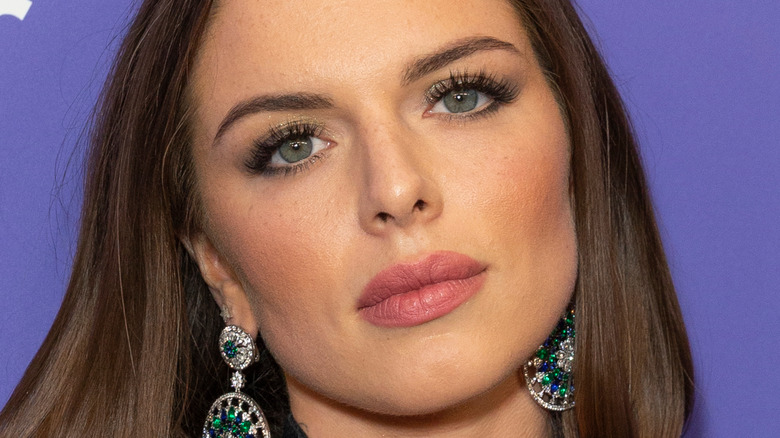 lev radin/Shutterstock
Before January 2022, it wouldn't be surprising if anyone living outside of New York City couldn't exactly place the name Julia Fox. While the actress, former fashion designer, and party girl is well known in some scenes, she hadn't yet enjoyed the kind of exposure that comes with mega celebrity.
All of that changed when it became clear Fox is in a relationship with Kanye West, estranged husband of Kim Kardashian, father of four, and rapper demi-god to millions. Since then, many have wondered exactly who Fox is, and, luckily, there's a treasure trove of information available about her. From spending time in Italy as a kid to bouncing from home to home as a teen, Fox spent a long time finding herself, telling Highsnobiety that she tried her hand at college, but it didn't quite work out.
Fox has also dabbled in the adult entertainment industry, coming out of the experience with a long-term, much older boyfriend whom she dated for nearly six years (per The New Yorker). These days, she's a mom to 1-year-old Valentino and is, apparently, the life of the party at any event where West takes her (via Billboard). Here's a look at a few things you might not know about Julia Fox.
Julia Fox starred in Uncut Gems with Adam Sandler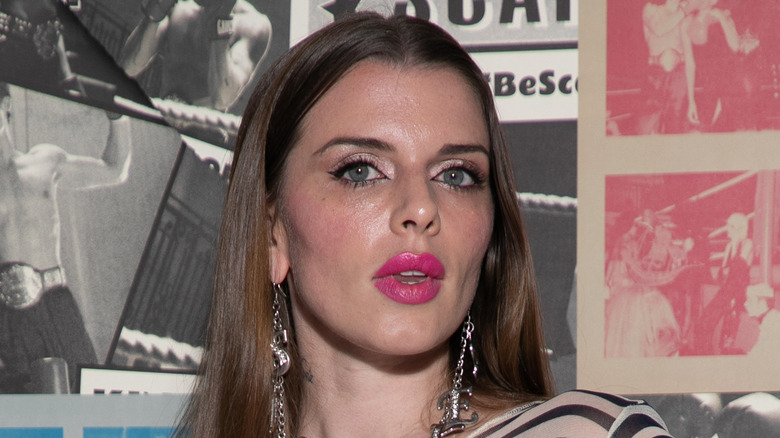 Marc Piasecki/Getty Images
Julia Fox made her Hollywood debut in 2019's "Uncut Gems." As she later told Interview Magazine, getting cast in the movie was a natural part of her progression in the entertainment industry, as she had already made her way through the New York party scene, worked as a fashion designer, and dabbled in photography and writing. 
While Fox knew from the start that she was perfect for the role, she still had to go through the process of securing her spot. This included a screen test with co-star Adam Sandler, which many an acting novice might be intimidated by. Fox, however, was unfazed. As she put it to Interview Magazine, "There was just no way someone could play that part better than me. I knew I would literally kill this movie."
Her character's name also couldn't have been more perfect: Like Fox, her name is Julia. Fox told the magazine she was able to identify with several aspects of the character, explaining, "I feel like I have a Julia in me, and although we are very different, I've been there. I've been that girl."
She has a pretty wild past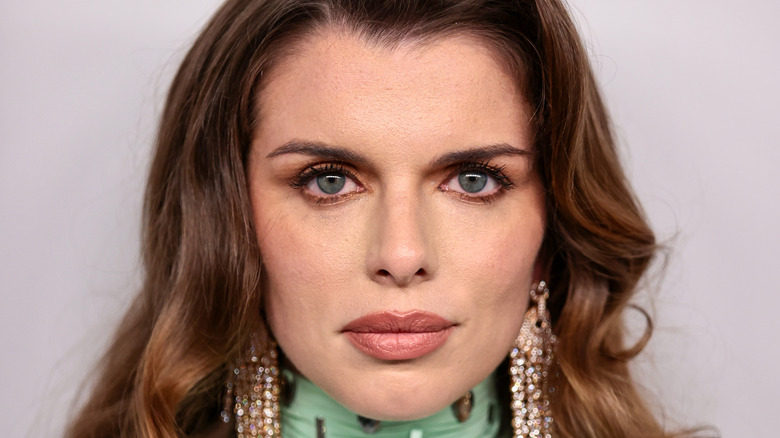 Dimitrios Kambouris/Getty Images
Before she launched a career as an actress, Julia Fox dabbled in some dangerous pastimes. In early 2022, a source told Page Six that Fox had been known in many New York City circles for years for her affinity for drugs. As the source said, "She hung around the Lower East Side. Her culture was the bars, the graffiti scene, the nightlife."
In fact, Fox herself has admitted that her substance abuse was more than an affinity. After relating to The Hollywood Reporter that she didn't focus much while in school, opting to spend her time out and about in the city instead, Fox dropped a pretty major bombshell: She almost died of a drug overdose at the age of 17. As she put it, "It's kind of a miracle that I'm [okay] because a lot of the people I grew up with aren't doing so well. They're still on drugs or in jail. A lot of them died."
These days, Fox is sober and proud of herself, having detailed her drug use and subsequent recovery in several art books (per The New Yorker).
If you or anyone you know is struggling with addiction issues, help is available. Visit the Substance Abuse and Mental Health Services Administration website or contact SAMHSA's National Helpline at 1-800-662-HELP (4357).
The actress has experience in the adult entertainment industry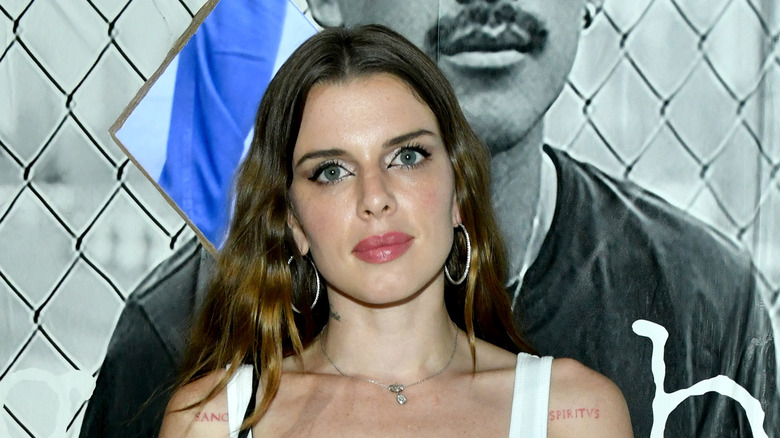 Craig Barritt/Getty Images
Julia Fox bounced from home to home throughout her high school years, even describing her family to Highsnobiety as "homeless at one point." She often ended up staying with friends, and, while staying with one friend in particular, the friend's older sister clued her in to a part of the adult entertainment industry she didn't know much about: working in S&M. As she told The New Yorker, she was still a senior in high school when she "answered a Craigslist ad, when they still had the adult section, and ... biked over after school and got the job."
Fox has spoken about the gig, which lasted for a few months, quite a lot. She later told The Hollywood Reporter that the job involved no sex or nudity but a whole lot of acting. As she put it, "It was all role-playing, and I was like, 'I can do that. I can act. I can put on an outfit,' you know? I did it, and it was great." In fact, it was so great that Fox still uses the job as a tick on her acting resume.
She and her best friend launched a fashion line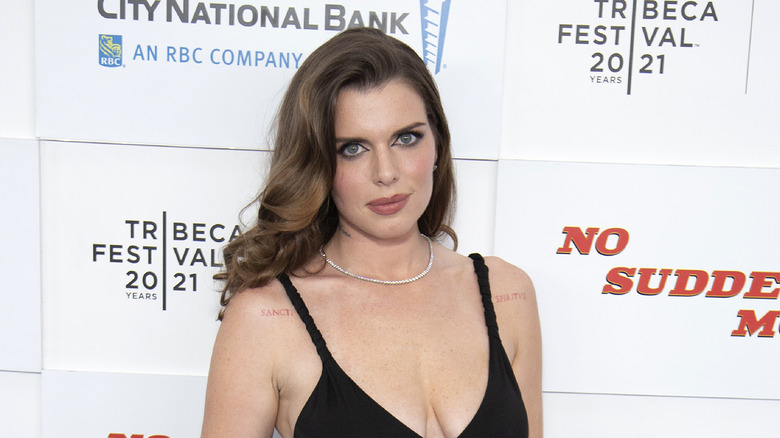 Santiago Felipe/Getty Images
Julia Fox has been nothing if not inventive throughout her career, trying her hand at a variety of skills and occupations. In 2012, she and her best friend, Briana, even launched their own fashion line, with Fox admitting to Highsnobiety that she spent a significant time in the beginning working hard. "I was hustling, getting our clothes on celebrities. I had so much fun with it in the beginning," she said.
Unfortunately, her enthusiasm for the line — and ensnaring celebrities to don it — ran out. Fox explained to the publication that, while she found it thrilling at first when a celebrity wore clothes she had designed, eventually the novelty wore off. Ultimately, she also felt she had more to do in this world and moved on to photography three years later.
Fox admits that Brianna was also no longer interested in maintaining the line. "Around then [is when] I made a pretty smooth transition into the art world. I did photography. I made two art books. I also wrote poetry," she told Highsnobiety.
Julia Fox set the record straight about those 'sugar daddy' rumors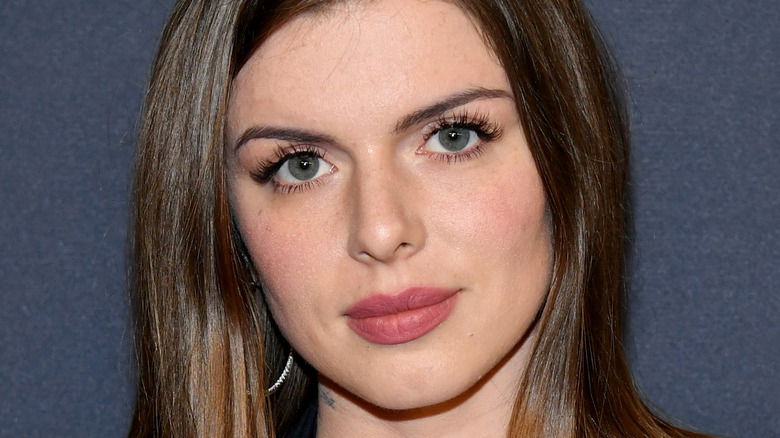 Amy Sussman/Getty Images
While speaking to The New Yorker in the summer of 2021, Julia Fox shared that, while working in the adult entertainment industry, she met a man whom she would go on to date for five years. In fact, she left her job to pursue the relationship. She explained that, contrary to what many think, she wasn't after his money. She said they really loved one another but that it just didn't work out in the end. "He wanted me to marry him, and I loved him so much, but he wanted me to wear, like, Ralph Lauren Purple Label and Tory Burch," she said. "I felt like I was always playing a part."
In an interview with the "We Met At Acme" podcast, Fox went into more detail about the relationship, explaining that, while her ex-boyfriend was wealthy, their relationship wasn't about money. She said, "I had this 'daddy' phase ... I had an older boyfriend for six years, and yeah, he was rich. But like, it wasn't a sugar daddy" (via Page Six). While her ex was happy to lavish her with gifts, Fox insists that their love was reciprocal (and shares that she still has her ex's name tattooed on her finger).
In 2017, she launched her own art show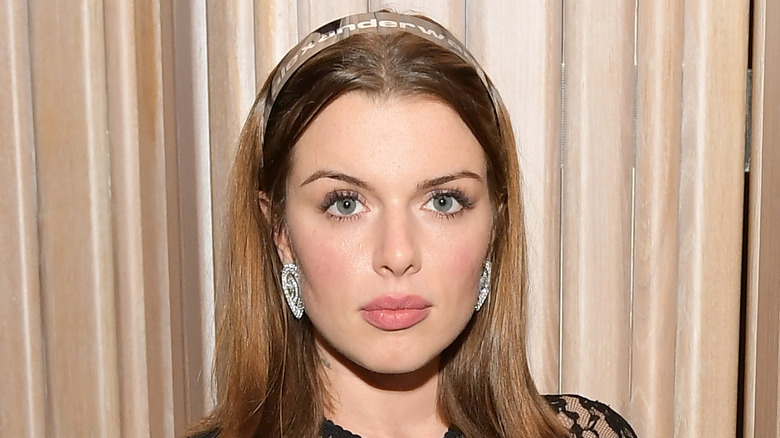 Matt Winkelmeyer/Getty Images
Julia Fox has been candid about her near-death experience following an overdose at the age of 17, and death has been a feature in a lot of the art she has created. This is especially true when it comes to an art show she launched in 2017, which doubled as a funeral aptly titled "R.I.P. Julia Fox." Fox told HuffPost that the show was very personal, adding how she even used her own blood in many of the pieces, drawing the blood out of her body with a syringe and then painting it on silk.
Fox also shared that she's held a fascination with death for a long time, admitting to numerous moments at which she almost died. As she told the publication, "I guess I've always been fascinated with death. I've had a few near death experiences. In one particular instance, I saw the infamous tunnel of light and felt my spirit elevate from my human body and shoot into space." In the interview, she goes on to muse that her tendency to put herself in high-risk situations could be the ultimate form of chasing that experience again to find out just where the tunnel leads.
Julia Fox is divorced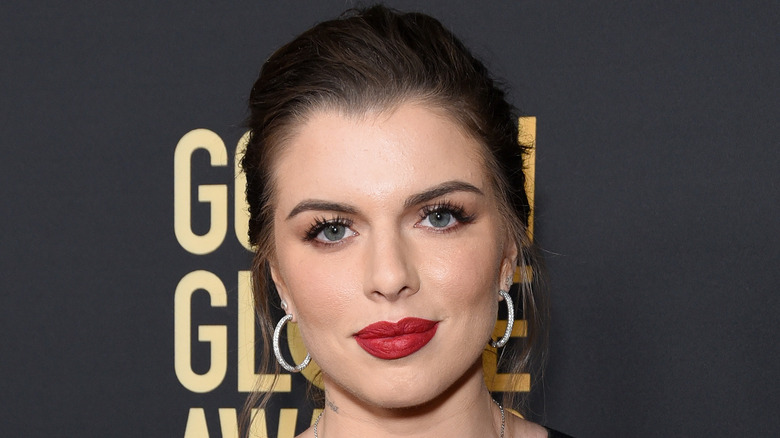 Presley Ann/Getty Images
In December 2021, Julia Fox made headlines when she waged war on her ex-husband and father of her son, Peter Artemiev. Fox took to her Instagram stories, where she railed against Artemiev for two days, referring to her ex as a "dead beat" and accusing him of abandoning her and the couple's young son. "This man left me with a 5 month old and a dog and a home and ALL THE BILLS. It's wrong!!! It's not fair," she wrote (via Page Six).
Artemiev was quick to deny the allegations, telling Page Six himself that he didn't wish to discuss the matter further to protect the privacy of all parties involved, especially their son. "I was saddened to learn of the utterly false statements made on social media by Julia Fox, my co-parent, who is clearly struggling," he said.
The pair married in November 2018 and announced their separation in November 2021, exactly three years later (via Billboard).
She became a mom in January 2021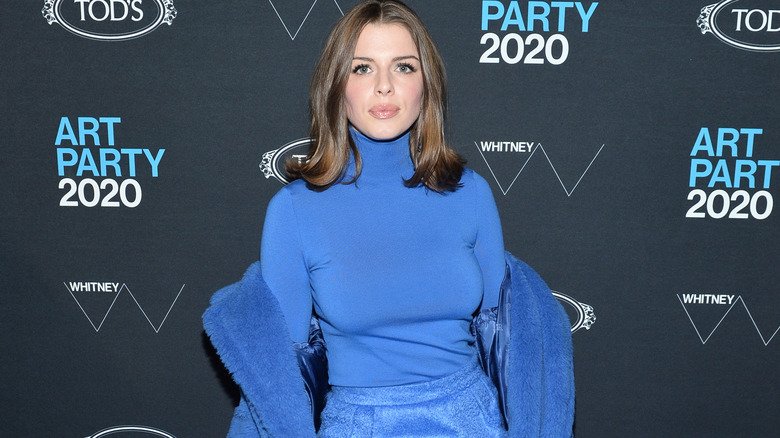 Noam Galai/Getty Images
Despite her dramatic relationship with ex-husband Peter Artemiev, Julia Fox has celebrated one bright light from that relationship: the pair's son, Valentino, who was born in January 2021. Fox announced Valentino's arrival on Instagram, sharing in the post how she had to deliver him early due to medical issues. She wrote, "I ran home in a panic cuz I still hadn't taken any pics but my girls came thru for me."
Fox and Artemiev were able to pull things together and celebrate their son's first birthday in New York in January 2022. She also offered a tribute to little Valentino in a post on Instagram, sharing, "My beautiful baby is 1 today!! Thank you so much for showing me what love is."
Fox also shared on her podcast "Forbidden Fruits" that she and Artemiev had patched things up to remain solid co-parents (per Page Six).
She's opened up about being a 'die hard' fan of the Kardashians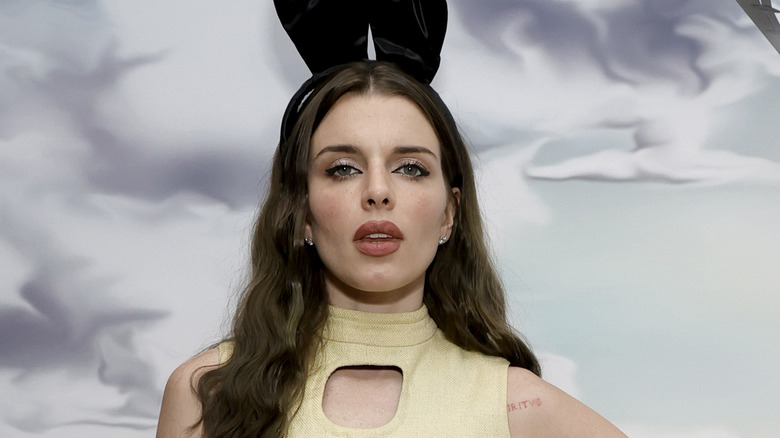 Frazer Harrison/Getty Images
Julia Fox's relationship with Kanye West is interesting to many for quite a few reasons. For one thing, both West and Fox are in the midst of divorce proceedings. For another, Fox has openly, happily admitted to being a "die hard" fan of West's soon-to-be ex-wife, Kim Kardashian. Fox was featured on the Instagram account for SKIMS, the shapewear company that Kardashian founded (and her most successful business to date). As People reported, Fox modeled the clothing on her own Instagram story that was later re-shared by SKIMS.
In a December 2021 episode of her podcast "Forbidden Fruits," Fox shared more about her love for Kardashian, saying she'd followed Kim and her family for years, all the way back to 2007, shortly after their cultural force of a reality show, "Keeping Up with the Kardashians," debuted on E!. She goes on to add that she felt extra close to the entire group, explaining, "I like wanted them to be my family. You feel like you know them. It's like you're happy for them when something good happens" (via People). Interestingly, Fox herself is now a part of her idol's story.