Terrifying Details About The Attack On Nancy Pelosi's Husband Are Coming To Light
Paul Morigi/Getty Images
Paul Pelosi, the husband of House Speaker Nancy Pelosi, made news earlier this year when he was arrested for a DUI charge; he pled guilty and got five days in jail and three years of probation, per NPR. Now, he's back in the news after he endured a brutal attack in his and Nancy's San Francisco home early in the morning on Friday, October 28; Nancy was not home at the time.
Upon entering the house and coming upon Paul, the alleged attacker, David DePape, asked where his wife was. Paul called 911 from a bathroom, per Politico. Police arrived at the house at around 2:30 a.m. and saw both Paul and his attacker holding a hammer. The perpetrator then got control of the hammer and assaulted Paul with it. The 82-year-old was taken to Zuckerberg San Francisco General Hospital with injuries including a skull fracture, for which he had to have surgery and is expected to make a full recovery, via The Guardian. In a statement from her office the day after the assault, Nancy said, "Our children, our grandchildren and I are heartbroken and traumatized by the life-threatening attack on our Pop." 
The Department of Justice has now released the criminal complaint against DePape that includes previously unknown details about the attack.
David DePape wanted to talk to Nancy Pelosi as he held her hostage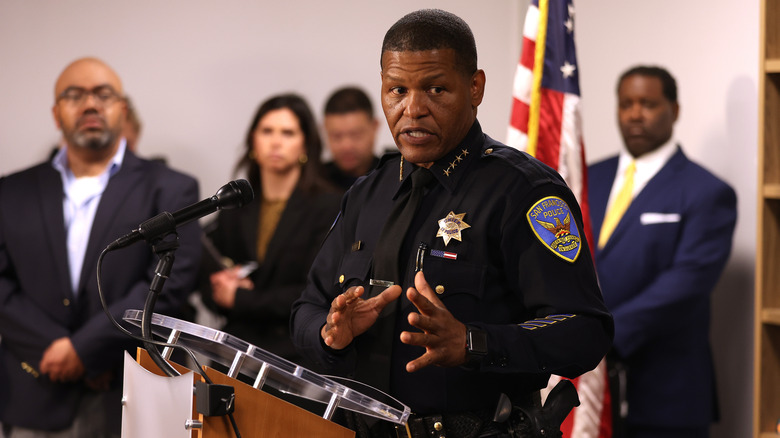 Justin Sullivan/Getty Images
In the criminal complaint against David DePape for the attack on Paul Pelosi, he is charged with "assault on the immediate family member of a federal official" and "attempted kidnapping of a federal official." The complaint also reveals that, on the way to the hospital, Paul told police that the assailant entered the Pelosis' bedroom looking for Nancy. Upon learning that she was out of town, the suspect said he would wait for her. 
DePape also spoke to the police, explaining that he broke into the Pelosi house to take Nancy hostage because she was the "'leader of the pack' of lies told by the Democratic Party." According to DePape, his goal was to make Nancy tell the "truth," and planned to "break 'her kneecaps'" if she didn't. This, he believed, would force her to go to work in a wheelchair, which DePape felt "would show other Members of Congress there were consequences to actions."
In his conversation with the police about what happened, DePape compared himself to America's founding fathers, in that he believed "he was fighting against tyranny without the option of surrender."
The alleged attacker had posted conspiracy theories on social media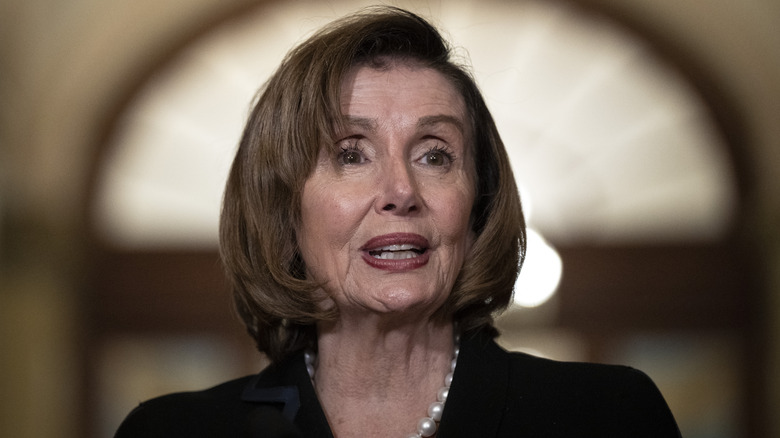 Drew Angerer/Getty Images
The complaint outlines what happened when police got to the house; while both he and Paul Pelosi had a hold of the hammer, David DePape said "everything was good" after officers inquired about what was happening before he wrested the hammer from Paul and attacked him. DePape reportedly had zip ties and a backpack that contained rope, gloves, another hammer, and gloves.
DePape's online posts seemed to show his belief that the 2020 election was stolen along with other QAnon conspiracy theories, per Politico. Right-wing extremists have previously directed anger and threats at a number of politicians, including Nancy Pelosi; during the January 6 attack on the U.S. Capitol, some chanted "Nancy, Nancy, where are you, Nancy?" via The New York Times.
California state Senator Scott Weiner described what happened as "the direct result of toxic right-wing rhetoric and incitement against Speaker Pelosi and so many other progressive leaders. [...] Words have consequences, and without question, the GOP's hate and extremism has bred political violence," via KTLA. Both Democrats and Republicans have decried the assault.