Keeping Warm Will Be Easier Than Ever With This Winter Hat Trend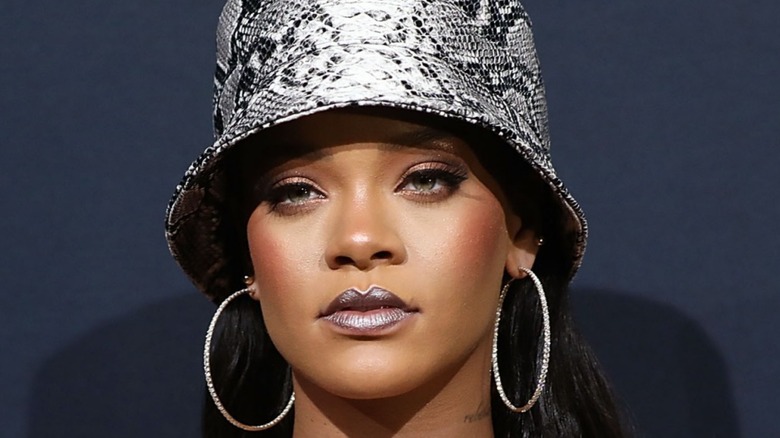 Caroline Mccredie/Getty Images
It's official: Bucket hats are here to stay. Every few years, the retro trend makes a huge resurgence. The truth about the bucket hat trend is that it is versatile and looks just as good dressed down as it does on the runway.
Rihanna, the queen of style herself, had everyone's jaws dropping when she rocked a baby pink faux fur bucket hat with her streetwear, per Byrdie. In another style moment, she showed off a colorful hat in an February 2021 Instagram post. The "Lift Me Up" singer has unofficially become the ambassador of bucket hats. Her 2018 look at Fenty Beauty's Anniversary Event (pictured above) speaks for itself. Photographer (and Rihanna's bestie) Melissa Forde even launched her own collection of bucket hats, Harper's Bazaar reported.
Other celebrities have gravitated toward the 1990s trend. In 2022, Billie Eilish has also championed bucket hats with her growing collection of the fun headgear, and has effortlessly made them look stylish and cool. This hat trend can match any occasion or season.
How to take the bucket hat trend from summer to winter
This winter, steal a page out of Rihanna's book and rock a bucket hat for all of your style needs. To combat the cold front, POPSUGAR recommended adding hats that are thick, feature insulated lining, or are made of leather (real or faux) to your wardrobe. 
Rihanna's fuzzy black bucket hat (pictured above) is the perfect winter accessory because the soft material drapes over her ears and is thicker than its lighter summer counterpart. The dark shade is also the perfect choice for the cold season. Dark colors retain more heat, per Sciencing, so pay close attention to the colors that you wear in the wintertime. 
Yahoo! reported that the teddy bucket hat has also taken over social media because of its cozy texture and affordability. In a December 2021 TikTok, style blogger Kennedy Frazer paired her Sherpa bucket hat with a white faux leather coat, heather grey sweatshirt and baggy pants. The casual look strikes a balance between comfort and high fashion, and will mesh well with any aesthetic.
So break out the dark-colored bucket hat this winter season — they are officially back in style.