How Billie Eilish Brought Back The Bucket Hat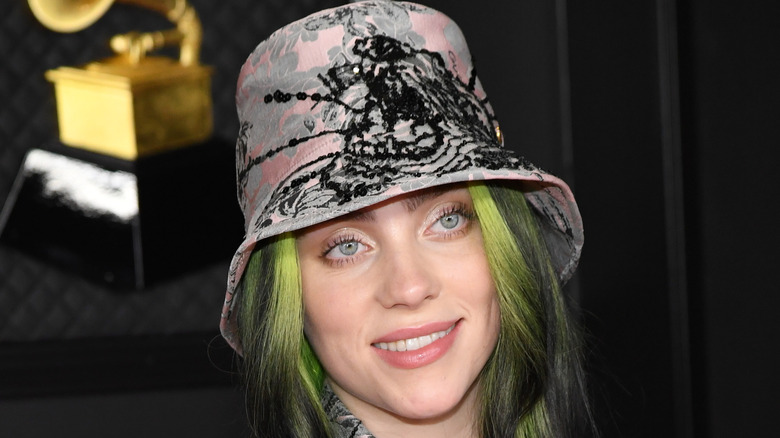 Kevin Mazur/Getty Images
You've probably heard of Billie Eilish and her fantastic voice, and you haven't, we're not entirely sure where you've been lately. You might have even seen the outspoken teen rocker's gorgeous new blonde shag hairdo, which she rocked for Vogue UK, shocking the world with her significant change after sporting a bright green and black hairstyle (and a wig for a while). You might have even seen her in a crown (or at least rocked out to her song "You Should See Me in a Crown"). However, you might not realize that she helped bring back an old-school style — a casual crown, if you will — the bucket hat (via The VOU). 
While Eilish reportedly wore a bucket hat to help hide the fact that she wore a wig to hide her lovely lighter locks for her new album look (via Vogue UK), The VOU revealed that the accessory is the perfect thing for hiding the fact that you might not have seen your stylist for a while amid the coronavirus pandemic. As such, the bucket hat has come back in a big way. 
Here's why bucket hats are a great summer accessory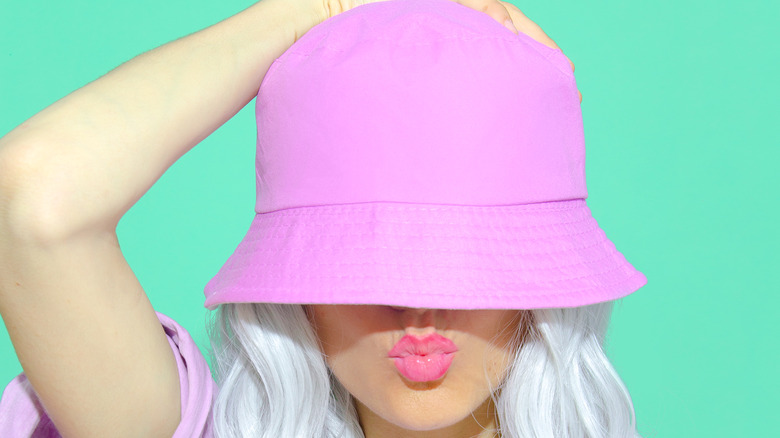 Shutterstock
According to The VOU, celebrities in addition to Billie Eilish like Diplo, Rihanna, and Bella Hadid rocked the bucket hat recently too. If you've searched for the headwear, you're in good company, as the publication noted that searches for the accessory are up about 56%. The 1990s staple, like many fashions from the final years of the last century, is once again back in style. The summery trend is both stylish and fun, making it an excellent addition to try out this summer, especially if you've recently been swimming or otherwise feel like you want to cover your hair or protect your face from the bright sun (via Today). 
If you want to get in on the revived trend this summer, there's good news. Because they're popular again, many retailers and designers are selling bucket hats including Prada, Fendi, Nike, and Kangol, according to Elle. As a result, you can find the perfect bucket hat in a variety of price points and materials to suit nearly any casual occasion and outfit.