Get The Look On A Budget: Mindy Kaling's Trendy Green Pants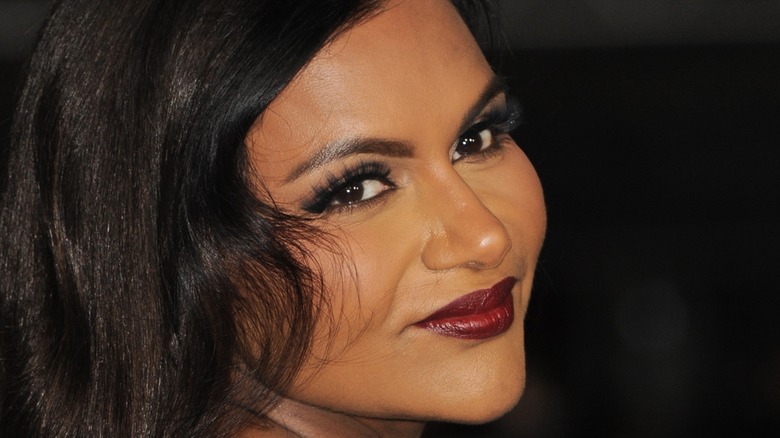 Tinseltown/Shutterstock
We may receive a commission on purchases made from links.
Mindy Kaling is what we like to call a jack of all trades. She's probably best known for her work on the hit show "The Mindy Project" and, of course, "The Office" (via TV Guide.) The comedic actress and writer is great at knowing how to make her audience laugh, but she also deserves another crown for all the iconic outfits she's pulled off, especially when it comes to the color green.
When Kaling isn't making headlines for her hard work onscreen, she's just like the rest of us and enjoys sharing her stylish fashion choices on social media. One of our favorite Instagram posts from the Hollywood star is of her wearing a chartreuse vest and matching pants combo. The whole look is cute, fun, and classy. Fans agree and have given the post over 40,000 likes.
Recently, Kaling pulled off another green-inspired look that's got the fashion world talking — high-waisted green pants. Not something you see every day. Since Kaling is a celebrity, we're willing to bet those trendy green pants weren't exactly a cheap purchase, at least not cheap enough for the rest of us to easily buy. But we were able to find some budget-friendly alternatives that can get you the same look for an even better price.
These are the trendy green pants that Mindy Kaling wore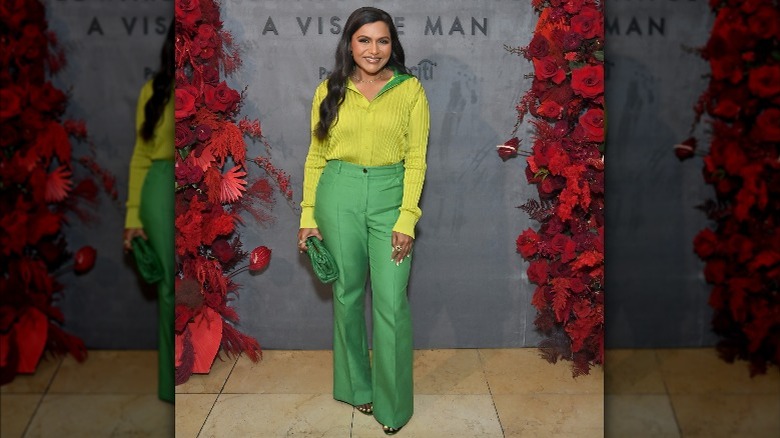 Stefanie Keenan/Getty
Mindy Kaling posed at the Sunset Tower Hotel on September 13, 2022, for the release of Edward Enniful's memoir "A Visible Man." Enniful is the Ghana-born editor-in-chief for British Vogue (via Vogue). He is also a dear friend of Kaling's. Back in March, Enniful shared the final cover for his novel on Twitter. Kaling responded to his tweet with, "Incredible cover. Congratulations. Cannot wait to read."
Kaling showed off her amazing fashion sense at Enniful's book event by wearing a pair of fern-green trousers that immediately caught the eyes of fans and attendees of the event. The pants are high-waisted and flare out at the leg, giving them a professional and business-like appearance. Just one look at them is enough to make us want to fill our closets with colorful pants.
Her pear-colored top with a dark green trim is the perfect match for her pants. Combining these two lovely shades of green was an excellent choice because their light and dark shades balance each other out. 
These budget-friendly green pants will cost you less than $50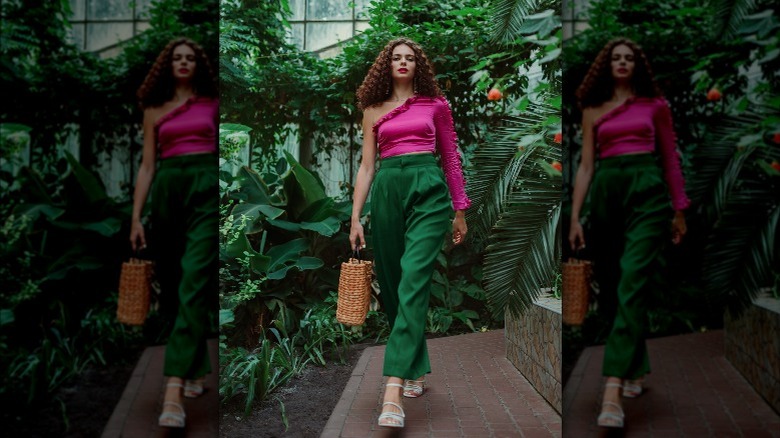 Victoria Chudinova/Shutterstock
If you're as obsessed with Mindy Kaling's trendy green pants as we are, you'll be happy to know that you don't have to break the bank to get the same iconic look.
Our first budget-friendly clone of Kaling's pants is the Victoria High Waisted Dress Pant in Kelly Green from Fashion Nova. The pants have the same high waist and flared legs as Kaling's pants but cost much less, making these a suitable contender for your wardrobe. Never browsed through Fashion Nova before? It's definitely worth a visit. Fashion Nova is a favorite among style gurus on YouTube because of its huge selection of low-priced, chic clothing and accessories. The online fashion boutique also offers shoppers real reviews from past customers so you can get some insight before placing an order.
Our second successor to Kaling's pants is sure to make your wallet happy. The CenturyX High Waist Pants in Green are sold through Walmart and are just about indistinguishable from Kaling's green pants. Walmart is a favorite place to pick up quality items for a low price, and the same goes for these online-exclusive pants. They'll only cost you around $30. The pants sit above the waist and flare out in the thigh area, giving them a slightly fuller look. This is perfect for anyone who likes trendy office pants that are stylish but don't want to sacrifice comfort.