Trendy Office Pants For Every Dress Code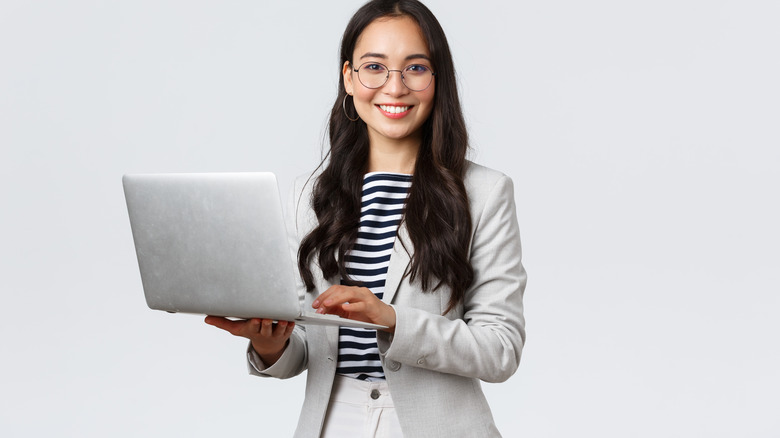 Shutterstock
Going back to the office after getting used to wearing sweatpants can induce anxiety, especially for those who decided to declutter their old work clothes. But before you go back-to-work shopping, it's important to know your company's dress code so you can know what kind of pants to buy. There are four general dress code categories: casual, business casual, smart casual, and business formal (per The Balance Careers).
When you think of casual dress codes, you may think of fast food or retail, but tech companies like Apple and Google have adopted casual dress codes, too (via Convene). In fact, roughly half of U.S. companies allow casual work attire (per BizWomen). Business casual dress codes are one of the most common among workplaces, with several companies adopting the code for the whole work week, or reserving Fridays for business casual attire (via MoneyCrashers). According to Indeed, smart casual dress codes occur in flexible offices. Business formal is typically reserved for those who work in law, government, accounting, or finance, as well as anyone in executive positions.
Work pants that work for a casual or business casual dress code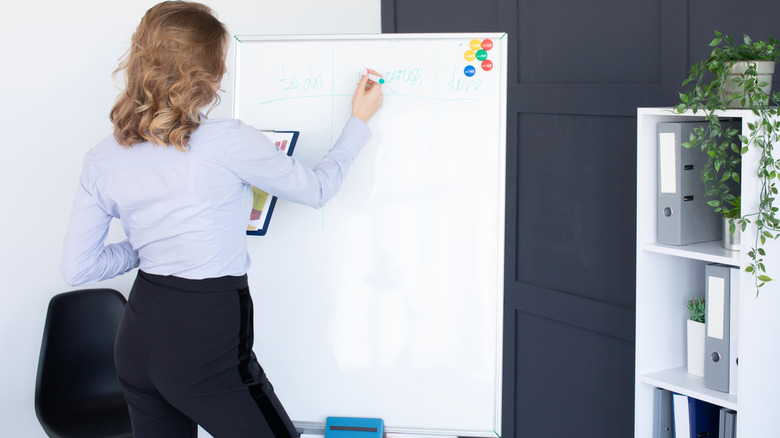 Shutterstock
Casual dress codes are one of the easiest to follow (via MoneyCrashers). For casual dress codes, you can't go wrong with fitted t-shirts, polos, and jeans. Just make sure to check with your manager if you want to wear styles like ripped, flared, and/or low-rise jeans (via Insider, Stitchfix, and The Balance Careers). When in doubt, bootcut, straight-leg, or skinny jeans that are mid- or high-rise are always a safe choice, like these Banana Republic High-Rise Straight Jeans. There are certain leggings and sweatpants that are now designed to be work-appropriate using fabric seen on dress pants and can be worn for casual settings like the Express High-Waisted Supersoft Double-Knit Jogger Pant (via WhoWhatWear).
Business casual is a step up from casual, per The Balance Careers. So while you can wear jeans, you can also wear slacks or khakis in neutral tones (via Saratoga). If you opt for jeans, dark-wash skinny jeans give a polished, tailored look that will work well in most business casual workplaces (via Stichfix). Luckily, there are also several pull-on slacks with elastic waistbands like Spanx's The Perfect Pant. Depending on how strict your workplace's dress code is, you may even be able to wear the aforementioned dressy sweatpants with a casual blazer and blouse, per The Balance Careers.
Work pants that work for a smart casual or business formal dress code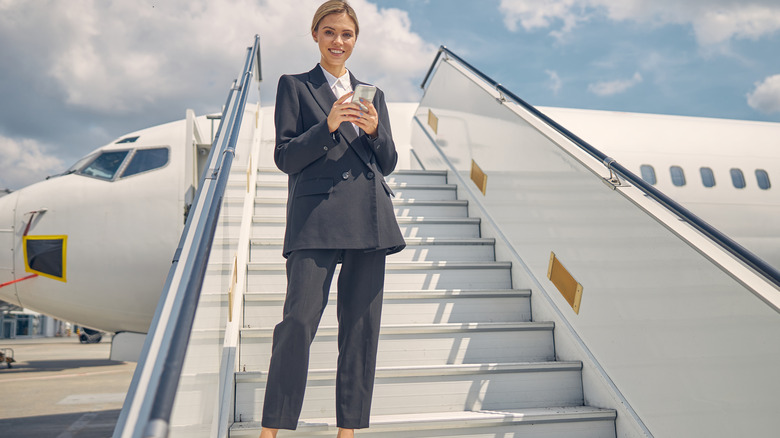 Shutterstock
Smart casual is a more fashion-forward take on business casual, per The TrendSpotter. This is especially good news if you want to rock the wide-leg pant trend. Stocking up on stylish twill pants and chinos in bright colors and prints will help you stand out in your office among the gray sea of cubicles (via Marie Claire and The TrendSpotter). Make sure to also buy pants that come in classic designs like plaid and pinstripe that can easily elevate your style at work, such as Banana Republic's Ryan Slim Straight-Fit Washable Wool-Blend Pant or White House Comfort Stretch Pinstripe Pant.
To dress for a business formal dress code, it's important to stay away from sweatpants, leggings, and jeans, no matter how dressy they may look (via The Balance Careers). In these more conservative settings, you want to invest in pants made of more luxurious types of fabric, including wool and crepe-blends (via Fairy Godboss). Dark pantsuits and dressy pants tend to look more professional and will work perfectly in any more formal setting, per Saratoga and The Balance Careers). Stick to tailored fits that are not too tight, nor baggy. So no matter what your workplace's dress code is, there is a pair of pants that are bound to work for your back-to-work wardrobe.