Hallmark Ran Into This Unexpected Location Problem While Filming Holiday Content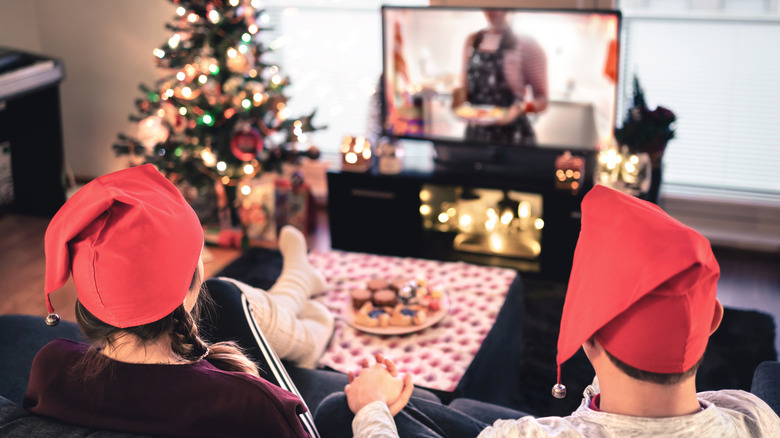 Tero Vesalainen/Shutterstock
People love or love to hate Hallmark holiday movies; some of the reasons that people love Hallmark movies is because of how reliable they are and how they let us escape from reality into an idealized and often beautiful world (via CafeMom). The first Hallmark Christmas movie aired in the early 2000s, and in the years since, millions of viewers have tuned in for the feel-good holiday films, as E! News noted. With the renowned success of the movies, Hallmark added a "Christmas in July" lineup, TV Insider said.
In 2022, there will be 40 new Hallmark original Christmas movies with new films debuting every weekend for both "Countdown to Christmas" on the Hallmark Channel and "Miracles of Christmas" on Hallmarks Movies & Mysteries, TV Guide reported. They also had 40 new movies for 2021, 2020, and 2019 (per Forbes). But all that falling in love in the snow sometimes hits a snag — where to film?
The perfect small town locale for a Christmas Hallmark movie can be hard to find
Thanks to a variety of tax breaks, one of the most popular filming locations for Hallmark movies is in and around Vancouver, Canada. And one of the popular settings for Hallmark holiday movies is a quaint, Christmas-y village. But there's not always enough of them to go around. "Every movie wants that small, cute town," Jamie Lake, production manager for the Vancouver-based production company Front Street Pictures, told The Wall Street Journal. "There's only so many small, cute towns within driving distance of the film zone."
Even with the potential limitations, filmmakers are still using British Columbia to stand in for any number of different Hallmark locales. Some of the locations near Vancouver that have been used as the perfect backdrop to a tale of finding love at Christmas — according to Tourism Vancouver — include Steveston for filming "Hope at Christmas," Maple Ridge for "Road to Christmas," and Fort Langley for ​​"The Perfect Bride: Wedding Bells."
In some Hallmark Christmas movies, the location is a big part of the plot. "The Mistletoe Secret" is about getting the town of Midway, Utah written about by a travel writer. While Midway, Utah is a real town, the movie was filmed in the small town of Aldergrove, about an hour southeast of Vancouver (via Aldergrove Star).
Vancouver-area locations stand in for towns around the US
For "A Christmas Tree Grows in Colorado," which is all about a town's annual Christmas celebration centered on a spruce tree, they filmed in Hope — located in Fraser Valley about a two-hour drive from Vancouver (via The Pioneer Woman). Hope was also the setting for "Winter's Dream," a Hallmark movie starring Dean Cain and Kristy Swanson, per Hope Standard.
And for the series of "Christmas in Evergreen" movies, the setting is the fictional town of Evergreen, Vermont, and filming took place in Burnaby, at the Burnaby Village Museum, built to look like a Canadian pioneer village, according to Country Living.
One of the benefits of filming around Vancouver can be snow. A Hallmark movie writer told Entertainment Weekly that all Hallmark Christmas movies absolutely must have snow — here's how much it costs for all that Hallmark snow. And while the films aren't always made when there's snow on the ground in Vancouver, "Christmas Cookies" star Wes Brown told The Advocate they filmed some scenes in Squamish, about an hour and a half from Vancouver, because it still had plenty of snow in April.
As for what it's like on the set of a Hallmark movie, actor Donna Benedicto, who was in "Jingle Bell Bride," "Matching Hearts," and "Sweet Carolina" — all filmed in Vancouver, told Vancouver Is Awesome that it's "really fun [. . .] I feel really, really comfortable on the set of Hallmark movies."