Victoria's Secret's Latest Acquisition Signals A Shift Into A More Inclusive Lingerie Market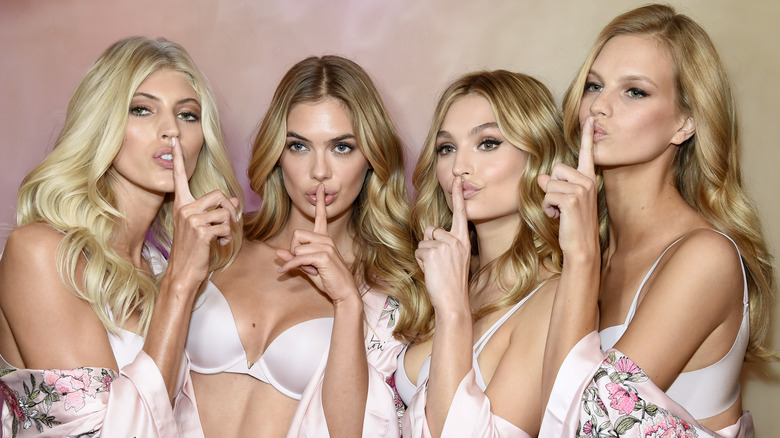 Kevin Mazur/Getty Images
Victoria's Secret has been known for cleavage-boosting bras, feathered supermodels who strut down runways, and catalogs that seemed to follow you from address to address. But the company has been trying to update their image to match with today's more all-inclusive climate. In The New York Times, Martin Waters, Victoria's Secret's chief executive officer, remarked, "When the world was changing, we were too slow to respond. We needed to stop being about what men want and to be about what women want."
The company began by getting rid of their trademark Angels in 2021, replacing them with the VS Collective instead, a group of diverse spokeswomen, including athletes, advocates, and models of various sizes, per Cosmopolitan. In a press release from Victoria's Secret & Co., Waters shared, "We are on an incredible journey to become the world's leading advocate for women."
They also launched the Love Cloud collection, with Raúl Martinez, head creative director, telling The Columbus Dispatch, "The core of our transformation has been listening to our customers. ... This is all part of our ongoing effort to develop products that champion and support all women." And they've taken even more steps to make sure their stores are carrying intimate items appropriate for all of their customers.
Victoria's Secrets is buying Adore Me
In a November press release issued by Victoria's Secret & Co., the company announced its agreement to purchase 100 percent of Adore Me, Inc. "Adore Me is a technology-led, digital-first innovator in the intimates category that will help us bring differentiated experience to Victoria's Secret and PINK customers," said Martin Waters, CEO of Victoria's Secret & Co..
While Victoria's Secret has mostly put the emphasis on Adore Me's online retail expertise as a major purchasing point, the $400 million price tag also comes with knowledge that the new acquisition is known as an all-inclusive brand. Adore Me specifically states on their website, "While the fashion industry has a long way to go towards becoming inclusive at every level — catering to people of all shapes & sizes and at an affordable price — our ambition is to offer accessible, inclusive, and better fashion for all." The lingerie company offers 77 different sizes for their customers.
As noted by Apparel Resources, "Adore Me's strong brand authenticity engages Gen Z and Millennials, and the company will provide Victoria's Secret & Co. with a very inclusive product range at an outstanding value across both online and offline platforms." One that doesn't include catalogs — they were dropped along with the Angels.