How To Set A Clothes Shopping Budget That Works For You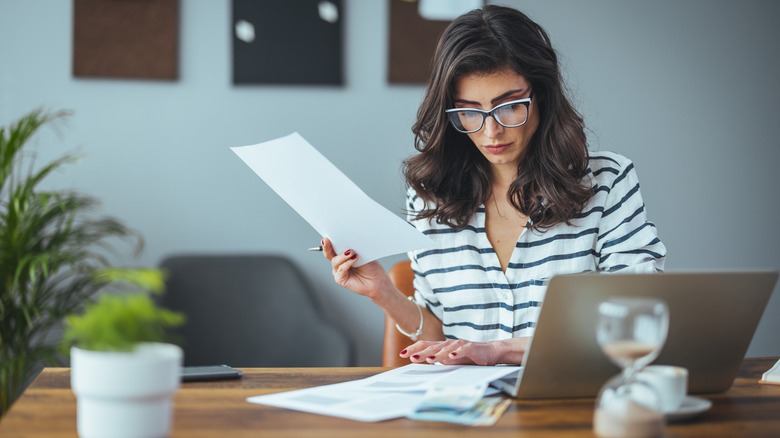 Dragana Gordic/Shutterstock
While the word "budget" might automatically make you groan, budgets can be extremely beneficial. Investopedia credits budgets to helping you gain financial stability, which eventually leads to financial freedom. Sticking to a budget can help you have an emergency cushion. It also means you can set money aside for fun, including vacations, salon visits, and clothes.
Going clothes shopping may seem like fun and games, but investing in quality clothes can be healthy for your wallet and your wardrobe. Having a set clothes budget can help cut back on impulse shopping sprees. This can help you make more mindful purchases, leading to a wardrobe that lasts (via PSECU).
The average woman spends around $150 to $400 per month on clothes (via ICSID). Depending on how much you're making, that could be way too much. Knowing how much of your income can go towards clothes will be a game-changer.
A simple equation can find your budget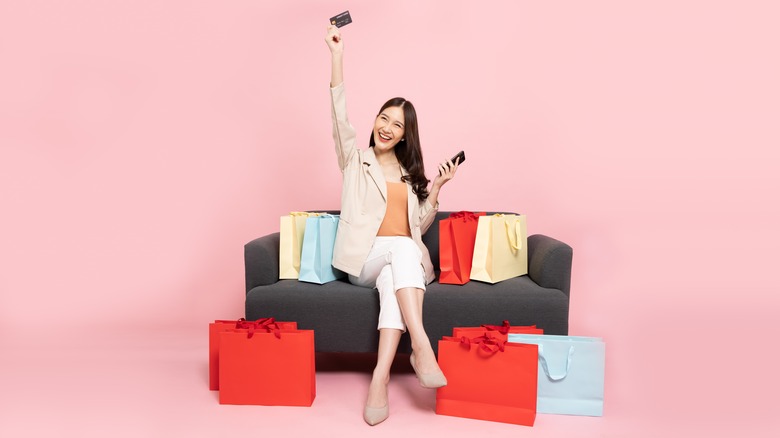 comzeal images/Shutterstock
Creating a budget that works for you will take some planning, but it's probably easier than you think. You've set your goal: make a sustainable clothing budget. Now, it's time to start making some smart financial steps.
The general rule of thumb is to set aside a percentage of your income specifically for clothing. Financial planner Pete Dunn recommends setting aside about 5% of your take home pay (via WhoWhatWear).
The best part of that rule is its flexibility. Financial Best Life says it's important to customize that number based on your situation. If you're a family of 4 or have a job that requires you to have a large variety of clothes, 5% may not be enough. However, the blog leaves this warning: if you're having financial struggles or are low-income, don't spend more than 5%.
Once you've calculated how much you can afford, don't feel guilty about spending it. 
Know when to invest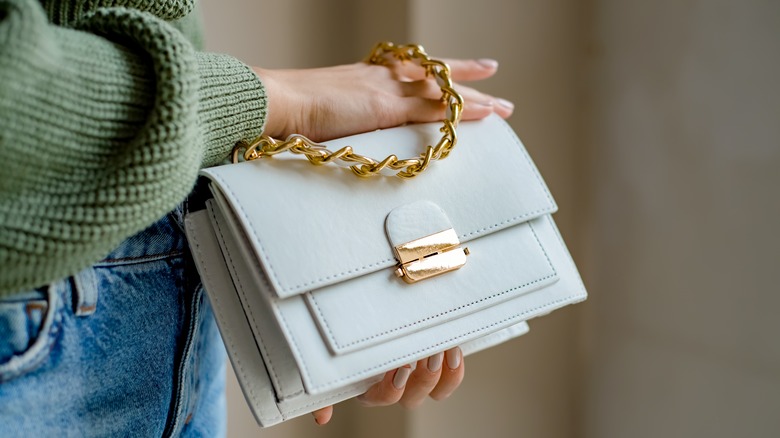 Chernova Yuliia/Shutterstock
Even if you're on the slimmest of budgets, there are several things you can do to maximize your existing closet and only buy what will bring value to your life. Allison Lumbatis, author of "The Ultimate Book of Outfit Formulas," is a master of creating long-lasting wardrobes.
"A few years back, I was buying a handbag every season," Lumbatis tells The Rachel Cruze Show. "I would carry it for three months, get sick of it, and move on."
To Lumbatis, a major part of budgeting is knowing when to splurge. She teaches that there are four categories of investment-worthy pieces: handbags, outwear, shoes, and knits. Spending a little more on items that are going to last will end up saving you money in the long run.
Not all brands are created equal when shopping for high-quality pieces. Be the Budget recommends stores like Old Navy, TJ Maxx, Amazon, and Nordstrom Rack for good clothes that won't hurt your wallet.
Budgeting can seem daunting, but it doesn't have to be complicated. Taking the smallest steps, like avoiding mistakes when making a budget, can make a big difference. Take heart knowing that there are many ways to look classy on a budget!