How To Take The Perfect Mirror Selfie Every Time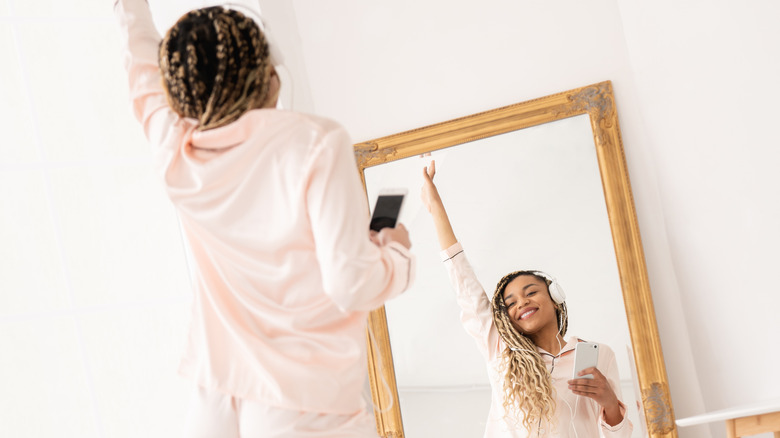 Inside Creative House/Shutterstock
The lips slightly pucker, the head subtly turns, and the phone goes up — we all know the signs that someone is about to take a selfie. Thanks to social media apps such as Instagram, Facebook, and Snapchat, we see people taking selfies everywhere we turn. Some people even go as far as to use tools like the Facetune app or study countless hacks for better selfies in hopes of appearing more striking or earning more likes.
But it's not only the classic face-flaunting selfies that pop up on our feeds all the time. There's also the mirror selfie, the traditional selfie's mirror-loving, sometimes face-hiding, figure-showing cousin. After all, mirror selfies are excellent for showing off outfits or body transformations, unlike face-focused selfies, which are better for displaying your makeup or facial features. Thus, people often take mirror selfies to post on social media, send to friends for outfit advice, or upload to their dating app profiles. Believe it or not, more than 11 million posts popped up when we searched #mirriorselfie on Instagram, and we saw a lot on Pinterest, too. We've got some advice to help yours stand out above the rest.
Think about your outfit, background, and lighting
Before you take a mirror selfie, you should ask yourself why you want to take it at that moment, especially if you plan on posting it on social media or sending it to anyone. For instance, many people take mirror selfies to show off their favorite outfits, so you should always consider what you'll be wearing in your mirror selfie. For instance, if you're wearing a striking night-out ensemble and want to get a picture of the look before you dance all night, you should take a mirror selfie, and check that your entire outfit is featured in the picture, per Popsugar.
In addition to your outfit, you should consider what will be in the background of your mirror selfie before taking the picture. This step is crucial because even if you're wearing a killer fit, a messy or chaotic backdrop can be distracting and take the emphasis away from you. Therefore, clean, neat backgrounds typically lead to excellent content (via Facetune). Plus, lighting can make all the difference in any picture. For example, natural light is famously flattering, which we believe is the reason why the outdoor mirror selfie trend dominated social media in 2020. While you don't need to go as far as to bring your mirrors outside again, incorporating some natural light into your solo photo session never hurts.
Use social media and celebrities as inspiration
Cosmopolitan noted that countless celebrities post stunning mirror selfies, so why not use your favorite celebrities' mirror pics as inspiration? For instance, Dove Cameron is the queen of mirror selfies on Instagram. The singer-actress has posted plenty of mirror selfies and looks excellent every time, whether in costume, flaunting bold lipstick, or showing off her fun phone case in a casual outfit with messy-chic hair. Moreover, Sydney Sweeney posts a lot of mirror selfies, too. Some examples of the actress's mirror selfies include posing on a motorcycle in a sexy outfit, smiling alongside another actress from "Euphoria," and wearing a cozy-looking robe while surrounded by makeup. So, next time you want to take a mirror selfie, try looking at celebrities like Cameron and Sweeney for inspiration.
Moreover, TikTok is a great place to look for pose ideas. For example, a TikTok user named Angie Adisa shared a plethora of mirror selfie poses to try, such as "Balance," which involves balancing on one leg, and "Squat," where you squat down for the picture. Another TikTok user named Lizzie Kloehn shared some more creative ideas, such as using your phone's front camera to take the pic for a picture-within-a-picture, kicking your shoe up against the mirror, and leaning in close to the mirror.
So, get ready to put on your most Insta-worthy outfit and channel your favorite celebrities or TikTokers for a beautiful mirror selfie.