Tips For Designing A Maximalist Living Room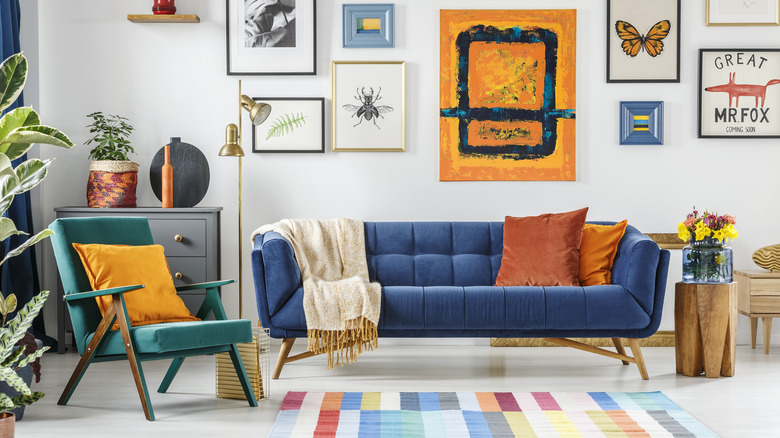 Ground Picture/Shutterstock
As the masses have reentered the general public post-quarantine, individuals have felt a renewed sense of creativity and boldness, giving life to a design trend that is the exact opposite of minimalism (per VIM Magazine). While minimalism has been a consistently popular movement, maximalism has grown in popularity in recent years, giving rise to the trend in art, fashion, and interior design.
In interior design, maximalism is not to be confused with a simply cluttered space but is instead a collection of bold colors, unique shapes, and layered patterns that bring a room together in a busy but cohesive style, according to Apartment Therapy. In contrast to the minimalist trend, maximalists go by the motto "more is more," bringing their spaces to life with meaningful decor and art, as My Domaine reported.
While you may love the aesthetics of maximalism, you might find that putting it into practice is a bit more difficult than it first appears. Not to worry, though, as we have great tips for designing a maximalist living room.
Come at your maximalist design from a specific angle
If you're having trouble designing your living room in the maximalist style, a major tip is to begin by finding a specific idea or story you want your space to express. As interior designer Andrea May shared with My Domaine, "Maximalism is a highly curatorial approach to interior storytelling. It allows you to build on one subject, or idea and go deep."
A key element of this design is that it should bring you joy and surround you with items that you love (per The Spruce). This can look many different ways, so narrowing down your entry to the maximalist trend by determining a specific story you want to express or specific items you want to include is a great starting point.
For example, Beth Diana Smith, a New Jersey-based interior designer, uses art pieces featuring and created by Black people and African-inspired decor on top of bold colors and patterns to design her maximalist spaces, according to the Seattle Times. Melissa Rufty, a New Orleans interior designer, imbues her rooms with a Southern, antique vibe by mixing patterns like chintz and chinoiserie with more modern pieces and textures.
Using these examples, you can brainstorm the story that you want to build your living room around, deciding what colors, patterns, and items would best help you achieve the look you're going for. However, don't get too caught up on one specific style, as the point of maximalism is mixing and matching unexpectedly.
Utilize bold colors and patterns on top of neutrals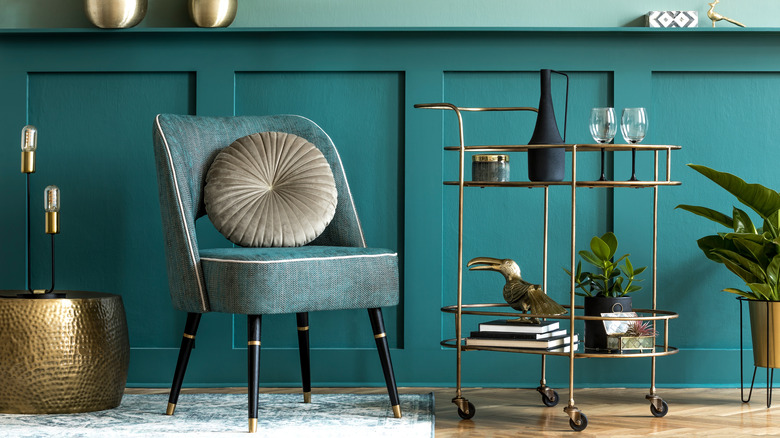 Followtheflow/Shutterstock
Color and pattern are key elements of the maximalist design trend, as mixing and layering bold hues and prints are often used to create the busy but cohesive look of this style (per Vogue). Once you've decided on the vibe that you want your space to express, then you can move on to choosing a home color palette that will give your living room the life you're looking for.
Apartment Therapy recommends starting off with a neutral palette that you can layer your bold colors and patterns on top of. For example, you might choose to have vibrantly colored wall paint but position a more neutral-toned piece of furniture in front of it, such as a side or console table. You can use darker colors, such as navy blue or black, as the background for more colorful, eye-catching pieces, too (via My Move).
Generally, paint is a go-to way to make your maximalist space stand out, so choose bold colors for your walls and furniture and pair them with exciting patterns and textures, according to My Domaine. As mentioned on Vishion, unexpected color pairings are a staple of this trend, so feel free to mix your favorite colors, even if they are unconventional.
The most important part of designing your maximalist space is making sure that it's meeting your needs and desires. So, when decorating your living room, make sure you're including things that meet your everyday needs while creating your desired look.