The Home Decor Brand You Never Knew Ellen DeGeneres Started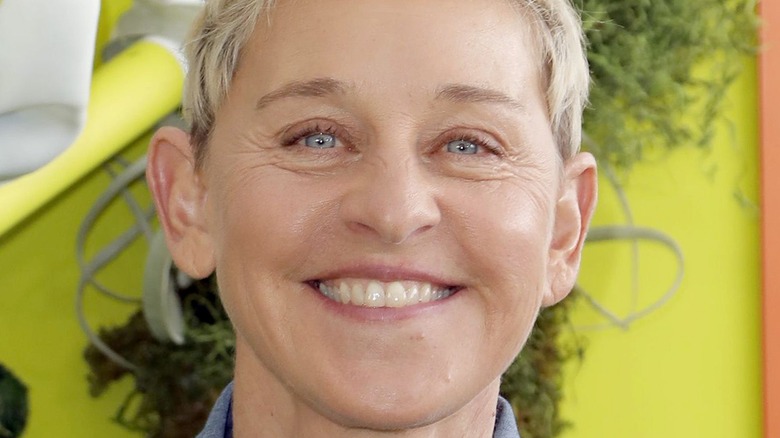 Tibrina Hobson/Getty Images
Ellen DeGeneres will be a very familiar face (and voice) to many. But when she's not busy in the entertainment industry, DeGeneres focuses on another passion — interior design. The star has always been vocal about her love for home decor, as has her wife, Portia de Rossi. For DeGeneres, this adoration began when she was a little girl growing up in Louisiana. "We never had a house when I was growing up," she told Architectural Digest in 2011. "We always rented. But my father would dream, and we used to look at houses all the time."
That dream has never left DeGeneres, who has bought dozens of houses since earning her fortune from her daytime talk show and her '90s sitcom "Ellen." She even fronted her own series for HGTV called "Ellen's Design Challenge" (via Business Wire). In the fall of 2015, she published a book titled "Home", giving her fans the opportunity to see exactly how she and de Rossi renovated the homes they've shared over the years. That summer, DeGeneres just so happened to start her own home decor brand — ED by Ellen DeGeneres.
So, what products does the star sell, and how affordable are they?
Ellen shares her love for interior design through her home decor brand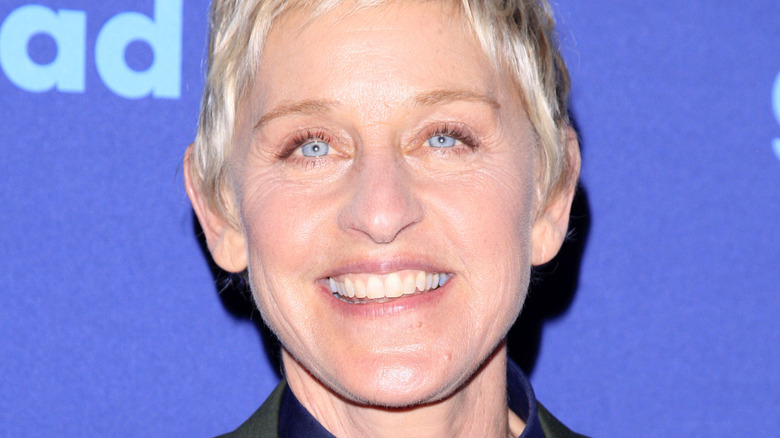 Kathy Hutchins/Shutterstock
Launched in the summer of 2015, ED by Ellen DeGeneres gave the star an opportunity to share her love of interior design with her audience and the broader American consumer base. Named after the affectionate nickname given to Ellen DeGeneres by her wife, Portia de Rossi (via InStyle), the ED brand consists of not only homeware, but clothing, baby, and pet products, too. But the home design portion dominates the site in addition to brick-and-mortar stores that stock the brand, like Bed Bath & Beyond.
"Home design has been my passion for a long, long time," DeGeneres told InStyle. "That's what I lay awake thinking about at night more than anything else, so it was obvious that I had to include that in the collection." The items may have changed over the years. However, DeGeneres still injects everything she loves into the designs of her products, "which is design, and my love for animals, and humor and whimsy," as she told InStyle. "I included pieces that are intended to be a little funny without sacrificing style."
DeGeneres' home decor brand is surprisingly affordable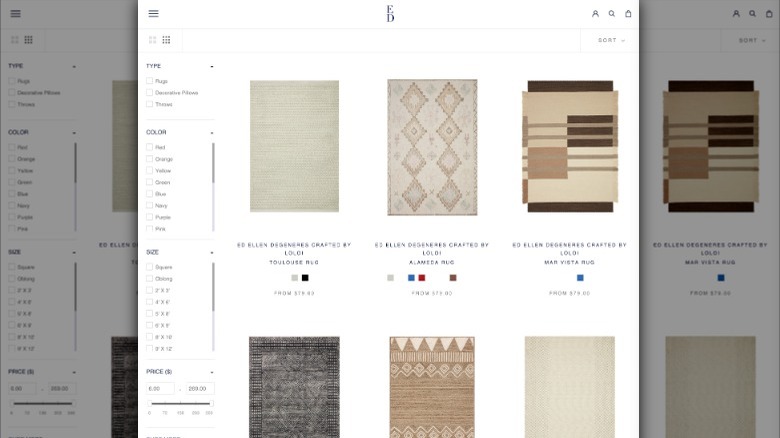 ED by Ellen DeGeneres
Most homeware products from ED by Ellen DeGeneres are affordable but can cost up to $1,618. This high price point is found in the lighting section, specifically for an extra large chandelier which comes in a Burnished Brass or Aged Iron finish with milk glass shades. Other pieces from Ellen DeGeneres' lighting collection start from $170. The brand also offers an array of minimalist decal wallpapers, ranging from $6 to $120 depending on size, as well as lots of duvets and blankets from $109.99 and towels, shower curtains, and bath mats.
By far, the cornerstone of DeGeneres' home decor brand is the rugs, decor, and dinnerware. There's lots to choose from, including an array of decorative pillows with cute accents in neutral colors, throw blankets, and even candles. The soy wax blend candles are $34 and come in various scents, from calming lavender to woody mahogany. As for dining, there are plenty of plates to choose from, in addition to mugs (with added motifs, of course) and table runners.