The Real Reason Portia De Rossi Changed Her Name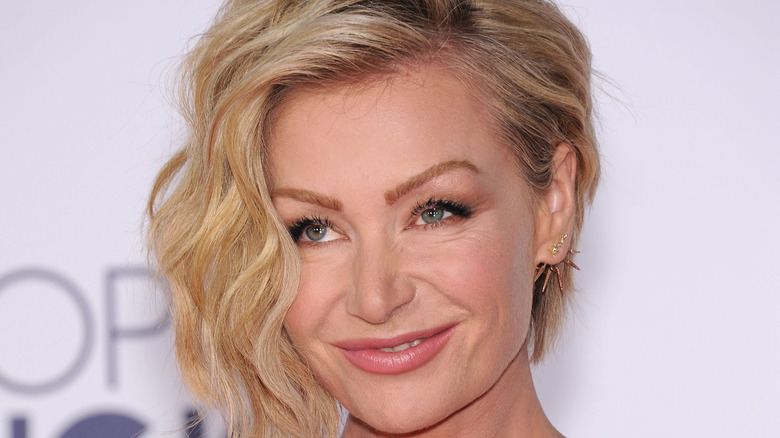 DFree/Shutterstock
Portia de Rossi seems like the perfect Hollywood name. It flows off the tongue well, and it's definitely memorable, which is what any would-be celebrity wants when starting out in Tinseltown. It also may be one of the reasons the actress chose the name for herself and had it legally changed from her birth name when she was only 15 years old, according to Biography. But there was more to the name change than just finding one that was suitable for a career in movies and television.
The actress known as Portia de Rossi was born Amanda Lee Rogers on Jan. 31, 1973, in Horsham, Victoria, Australia. When her father suddenly died when she was 9 years old, the family needed money, so young Amanda started working as an actress and model when she was only 11 (via Biography). Within four years, she decided to go for a stage name and had it legally changed.
But what made her choose that name and abandon the one she was born with?
Portia de Rossi chose the perfect theatrical name
s_bukley/Shutterstock
After arriving in Hollywood, Portia de Rossi made a name for herself on a variety of television series, including "Ally McBeal" and "Arrested Development," the latter of which aired for 16 years (via IMDb). She came with the perfect thespian stage name, as "Portia" was chosen from the Shakespeare play "The Merchant of Venice." The actress chose the last name "de Rossi" because it just sounded exotic to her then-15-year-old self. According to Biography, de Rossi later said she might have also changed her name at such a young age as she was struggling with her own sexual identity.
De Rossi is famously married to talk show host and comedian Ellen DeGeneres, with the pair tying the knot as soon as same-sex marriage became legal in California in 2008 (via People). They recently celebrated their 13th wedding anniversary, with each woman sharing sweet notes to her partner on social media.
"13 years ago I married the love of my life," de Rossi wrote on Instagram. "And it just keeps getting better." As for DeGeneres, she shared her own message on Instagram: "Happy anniversary, Portia. I'm the luckiest girl in the world because I get to share my life with you."
It sounds like her name change, her Hollywood career, and her marriage have all turned out just right.