Why Members Of The Royal Family Are Sporting Poppy Pins Throughout November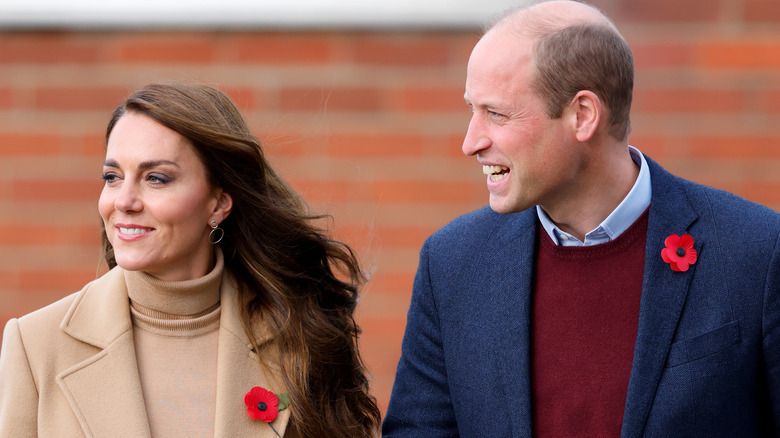 Max Mumby/indigo/Getty Images
Wherever you go in England during the month of November, you are likely to be greeted by red poppies, as noted by Metro. "Our red poppy is a symbol of both Remembrance and hope for a peaceful future," explains the Royal British Legion.
As recorded by the organization, the story of the poppy began in World War I, when British land was destroyed, left barren with the exception of the bright red Flanders poppy that still managed to grow. Canadian doctor Lieutenant Colonel John McCrae wrote a poem, "In Flanders Fields," which helped spread the world about the resilient flowers. Through several movements and campaigns, the poppy was adopted by the Royal British Legion in 1921. The organization sold nine million poppies that year, raising monies to help veterans. It has since become a long-honored tradition.
According to the Royal British Legion, "Wearing a poppy is a personal choice reflecting individual and personal memories. From paper poppies to pins, bag charms to pet poppies, the best way to wear a poppy is simply with pride." And the royal family does just that.
How Kate Middleton and the late Queen Elizabeth have worn poppies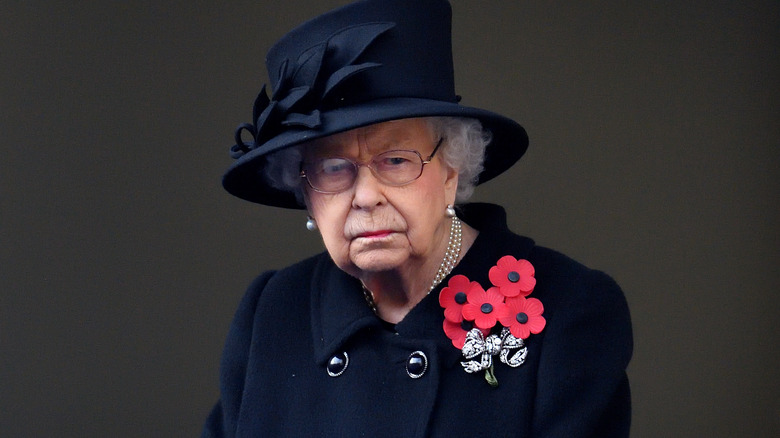 Pool/max Mumby/Getty Images
During the month of November, you will often see members of the royal family wearing red poppy pins on their coats, lapels, and outfits (via Town & Country). Traditionally, the poppies are made from paper, purchased in support of the Armed Forces community, but several royal members also have jeweled versions, or jewelry accessories to accompany the flowers. Some have even worn more than one poppy.
At the National Service of Remembrance last year, Kate Middleton donned three paper poppies clustered together with a crystal poppy pin on her coat, as reported by Cosmopolitan. Though no official announcement has been made by Buckingham Palace, Hello! notes the reasoning behind Kate Middleton's multiple poppies may be in remembrance of her great-grandmother's three brothers who were killed during World War I. You may also see Middleton wearing a stylized poppy pin, with the center of the flower shaped like a gear. This is the Codebreakers Brooch, per WWD, worn in honor of her grandmother, who served as a codebreaker in World War II.
Before her death earlier this year, Queen Elizabeth was often seen wearing five poppies during November appearances, gathered together with a jeweled bow. Royal Central shared the theory that each poppy represents a branch of the military that participated in World War I: Army, Royal Navy, Royal Air Force, Civil Defence, and women.
How other royal members have supported with poppies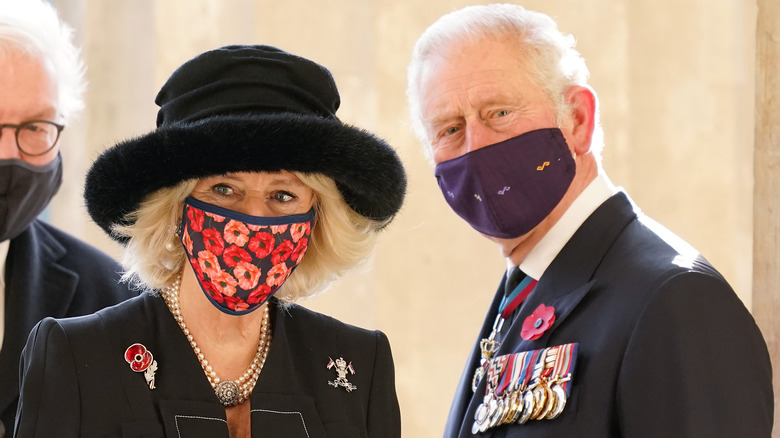 Sean Gallup/Getty Images
Camilla Parker Bowles has often shown her support in the month of November in a variety of ways. She, too, has been seen wearing more than one poppy at a time, and in 2020, as reported by Hello!, even donned a face mask with a poppy print for a visit to Germany with King Charles. The king himself always dons a poppy on his outdoor or suit coat.
William, Prince of Wales and Catherine, Princess of Wales left a box of paper poppies outside of Kensington Palace last year, free for the public to take and wear, as posted on their Instagram account. Prince William often wears a single poppy pin pinned to his suit lapel throughout the month of November.
Prince Harry has been seen in the past wearing the red poppy on his military hat, tucked just above his ear. Per People, this was in accordance with Royal Marine rules, which dictated the placement. Meghan Markle has also shown her support, donning a red poppy pin in November in New York City last year, as reported by People. It seems as if there are still some things on which members of royal family are in agreement.