Jimmy Kimmel Blames Donald Trump For His Show's Drop In Viewership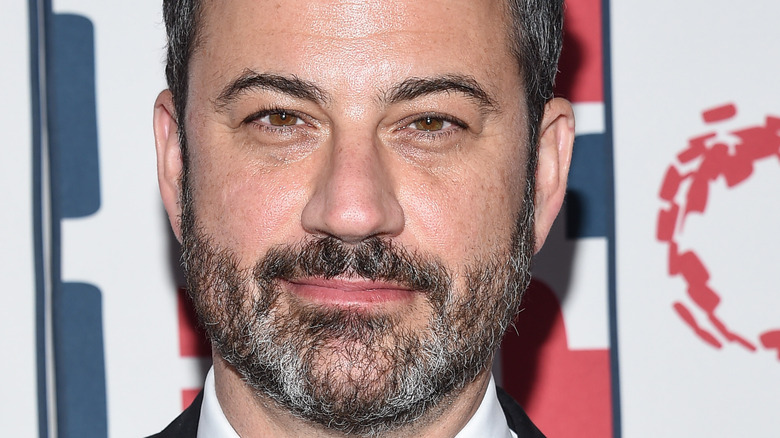 DFree/Shutterstock
For all his mocking of rival politicians, Donald Trump has never been fond of being the brunt of jokes himself. During his presidency, he always found time to sound off against comedians who poked fun at him. He criticized an "unwatchable" episode of "SNL," saying "the Baldwin impersonation just can't get any worse" (per Today) and called Kathy Griffin "sick" for an admittedly tasteless photo featuring a bloody mask of his head (via The Washington Post). Some of his biggest barbs have been pointed at late-night talk-show hosts, such as the time he said Stephen Colbert "has no talent," Seth Meyers was "a zero," and Jimmy Kimmel, host of "Jimmy Kimmel Live!," a "wacko 'last placer'" (via USA Today).
Undaunted by the name-calling, Kimmel has continued to give as good as he gets. When Trump recently bragged of having "destroyed the ratings of late night comedy shows" on his Truth Social feed, Kimmel responded on the show by quipping, "I didn't even see it, that's how badly his social media platform is doing ... And as far as ratings go, on behalf of my fellow late night talk show hosts — Jimmy, Stephen, Seth and I — we've been on for a total of 58 seasons and counting; your presidency got canceled after one" (per The New York Times). Still, the former president nearly had the last laugh on Kimmel when network brass got involved a few years back.
Jimmy Kimmel's Trump jokes nearly cost him his job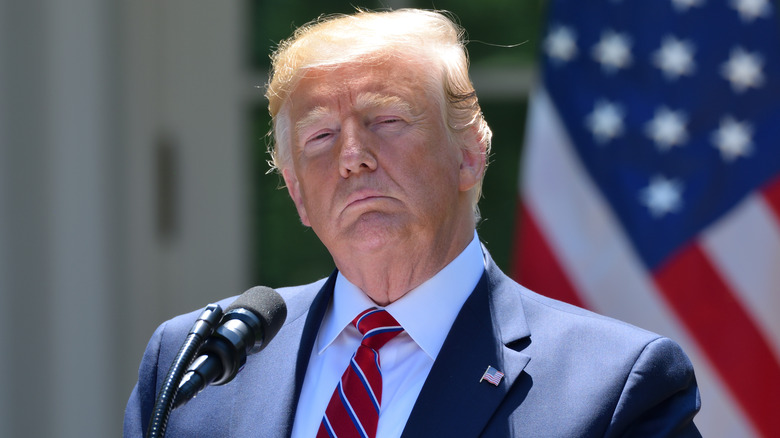 Evan El-Amin/Shutterstock
On the November 3 episode of the "Naked Lunch" podcast (seen here on YouTube), Jimmy Kimmel chatted with hosts Phil Rosenthal and David Wild about Donald Trump's future. "I want to be there when Donald Trump goes to jail," he declared. But what you might not know about Donald Trump is that he almost got Kimmel off the air. Although the talk show was reportedly a hit with Republicans before the Trump administration, ratings dropped sharply once Trump took office and became a frequent subject of Kimmel's biting monologues. ABC producers asked Kimmel to ease up on the political jokes, and he pushed back.
"I said, 'listen, I get it, you're right. I have lost half of my fanbase, maybe more,'" Kimmel recalled (via People). "I said, 'If that's what you want to do, I understand and I don't begrudge you for it, but I'm not going to do that. So if you want someone else to host the show, that's fine, that's okay with me. I'm just not going to do it like that.' And they were like, 'Yeah, all right.'" Kimmel added that "I couldn't live with myself" if he had to stifle his feelings about the administration. The long-time host feels a kinship with Stephen Colbert, Jimmy Fallon, and other late-night hosts who also believe in mixing politics and humor. "I feel proud to be a part of this group," he told the podcasters.