Everything You Need To Know About The Pat McGrath 2022 Holiday Collection
We may receive a commission on purchases made from links.
The holidays are here, and it's time to give the beauty lovers in your life the best beautiful products because they deserve it — no harm in treating yourself at this time, too, as it's time to be festive. If you've been restraining yourself from spending too much the entire year, the holidays are the best time to splurge as beauty brands release their coveted holiday collections. One of the most luxurious beauty brands is none other than Pat McGrath Labs.
The influence that makeup artist Pat McGrath has over the beauty world is undeniable; after all, McGrath is "the first makeup artist to be made a British dame by Queen Elizabeth II" (via Byrdie). McGrath has an inspirational story behind delving into the world of makeup. She told Byrdie, "When I was younger, it was nearly impossible for me to find the right shade of foundation." She wanted to create beauty products that were inclusive of color so everyone could find their perfect shade, and now, this self-made entrepreneur's company is worth over a billion dollars with the most exquisite high-end products like the MatteTrance lipsticks and Mothership Eyeshadow Palettes.
The highly-pigmented and long-lasting line of products isn't cheap. However, it is an excellent investment for makeup lovers, and in September, she released her long-awaited holiday collection "Celestial Nirvana" (via Pat McGrath Labs) with new makeup products for the face, eyes, and lips that you can buy individually or in bundles.
Pat McGrath 2022 Holiday Collection is divine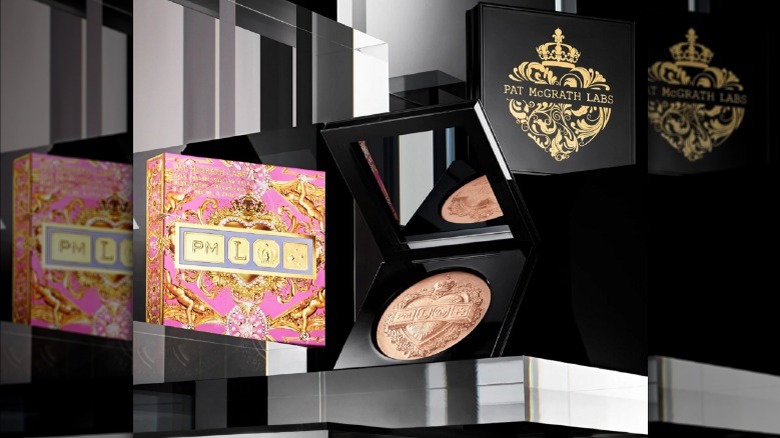 Pat McGrath Labs
Beauty enthusiasts eagerly await holiday collections. If you're thinking of next-level quality makeup, you can't complete the list without the legendary Pat McGrath 2022 holiday collection Celestial Nirvana, where each product comes with ornament-quality packaging.
This collection includes Divine Blush + Glow Cheek Palette (Nude Venus and Divine Rose), Skin Fetish: Sublime Skin Highlighter, and Skin Fetish: Divine Blush for the face. If you're looking to create an eye look, the collection has MTHRSHP Mega: Celestial Nirvana Palette, Legendary Wear Velvet Kohl Eyeliner, Celestial Nirvana Eyeshadow Palette (Bronze Bliss and Nude Allure), and Dark Star Mascara (Xtreme Black, Ultraviolet Blue, Aquamarine Dream, and Pink Mystique) for eyes. Then, there is the Mini Divinyl Lip Duo, Mini Nude Venus Lip Trio and MattTrance Lipstick (Nude Venus and Forbidden Love) for the lips. The collection includes products and sets ranging from $25 to $345.
If you've owned or wished for one of her Mothership Eyeshadow Palettes that have ten shades, well, the MTHRSHP MEGA: Celestial Nirvana Palette has 18 new eyeshadows in a press powder formula in metallic, shimmer, and matte finishes. It already boasts an average of 4.8 out of 5 stars on Sephora with over 8.9K likes.
The Divine Blush + Glow Cheek Palette also comes with one Divine Glow Highlighter and four flattering blush shades, and this limited edition release already has 11K likes on Sephora. You can also purchase the highlighter and blush separately.
What reviewers are saying about Pat McGrath's 2022 holiday collection
The Pat McGrath 2022 holiday collection is breathtaking, and when you're as iconic as Pat McGrath, it's no surprise that the holiday collection hashtag already has over 54.7 million views on TikTok.
The DARK STAR Colour Blitz Mascara Trio uses the original mascara formula, but this time, it's available in bright teal, pink, and cobalt. This creamy-gel hybrid is a triple threat that gives you intense lift, volume, and length, and The BeauLife loves this mascara as "a way to triple your fantasies."
Beauty blogger Charlotte Holdcroft loves the collection but said she was "overwhelmed" by the amount of beautiful products in it, per her YouTube video. She calls it "the most exciting collection of the year so far." Holdcroft also said she would pass on the 18-shade MTHRSHP MEGA because "it's too colorful" and is definitely getting the Celestial Nirvana Eyeshadow Palette (Bronze Bliss and Nude Allure) as they're more neutral.
Beauty YouTuber Hey It's Jackeline said she's getting the MTHRSHP MEGA as she considers the colors "very wearable," with a few pops of color. However, she's a bigger fan of the two neutral palettes as well, and said, "[They're] taking my breath away."
Influenster is also rooting for the MTHRSHP MEGA, as it's the biggest and most colorful pick in the collection. All the products in the collection are expected to sell out quickly, so you better act fast. So far, the eye palettes seem to be the most popular, but time will tell.