Why Young Women Don't Care For Chanel No. 5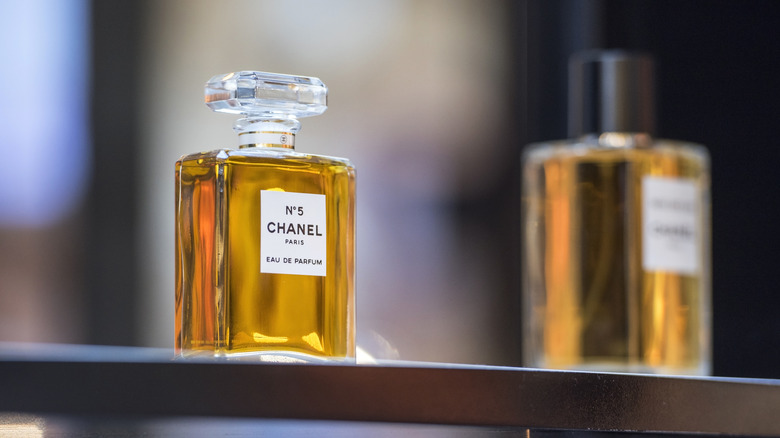 Savvapanf Photo/Shutterstock
We may receive a commission on purchases made from links.
Scent is a powerful way to evoke a mood or memory. According to the Harvard Gazette, the brain links smell and memory closely together. When you catch a whiff of a certain smell or fragrance, it reminds your brain of a certain time when you smelled it. In fact, many people even turn to choosing a signature scent for others to associate them with a specific smell.
While people refer to signature scents to create a personal memory, some fragrances can be representative of a certain time in history. Popular perfumes within a certain time period can define the times of that moment, such as Angel by Thierry Mugler or Shalimar by Guerlain. With an abundance of notes such as citrusy bergamot, pungent and earthy patchouli, and sweet red berries, Angel changed the perfume world after its release in 1992, gaining popularity in the early 2000s, according to The Cut. Containing an impressively large 27 notes, the perfume ushered in hyper-realistic gourmand, or edible-smelling, scents into the industry. 
Meanwhile, in a time where traditions were being broken by the risqué behavior of the 1920s, Shalimar emerged as a representative of the times, according to The Perfume Society. Created with spicy tonka, musky ambergris, and smoky incense, and topped with sweet jasmine, Shalimar is complex and elegant. It's a versatile perfume, worn with slinky dresses to cocktail parties and reapplied in the morning with silky pajamas.
Although it was released in 1921, Chanel No. 5 was another classic perfume that was arguably at its most popular after a now-infamous ad featuring Marilyn Monroe was released in 1952, per Refinery29.
The history of Chanel No. 5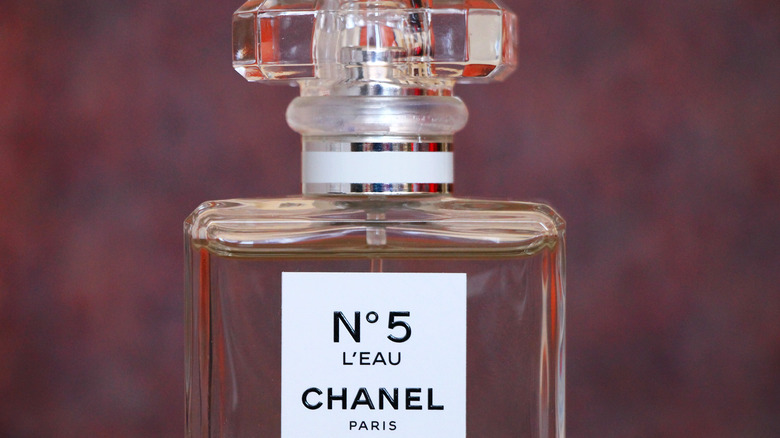 Ellica/Shutterstock
At a time when most fashion houses weren't really releasing fragrances, Chanel designer Gabrielle "Coco" Chanel approached perfumer Ernest Beaux to create a complex perfume that would stand apart from popular single-note fragrances, according to the Chanel website. The original perfume had 80 ingredients, from florals to woods, and was formulated with aldehydes in order to create complex layers that would last for ages.
According to the BBC, Chanel wanted the fragrance to embody the modern woman. She used citrus for freshness and jasmine and sandalwood for a rich, earthy scent. Although the fragrance has gone through a few ingredient changes, its popularity is enduring, with one bottle sold every 30 seconds, according to NPR.
Despite the popularity of fragrance, it has fallen out of favor among younger generations, relegated to "old lady perfume" status alongside Shalimar and Elizabeth Taylor's White Diamonds. This is thanks to the powdery, fresh scent that is in these fragrances. To many, the soapy scent reminds people of their grandparents or of cleaning products.
The best fresh and clean scents to wear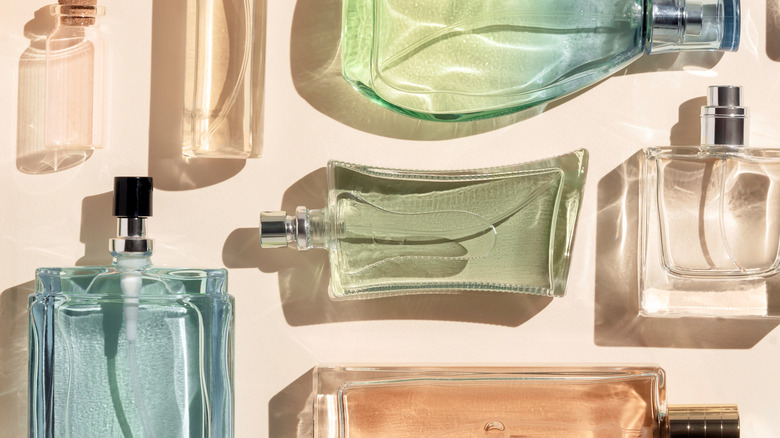 GVLR/Shutterstock
If powdery, more intense scents like Chanel No. 5 aren't for you, you may prefer something brighter and lighter. Maison Margiela's REPLICA line is known for its photorealistic scents that are intended to "replicate" a certain memory or emotion. REPLICA's Bubble Bath takes the fresh fragrance trend to new levels. Opening with a soap accord, the eau de toilette dries down into a clean, musky scent with notes of rose, coconut, and musk.
Byredo's Blanche features aldehydes just like Chanel No. 5, but it's much more fresh, with notes of peony, pink pepper, violet, and a delicate rose. According to its website, Byredo created this perfume as a way to explore the smell of clean skin wrapped in freshly washed sheets. The detergent-like smell is tempered by a soft, fresh musk.
Chanel No. 5's younger counterpart, Chanel No. 5 L'Eau, is a perfume for the modern woman's Gen Z little sister. Created by Olivier Polge, the son of Chanel's perfumer for 37 years, the fragrance features notes of neroli, bergamot, mandarin orange, jasmine, and cedar. Fresh and airy, the scent is a reimagination of what women and feminine people smell like in the 21st century and beyond.