Why You Should Start Adding Witch Hazel To Your Hair-Care Routine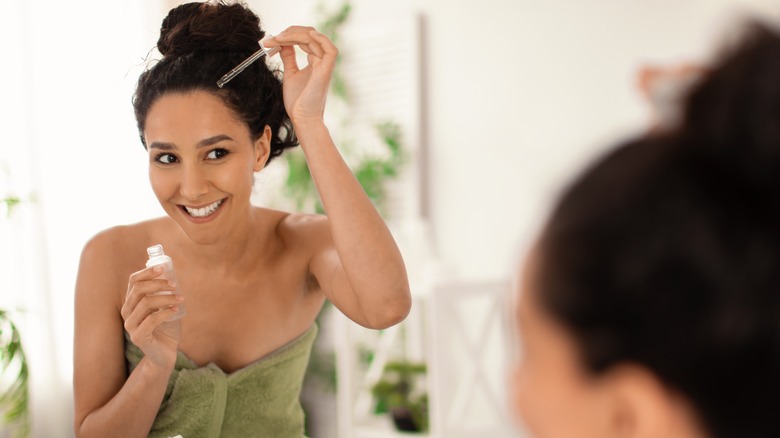 Prostock-studio/Shutterstock
Most of us know that witch hazel offers benefits when added to your skin-care routine. Namely, according to Prevention, this natural toner is almost like a miracle treatment, working to absorb pesky oil from your face, make pores look smaller and fight the signs of aging. What more could you ask for?
Well, you could petition witch hazel to also provide similar positive results for your hair. But that would just be too much, right? Wrong, because this incredible and affordable potion promises to deliver amazing value for your tresses, too.
In fact, according to Healthline, witch hazel is increasingly being added to your favorite hair-care products because the industry has taken note of the astringent's benefits for the scalp. Case in point: Aveda sells Witch Hazel Hair Spray, a highly-rated product that claims to reduce static in the hair, while pumping up the volume. As one satisfied customer shared, the product has eliminated the annoying side effect of suffering from an itchy scalp when using hair spray.
So what does witch hazel do for the hair exactly?
What witch hazel does for the scalp is spectacular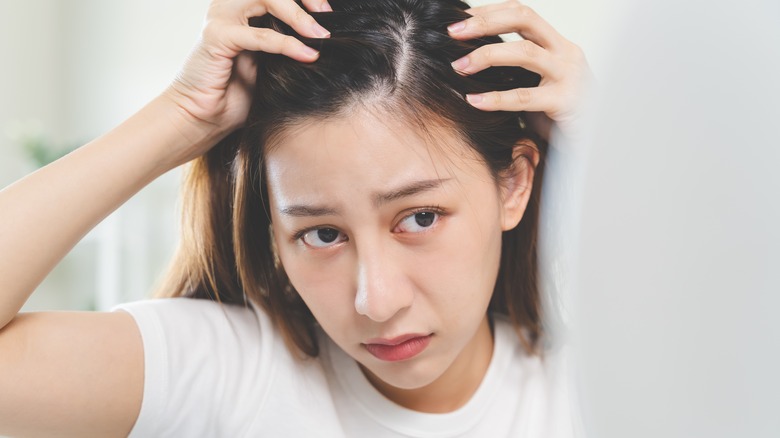 Pormezz/Shutterstock
Sephora sells another witch-hazel infused hair product that offers insight into what this ingredient can do for your scalp. Briogeo's Scalp Revival treatment is described as "An exfoliating, sulfate-free scrub that lifts away impurities and buildup while balancing and soothing an itchy, irritated scalp (whether oily or dry)."
And indeed, as Healthline contends, witch hazel, which is actually the extract of leaves and bark of a plant called Hamamelis virginiana, found in North America and Japan, soothes irritated skin. Hey guess what? The scalp is skin! And so, if you are battling a dry, itchy scalp and, gulp, dandruff or flakes, then incorporating a hair-care product with witch hazel listed as an ingredient may help calm that crazy scalp down.
The same can be true if you are dealing with oily hair. Because remember, oily hair starts at the scalp, with Byrdie noting that a variety of factors such as stress can cause sebum to sprout from the scalp and lead to stringy, oily strands. Healthline reports that witch hazel can also reduce oil on the scalp — which makes sense since this sensational product does the same thing for the T-zone on our faces.
How to use witch hazel on your hair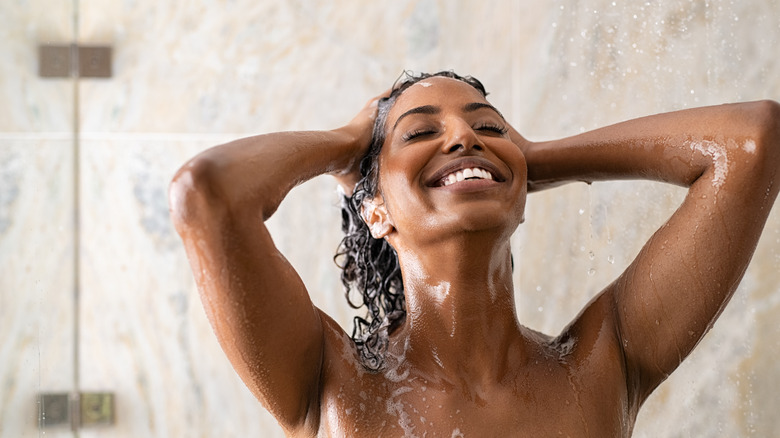 Rido/Shutterstock
Purchasing a product that is made with witch hazel is one way to go if your scalp is seriously stressing you out, either due to itchiness or oil overdrive. However, another option — and a very cost effective one at that — is to simply buy some good old witch hazel itself and incorporate it into your hair-care routine.
According to Mind Body Green, you're going to want to select an alcohol-free version of the versatile astringent to avoid excess irritation. Then, use a dropper to apply the product directly to the scalp, with your hair divided into small sections to expose the area. Another way to apply witch hazel — and this works well if you are experiencing frustrating flakiness — is to saturate a cotton pad with witch hazel and rub the product into the scalp, removing flakes along the way.
Rinse the witch hazel out after about 10 minutes, and be sure to follow up with a nice shampoo to remove excess traces of the toner. Just be sure to observe the effects of your new routine (you may even want to try the tonic on just a small patch of your scalp before applying it all over). If you notice more irritation than before, discontinue use. But, if your scalp is singing with new life, then don't be afraid to continue down the path of a purer scalp using witch hazel!
Just note that according to Healthline, you need only use witch hazel once or twice per week.