The Sort Of Dates Men Are Most Attracted To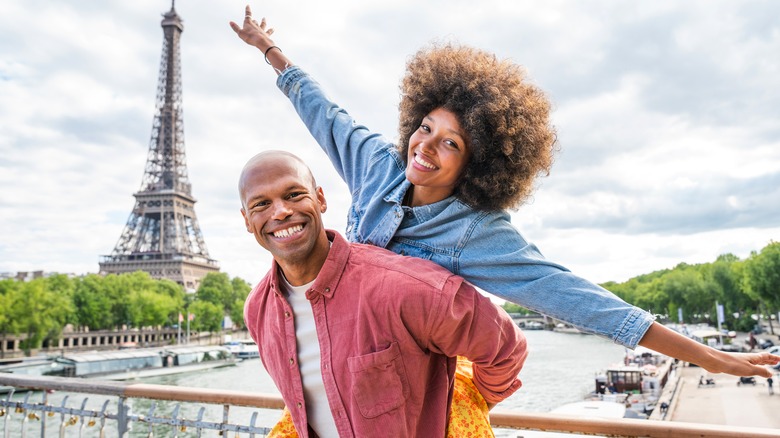 oneinchpunch/Shutterstock
On his first date with wife, Amal, George Clooney brought her to a recording session at London's historic Abbey Road Studios. As the A-list actor told Howard Stern in a 2020 interview (as later reported by BuzzFeed), "I thought, well, if you're ever going to impress anybody, it's with a 150-piece orchestra at Abbey Road." The pair quickly hit it off, and have been married since 2014 (via Insider). Though we don't all have Abbey Road-level access, you don't need Clooney's connections to take your first date to the next level.
According to dating coach Eric Resnick via Bustle, it's helpful to pick an interactive activity for your first date. "Do something where you are both on your feet and moving around together . . . The point is that you have something to focus on other than the date." This could involve visiting a new exhibit, checking out a farmer's market, or taking a painting class. Ultimately, "This gives you both a chance to breathe and be yourselves. It also provides you with built-in things to talk about if the conversation hits a dead spot."
Many straight men, according to Metro, like it when women initiate dates. "It's quite refreshing when a girl asks you out on a date," one Londoner told the site, adding, "If you're keen, put it out there." Wondering what kind of date to plan with your future (or current) man? For starters, keep it simple.
Let him know you've been paying attention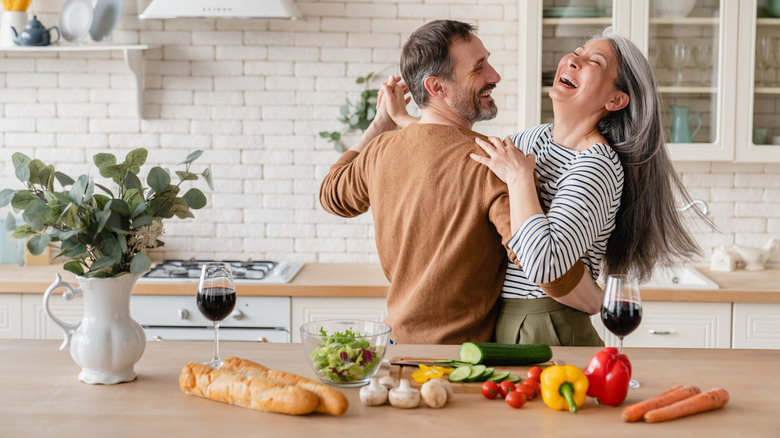 Inside Creative House/Shutterstock
As one interviewee told Metro, he finds activities with "real thought" behind them ideal. In other words, call it back to an early discussion with your partner — if he's mentioned a favorite wintertime skating memory, for instance, plan a date at your local rink. In a 2021 interview with Ellen, Machine Gun Kelly spoke to this idea of sentimentality, describing his first adventure with Megan Fox: "I saw this roof, and I was like, 'Oh, I used to hang out there. I just want you to come and see my world for a minute,'" (via BuzzFeed). 
If you're not the roof-climbing type, you can't go wrong with food and drinks. According to Us Weekly, Tarek El Moussa's dream date with "Selling Sunset's" Heather Rae El Moussa is ordering fancy take-out to eat from home. As argued by another Elite Daily interviewee, meeting for drinks is a great option for the getting-to-know-you stage of dating. "Drinks keeps it more casual than dinner, and you'll both loosen up a little bit," he says, adding, "The only other suggestion I'd make is an activity you can do together." To combine the two, find a local studio that hosts "sip and paint" nights. Alternatively, find a popular brewery tour in your city. 
Learning new things together can also make for a great romantic foundation. "The goal [is] to have fun but also have a chance to talk," says one man via Elite Daily, recommending readings and lectures.
Bond in the great outdoors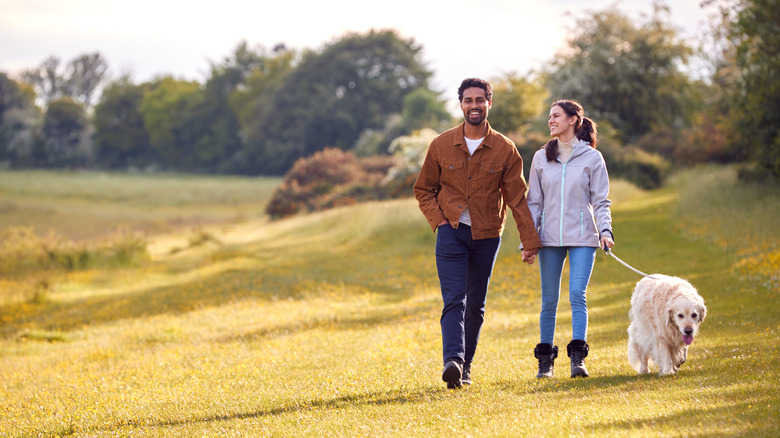 Monkey Business Images/Shutterstock
Sure, some men may like the idea of hang gliding, according to Zoosk, but thrill-seeking isn't always necessary in maintaining a healthy relationship. Other possible out-of-the-box adventures recommended by the site involve a casual skirmish on the field or even watching a movie outside (via Zoosk). If your significant other likes basketball, find a local court where you can play a one-on-one game. For an outdoor movie date, set up a laptop in the park or backyard and bring along a picnic.
As suggested by one man via Elite Daily, don't be afraid to continue a dinner date outside if it's going well. "Drove to the beach once with a girl after dinner," he recalls, explaining how he, "laid out a blanket and we just kept talking for a while. It was really nice." You might be surprised to learn how much some men enjoy a sunset walk, per Redbook.
Or, if the weather's less than ideal, plan a virtual "outdoor" adventure, per Zoosk. With the help of a platform like Google Street View or one of Flyover Zone's virtual tours, explore a city that would normally be out of your budget. Ultimately, according to one man via Elite Daily, it's important to try "something you would want to share with your best friend," be it at Abbey Road, on a rooftop, or looking at far away streets on your computer screen.