Here's How Many Calories You Burn During An F45 Workout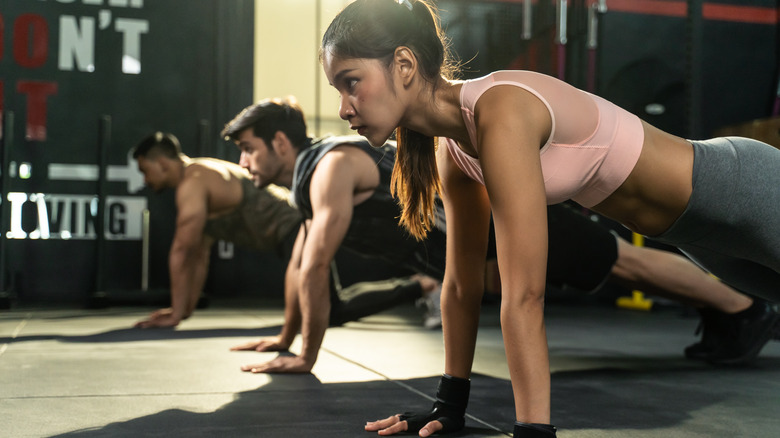 Hananeko_Studio/Shutterstock
F45 is a world-conquering gym franchise with a rapidly increasing number of locations globally. As the name suggests, it features 45-minute functional training exercises in a group setting. Targets change depending on the day of the week, so you'll generally know what to expect before heading to class. They've got an extensive list of workouts designed to fight boredom and give you the exercise challenge of your dreams (or nightmares, depending on how you look at it). 
Station rotations keep you guessing, and the team dynamic offers support and encouragement (via Very Well Fit). "F45 is a global fitness community that leverages technology and functional training to create high-intensity group workouts that are efficient, fun, and results-driven," Cory George, the Athletics Director of F45, enthused to Women's Health. Naturally, results differ, depending on your goals. 
But if you're a calorie counter, you may enjoy knowing just how many you're going to burn before committing to a workout — rest assured, F45 does not disappoint when it comes to torching calories.
F45 workouts burn a huge number of calories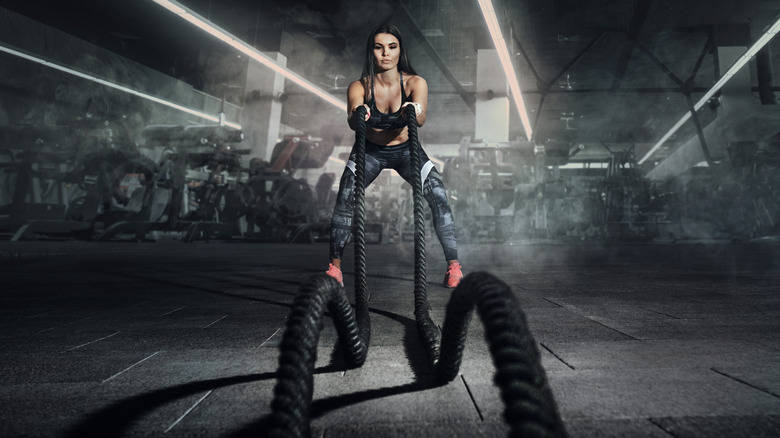 Rocksweeper/Shutterstock
Like with any workout, calorie burn varies depending on a whole variety of factors. However, as Sam Cosner, head trainer at F45 in Sarasota, told PopSugar, "In general, our clients can expect to burn 300 to 1,000 calories during a 45-minute workout." She added, "Muscle mass, age, gender, and intensity all play a role in total calories burned."
If you don't have a fitness tracker, no worries. You can use an F45 Lionheart Heart Rate Monitor during your workout. Your heart rate appears on the class TVs, so you can track it at any time during your session. It even sends you an email afterwards with calories burned, average heart rate, and more. 
One major perk of this high-intensity exercise is that calorie burn goes beyond the gym. Cosner noted that your body can continue to burn calories up to a day and a half after your workout has finished. Further, if you really want to make the most out of your workouts, there are some steps you can take to ensure you get maximum calorie burn.
For maximum calorie burn, preparation is key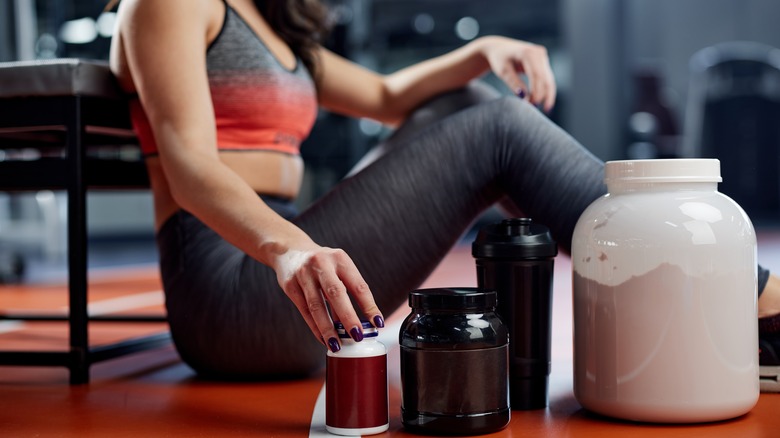 Milan Ilic Photographer/Shutterstock
In order to achieve your best workout, it's important that you show up ready to work hard. F45 founder and co-CEO Robert Deutsch advised Livestrong: "Before you come for class, we recommend you are ready and energetic to go. Whether that's a good night's sleep, pre-workout supplement, new workout attire to help you feel your best, this varies between individuals."
When you're not headed to an F45 class, make sure you're getting in some good rest days, too. Instead of just lounging on the couch, an active rest day may help speed up your recovery. According to Healthline, yoga, walking, biking, and casual swimming are all great activities to do on an active rest day. Prioritizing a nutrient-rich diet and good sleep are also essential to getting the most from your workouts. 
Don't feel ready for F45? No stress! There are plenty of workouts for people who hate working out or even those who just want a quick 30-minute gym workout.