King Charles Was Reportedly Furious With Donald Trump Over His Kate Middleton Comments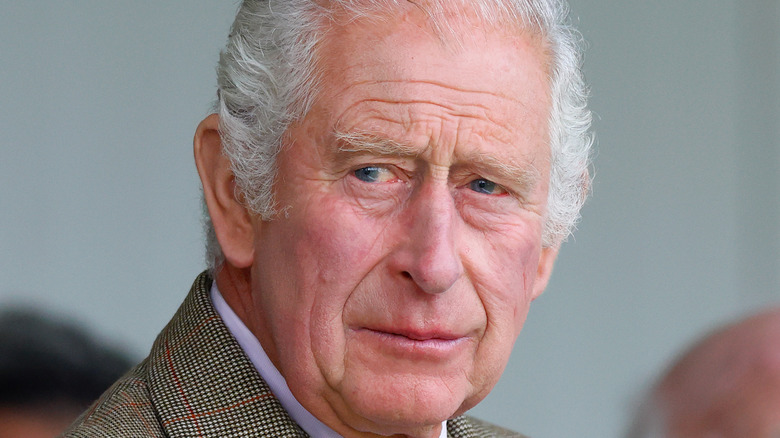 Max Mumby/indigo/Getty Images
Members of the British royal family are used to meeting with world leaders, and most occur without any controversy. However, a planned meeting between former President Donald Trump and Queen Elizabeth II led to a petition trying to prevent the visit. "Donald Trump's well documented misogyny and vulgarity disqualifies him from being received by Her Majesty the Queen or the Prince of Wales," the document stated.
And it wasn't just the public that felt uncomfortable with Trump's plans to come to the UK. According to Christopher Andersen (via the Daily Mail), author of "The King: The Life of Charles III," King Charles; Prince William, Prince of Wales; and Prince Harry, Duke of Sussex, "burned up the phone lines between Clarence House and Kensington Palace, with all three princes agreeing to work behind the scenes to discourage Trump's visit."
Ultimately, Trump did get a face-to-face with Elizabeth. While a body language expert claimed the queen wasn't very fond of Trump (per the Daily Mail), Trump said he had "a great relationship" with the queen, per CNN. "We were laughing and having fun. And her people said she hasn't had so much fun in 25 years," he claimed.
As for Charles, he had tea with Trump at Clarence House to discuss climate change, per CNN. The conversation was reportedly cordial, but past comments that Trump made about Charles' daughter-in-law could have been in the back of the royal's mind.
Donald Trump blamed Kate Middleton for being photographed topless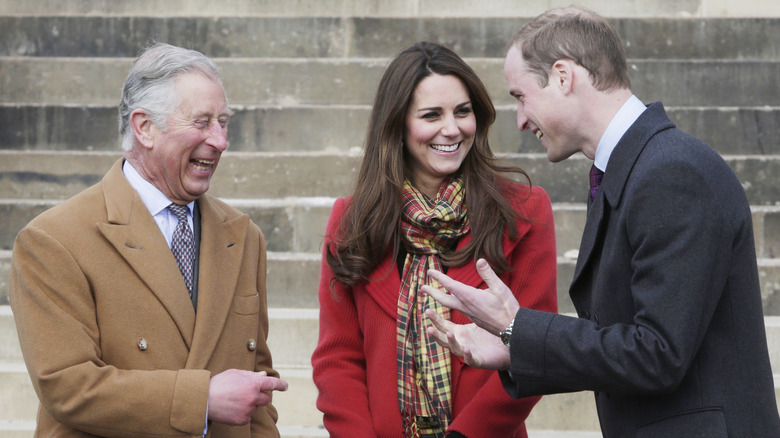 Wpa Pool/Getty Images
One reason King Charles III resisted meeting with Donald Trump could be comments that Trump made about Catherine Middleton, Princess of Wales. In 2012, Kate was photographed sunbathing topless at a private château in France while vacationing with her husband, Prince William, Prince of Wales (via BBC News). The photographs were circulated in the tabloid media and published in the French edition of Closer magazine, an Italian gossip magazine, and the Irish Daily Star.
The royal family was understandably upset. William and Kate filed for damages (via The New York Times), and, in 2017, the Daily Mail reported that they were awarded £91,000, or about $120,000. 
But Trump didn't seem to have much sympathy for the princess, tweeting at the time (via the Mirror), "Kate Middleton is great — but she shouldn't be sunbathing in the nude — only herself to blame. Who wouldn't take Kate's picture and make lots of money if she does the nude sunbathing thing. Come on Kate!"
According to Christopher Andersen's "The King: The Life of Charles III," the tweet outraged Charles, William, and Prince Harry, Duke of Sussex. "Trump's criticism of Kate resulted in what one Clarence House butler referred to as 'torrents of profanity' from both Prince Charles and his sons," Andersen wrote, per Newsweek.
Years later, when Trump became president, Charles reportedly told a Washington official that he was a "ghastly, awful man" and even inquired about the chances of Trump being impeached.
Donald Trump also made rude comments about Princess Diana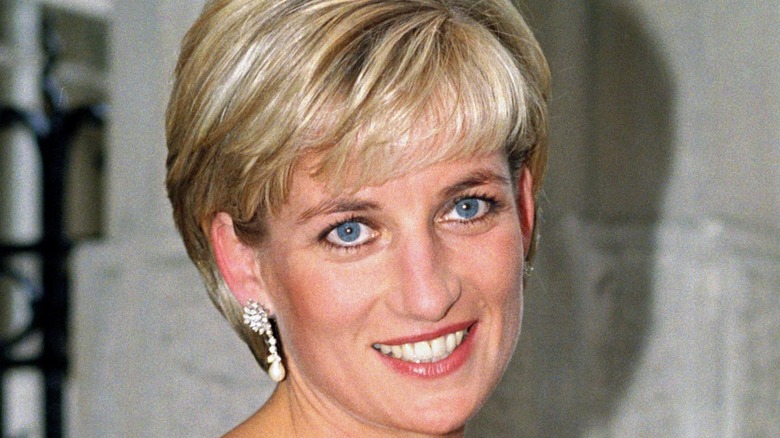 Antony Jones/Getty Images
King Charles III also had issues with comments that Donald Trump made about the late Princess Diana. After Charles and Diana divorced, Trump made some lewd remarks about the princess during two appearances on "The Howard Stern Show," according to Christopher Andersen's book, "The King: The Life of Charles III."
"It didn't help that Trump ... had aggressively pursued Princess Diana after her divorce — overtures that were rebuffed — and claimed later on a radio program that he could have 'nailed her if I wanted to,' but only if she passed an HIV test," Andersen wrote about Trump, per Newsweek.
One of Diana's friends, Selina Scott, revealed that Trump had sent Diana "massive bouquets of flowers" after her split from Charles, which left the princess feeling as if the businessman was "stalking" her, per the Independent. "Trump clearly saw Diana as the ultimate trophy wife," Scott said.
Trump, for his part, denied the allegations, stating that, while he "liked" Diana, he had no interest in her romantically.