The Truth About Queen Elizabeth's Relationship With Donald Trump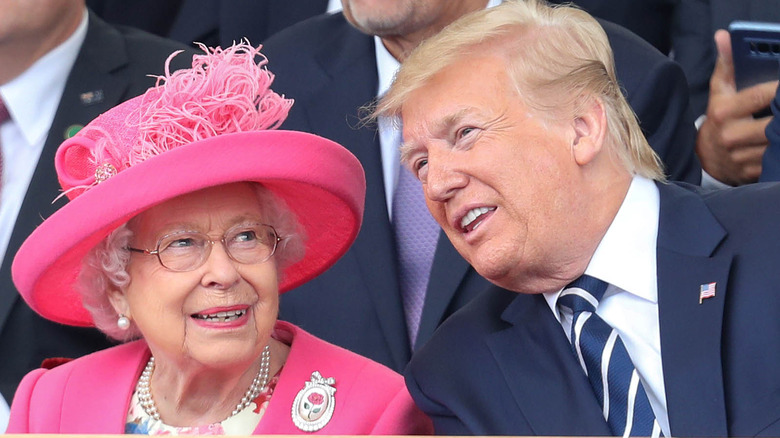 Chris Jackson/Getty Images
Queen Elizabeth II ascended to the throne in 1952, and since then, she has met 12 U.S. presidents in her time (per Town and Country). She has also been a guiding light between the U.S. and U.K.'s diplomatic relations. Next year the Queen will be celebrating her Platinum Jubilee with a four-day bank holiday weekend (via Royal UK). On June 13, she will be meeting her 13th American president, Joe Biden, at Windsor Castle to talk about their shared interests (via USA Today).
The last president to visit was Donald Trump, along with First Lady Melania Trump, back in June of 2019 on a special state visit to commemorate the 75th anniversary of D-Day (per Business Insider). However, the president wasn't received warmly by all the guests at a state banquet, with Labour shadow foreign secretary Emily Thornberry saying, "I don't think that this president ... deserves the honor of a state visit, given his displays of racism and misogyny, among other objectionable behaviors" (via Vogue).
Some people think the Queen trolled Donald Trump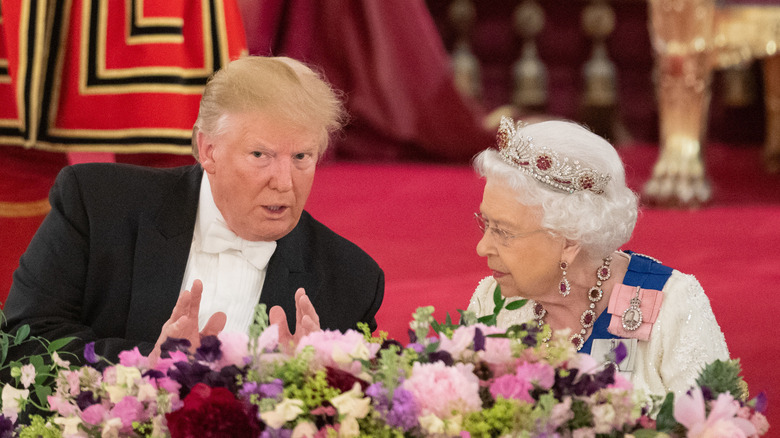 Wpa Pool/Getty Images
Despite an outwardly civil visit, some speculated that the Queen sent several hidden messages to the controversial president. Royal enthusiasts pointed out that the Queen chose to wear the Burmese Ruby Tiara. According to the Royal Exhibitions, the Burmese people believe the crown holds "prophylactic properties guarding the wearer not only against illness but also against evil." Queen Elizabeth II also gifted Trump a first edition of Winston Churchill's "The Second World War" (per Vogue). Trevor Noah from "The Daily Show" pointed out Trump has been rumored to hate reading, saying, "Either she doesn't know Trump, or she's trolling him" (via YouTube).
Trump believes he has a "great relationship" with the monarch. Upon his return home, he said, "we were laughing and having fun. And her people said she hasn't had so much fun in 25 years. Then I got criticized for it because they said we were having too much fun" (via CNN). Whether or not the Queen holds private opinions about Trump, she's likely to continue to offer hospitality to any visiting U.S. leader.