All The Best-Dressed Stars At The 2022 CMA Awards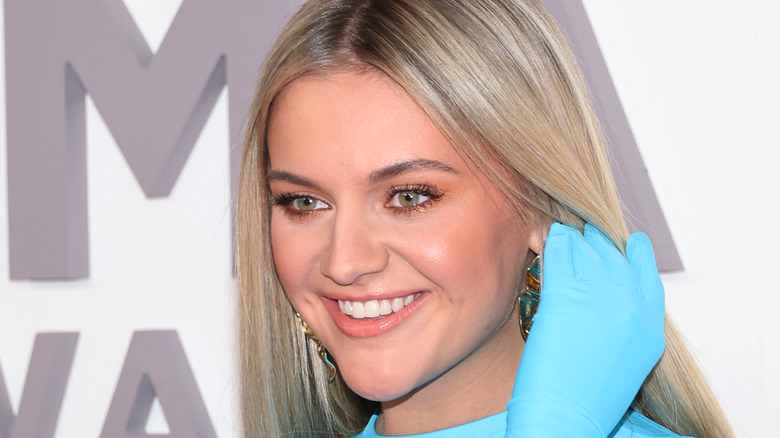 Jason Kempin/Getty Images
You may not have expected this from the Country Music Association Awards, but the fashion theme for the night definitely seemed to be showing some major skin. As far as a color palate, basic white was a big color on the red carpet as was denim blue. Somehow channeling Britney Spears circa 2000 also inspired more than one CMA Awards red carpet outfit. Seriously.
Read on for our picks for the best dressed at the event that honors country music's biggest achievements of the year. You'll see a star or two who didn't let a little old thing like a trend dictate what they wanted to wear, as well as at least one star that you may not have expected to even show up at the CMA Awards — but still managed to make their way onto our list.
Then, it's up to you to pick your favorite!
Carrie Underwood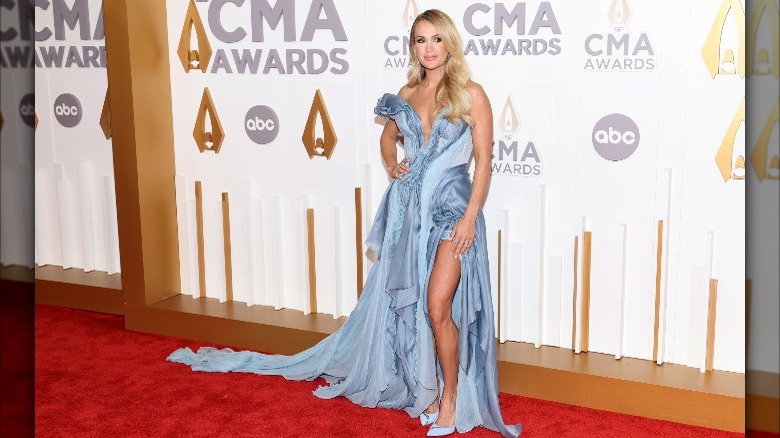 Jason Kempin/Getty Images
Of course Carrie Underwood made our list of the best dressed stars at the CMA Awards, because her looks are always on point. We're calling this particular showing "Britney Spears 2001 American Music Awards 2.0." Although, someone else on the carpet may have bested the former "American Idol" winner when it came to paying homage to the pop singer who once twinned with her boyfriend at an awards show. More on that in a moment. For now, feast your eyes on how Underwood's modern take on the iconic all-blue look, which featured cascading shreds of material on the skirt, a thigh-high slit, a plunging neckline and matching pumps. Oh, and winning.
Ingrid Andress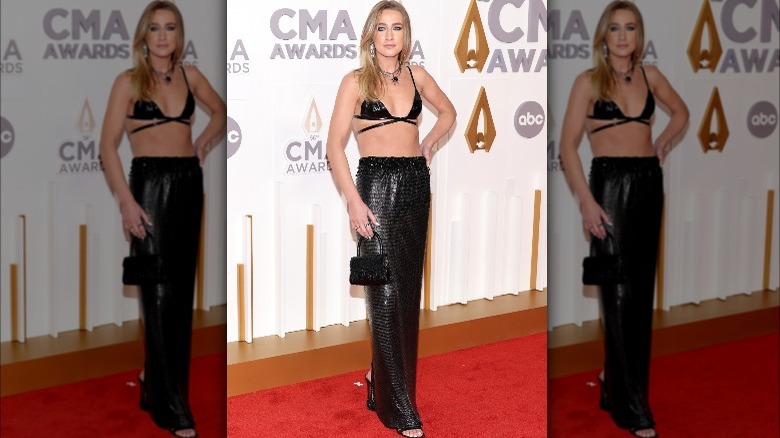 Jason Kempin/Getty Images
Ingrid Andress was so not afraid to show skin this year, pairing a bikini-style stop with a long, glittering skirt. We say she pulled off the daring look no sweat! Perhaps it was the singer's confidence on the carpet, or that perfect smokey eye that did the trick, but either way, Andress proved once and for all that sometimes, yes, less is more.
Lindsay Ell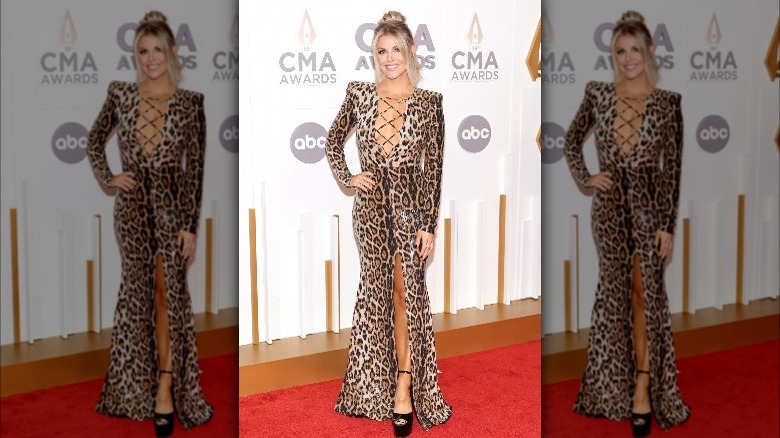 Jason Kempin/Getty Images
Lindsay Ell went with an animal print dress with a deep V-neckline featuring lace-up detailing for the event. Her risqué gown also showed some leg with a high slit. Guess what? This look was a win, and very on-theme for the evening and twinned with host Luke Bryan's wife's gown, incidentally.
Danielle Bradbery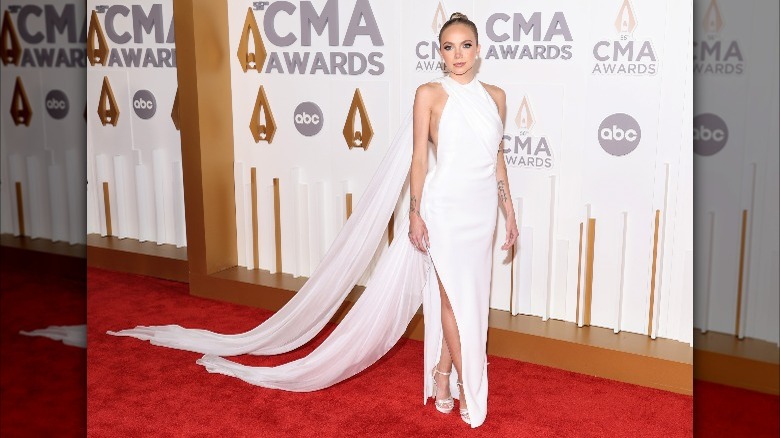 Jason Kempin/Getty Images
Was this the Oscars or the CMA Awards? This look would have worked either way. Indeed, Danielle Bradbery stunned on the CMA Awards red carpet, donning a pure white gown with extremely-flattering draping. Um, can we possibly get the inside scoop on her arm workout please? Meanwhile, the country star complemented her Angelina Jolie-esque ensemble with very simple makeup and a high bun. Bradbery previously sang a song called "Please Remember Me," and, yeah, we will!
Carly Pearce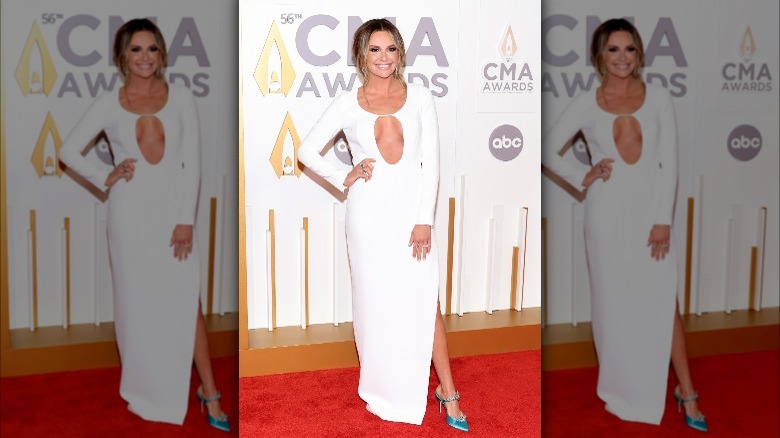 Jason Kempin/Getty Images
We love a shoe statement and Carly Pearce definitely had one to make tonight. The country star paired a sleek white sheath featuring an oversized keyhole neckline with a bejeweled turquoise pump that channeled Carrie Bradshaw from "Sex and the City" big time — and we are in love with the simplicity and elegance of her vibe.
Elle King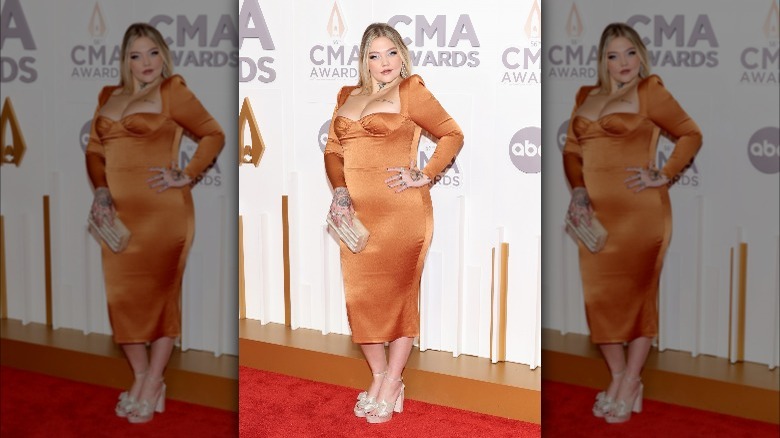 Jason Kempin/Getty Images
Elle King livened up the CMA Awards red carpet with a fresh hue we can only describe as perfectly pumpkin spice (Lainey Wilson also chose the autumnal shade). And those champagne-colored bowed platform shoes King donned? To die for! Indeed, King was a breath of fresh air at the event and we bow down to her — and the singer's stylist!
Sarah Drew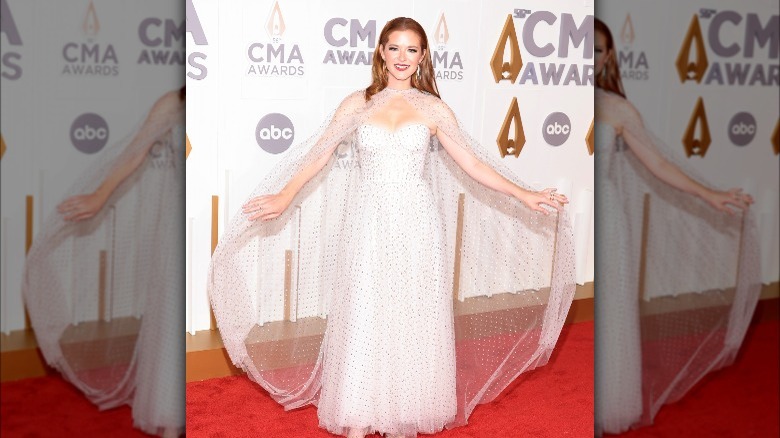 Jason Kempin/Getty Images
We know it's out of context, but Sarah Drew of "Grey's Anatomy" fame slayed on the CMA Awards red carpet. We heart her sheer, glittery cape, and how the look managed to hit on the two major trends of the night: the color white and showing some skin. P.S., Drew's skin was simply glowing! Did we mention we adore this cape look?
Kelsea Ballerini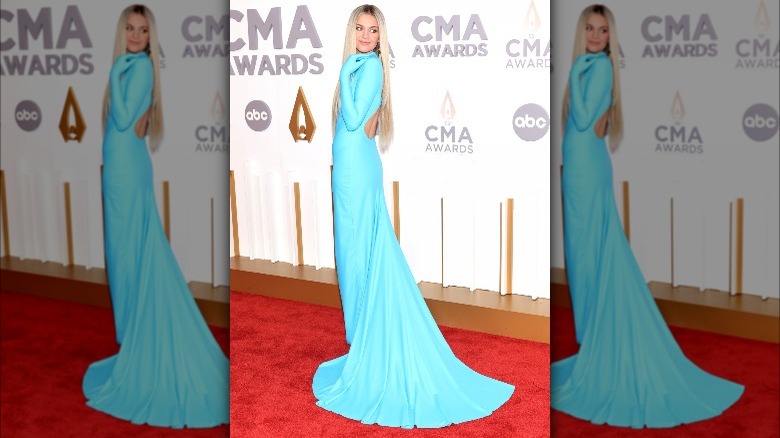 Jason Kempin/Getty Images
Like Elle King, Kelsea Ballerini did her own thing at the CMA Awards. Her aqua gown did show a bit skin, featuring an open back. But then again, the gown also had built-in gloves a la Kim Kardashian, covering up more skin than it showed. Overall, the look was sleek and stylish and one we will definitely be talking about for quite some time given what a departure it was from how we are used to seeing this country diva show up on a red carpet.
Katy Perry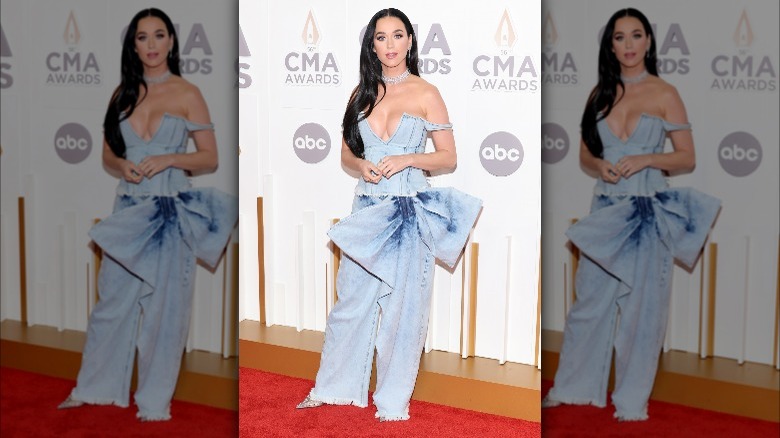 Jason Kempin/Getty Images
Okay, Katy Perry must have had Britney Spears on her mind when she dressed for this year's CMA Awards. Incidentally, this is the second red carpet to which the "American Idol" judge has sported a full-on denim look and that had fans comparing her to the "Toxic" singer. Remember the 2014 VMAs? Indeed, it seems pretty clear that Perry really has a thing for denim ensembles, and why not? She looks fab and we are 100% on board with her choice.