Chloe Grace Moretz's Must-See Makeup Tips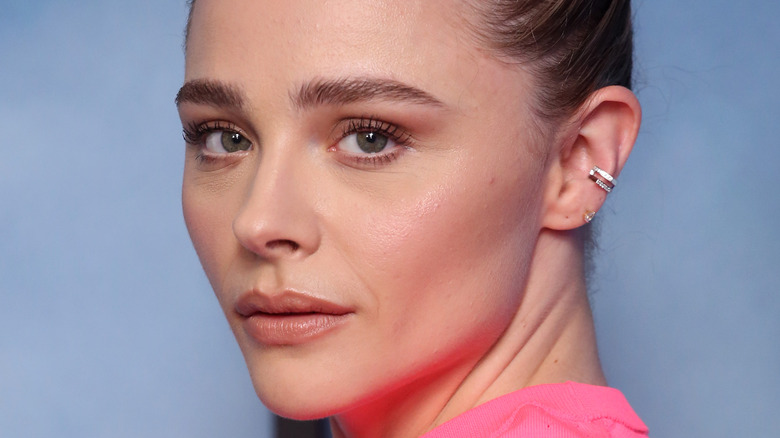 Lia Toby/Getty Images
Chloe Grace Moretz has undergone a stunning transformation since bursting onto the scene as a pottymouth superhero in "Kick-Ass." These days, she's taking on considerably more adult roles, including in Amazon's "The Peripheral," an adaptation of William Gibson's sci-fi novel of the same name. The actor shared lots of photos on Instagram of her cyberpunk-influenced outfits, from Moretz's Buffy Summers-esque look while on the promo trail in London to her Louis Vuitton cropped scale top and skirt combo for the Los Angeles premiere of the series (via Women's Wear Daily). 
Both ensembles were accompanied by some stunning makeup, featuring sharp eyeliner and smokey eyes in London and a more subdued, natural look in L.A. In October 2022, Moretz shared her beauty secrets with Vogue. In a video for the magazine, the actor takes viewers through her beauty routine on a day when she's not filming or working. For Moretz, a consistent skincare routine featuring products and beauty hacks that enhance and benefit her skin is key. As for the makeup, Moretz has a few secrets up her sleeve to keep her mascara clump-free and her eyebrows in place.
Chloe Grace Moretz shared her super simple makeup routine
Chloe Grace Moretz begins her makeup routine by prepping her skin with moisturizer and SPF, as she explained in a video for Vogue. Once this is in place, she uses Danessa Myrick's blurring powder as her foundation, mixed with touches of Clé de Peau's concealer stick. To give her cheeks some color, the actor adds a dab of Merit's Bronze Balm, which she applies with Ilia's multi-tasking brush. 
Then, using the end of an applicator wand by Anastasia Beverly Hills, Moretz makes sure her eyebrows stay in place with Got2B's Ultra Glued Styling Gel and a blow dryer, giving them a bit of definition with a brow pencil. The "Carrie" star combines neutral colors from Charlotte Tilbury's palettes for eyeshadow. She then curls her lashes and adds Maybelline's Great Lash mascara. To prevent clumping, Moretz mixes it with a bit of water. 
Wrapping up her relatively easy routine, Moretz sets her look in place with setting spray before treating her lips with some Eucerin Aquaphor balm. Moretz has always been open about sharing her makeup journey, as she did with Byrdie in 2019. Her less-is-more approach is something the actor has adopted as an adult. "When I was younger, I did a lot more than I do now," she admitted. "I hardly do any now. I just can't be bothered." 
The actor has learned to listen to her skin above all else
Nothing beats a solid base, which Chloe Grace Moretz creates by sticking to a strict skincare routine. The talented star battled with cystic acne in her teens, which even Accutane was unsuccessful in treating. On top of that, it dried her skin out completely. In response, Moretz experimented and introduced olive oil to her regime. "Olive oil was one of the first things I integrated into my face [care] and my cystic acne started clearing up within probably three to four months," she told Vogue. "What I found is that oil begets oil in a lot of ways, so when I started using olive oil it really made my skin type more neutral."
Like her makeup journey, Moretz's skincare routine hasn't changed much as she's grown into adulthood. Speaking with Self in 2018, the former child star talked about discovering how olive oil worked for her skin, which she mixed with honey into a face mask to treat her cystic acne. In addition, Moretz only washes her face once a day (in the evening) and uses a minimal amount of product. "I use SK-II's Facial Treatment Essence, some rose water, a little bit of eyebrow gel, and lip balm, and that's it," she explained. After sorting out her skin, the "Let Me In" star was able to pull back, necessitating less makeup overall.