The Best Protein Powders For Women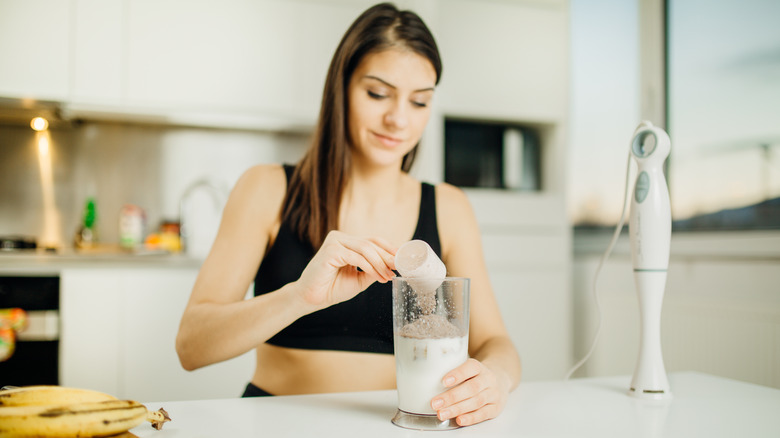 eldar nurkovic/Shutterstock
We may receive a commission on purchases made from links.
There are so many protein powder options out there, it can be overwhelming trying to determine which is right for you, but it doesn't have to be. It always helps to do your research to determine what you need to know before using protein powder.
While most people will be able to get the necessary nutrients from a healthy diet, there are some who could benefit from protein powder. If you're new to fitness, changing up your workouts, or recovering from an injury, protein powder could benefit you (via WebMD). If you're looking into weight management or building muscle, protein powder can help. Protein is an essential macronutrient that has to be present for you to make muscle gains. In fact, studies suggest that protein powder may also help with cholesterol and blood pressure issues, according to Medical News Today.
Since protein is so important for your body, you should know what to look for before you buy a new powder. Precision Nutrition recommends powders that offer a full EAA (essential amino acids) profile. Your body can't make these on its own, so you have to get them from food. Be sure to peek at the nutrition label to check the sugar content. Less than 5% grams is ideal.
Some protein powders contain additional nutrients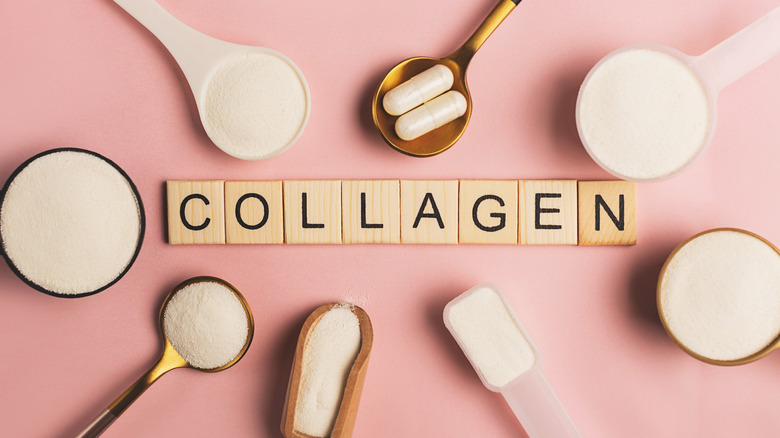 YuliaLisitsa/Shutterstock
If you'd like a little something extra in your protein shakes, Vital Proteins Collagen Peptide Powder is a good fit. This powder includes additional supplements like collagen, vitamin C, and hyaluronic acid. The Strategist says this brand isn't the best if you're looking for the highest protein content, but it's perfect for people seeking additional beauty benefits. It comes in unflavored, vanilla, chocolate, and lemon varieties. It's hard to argue with a 4.6 rating on Amazon and 100% of your daily vitamin C.
If you're looking for something organic, VeryWell Fit recommends Sprout Living's Simple Sunflower Seed Protein Powder. There's only one ingredient in this product: cold-pressed pumpkin seed powder. The Sprout Living powder is packed with 20 grams of protein and contains zero sugars. It also has fatty acids 3, 6, and 9. This is a great option if you need complete vegan protein.
The texture of protein powder matters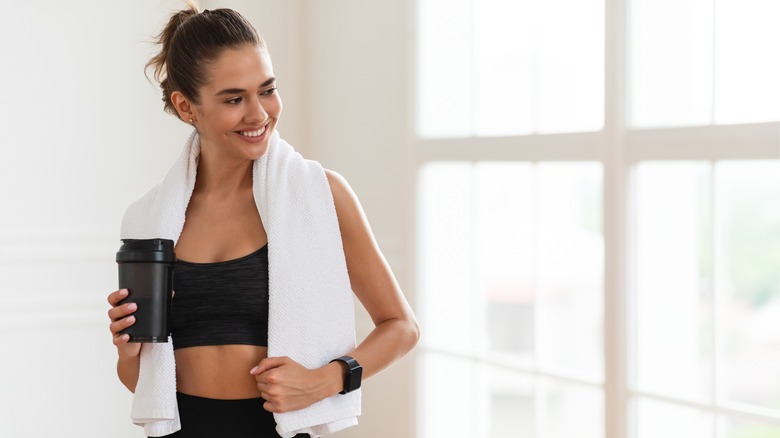 Prostock-studio/Shutterstock
The Ritual vitamin brand has now expanded into protein powders. The Ritual Essential Daily Protein shake was crowned best overall on Byrdie's roundup. This clean, vegan powder contains complete aminos and zero sugars. At 20 grams of protein per scoop, it will be perfect in any shake. If you're worried about clumping, experts say this particular powder is smooth so that isn't a concern.
"This protein powder tastes great and does not upset my stomach at all," says Jessica Mahgerefteh, the commerce editorial director at Byrdie. "I love that it comes with a shaker to help eliminate clumping, but honestly, you don't even need to use it because the powder is super smooth."
All of these powders are solid options for even the most beginner fitness levels. Grab a protein shake, hit the mat, and try out some exercises that fit people do daily.