How To Pull Off Silver Eyeshadow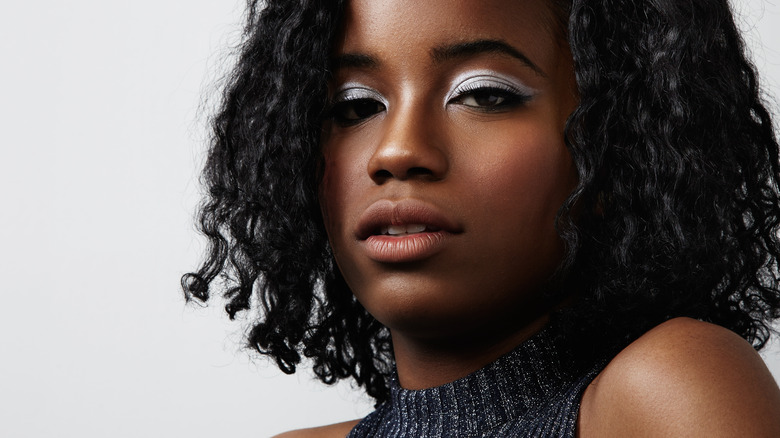 Beauty Stock/Shutterstock
Shimmery and metallic eyeshadows are a great way to elevate a makeup look or outfit, providing additional sparkle and shine. Metallic eyeshadows have been pretty trendy for a while, appearing on celebrities and make-up gurus in shades of gold, bronze, and of course, silver (per Blue Mercury).
As explained on Color Psychology Meaning, silver is a color that is associated with wealth, emotional balance, and the moon. In terms of aesthetics, silver is often considered to be an elegant and sophisticated color, but can be used to elicit a modern or futuristic vibe in some contexts (via Signet Branding).
Whether you're drawn to the color for its associations or aesthetics, there's no doubt that it's a bold shade that can be intimidating to use in makeup. Despite it being relatively trendy, you may be uncertain how to pull this eyeshadow color off yourself. Read on to discover inspiration for your next stellar silver look!
Elevate everyday eyeshadow looks with silver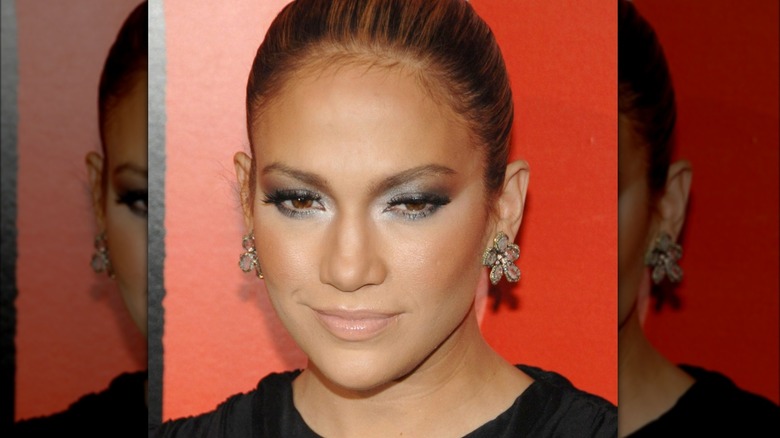 Everett Collection/Shutterstock
One way to pull off silver eyeshadow is by incorporating it into common makeup designs that you're already familiar with.
Inspired by the award-winning actress Lupita Nyong'o, as seen on InStyle, you can elevate the classic winged eyeliner look by adding a second line in silver. L'Oréal Paris explains that the typical saturation and shine of silver eyeshadows can actually make your natural eye color stand out less, but accompanying them with black eyeliner is a great way to combat that, making this look both stylish and practical.
If you have silver eyeliner, then you can follow the tutorial from YouTuber Renee's Days to achieve this look, but you can also use loose glitter or a converted silver eyeshadow. As for the rest of your makeup, either a minimalist approach that lets the silver liner shine or a more glammed-up look will work great with this design.
As featured above and on InStyle, Jennifer Lopez's smokey eye, easily incorporates silver shades into a classic eyeshadow look. Because silver looks so good with greys and blacks, this smoked-out combination really works and can be used for an evening out or toned down for an everyday outfit.
By pairing the look with blush and peach lipstick, Lopez lets the silver eyeshadow stand out, but you can also go for a more daring lip if that's the mood you're in. YouTuber ulovemegz has a smokey eye tutorial that is great for nailing this J Lo-inspired look.
Go bold and let the silvery, sparkly eyeshadow standout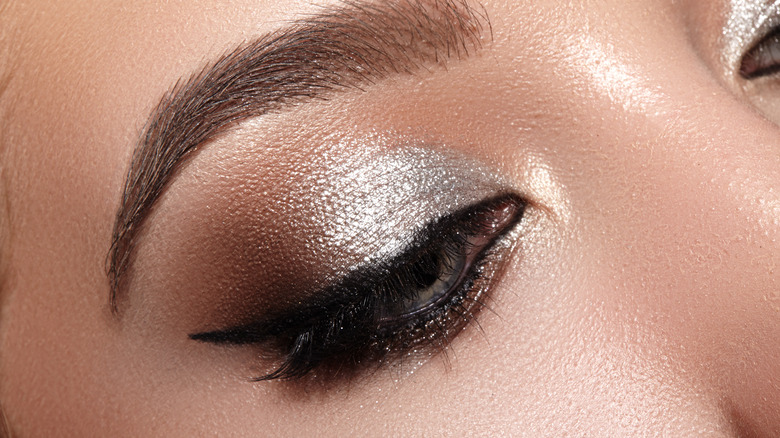 marinafrost/Shutterstock
Silver eyeshadow is inherently bold, so choosing a makeup look that focuses on this shine and sparkle is another great way to pull off the color.
Inspired by Cara Delevingne's 2015 Chanel runway look, as seen on Vogue, you can go for an all-over silver eyeshadow look topped with a striking cat eye or winged liner. With the rest of her makeup being simple, the silver and black eye makeup really stands out in this look. If you're unsure how to approach a one-eyeshadow design, then YouTuber Alexandra Anele has some great tips.
The celestial glitter makeup Margot Robbie wore to the "Peter Rabbit" premiere is also a great way to pull off silver eyeshadow (via Vogue). Glamour pinpoints celestial eyeshadow as a makeup trend of 2018, but we think this glittery lid look still shines bright today. If you're a fan of "Euphoria," you might be excited to note that this silver look by makeup artist Pati Dubroff uses the same brand of glitter as the show's iconic makeup designs, which come from Lemondhead.LA.
In Robbie's rendition, the Lemonhead.LA glitter is paired with a simple blush and lip color, giving the overall makeup a sophisticated look, but you could also dress this eyeshadow up for a festival, concert, or night out. On the brand's YouTube channel, company founder Megan Dugan breaks down the different types of glitter they sell and provides tips for application, even mentioning Margot Robbie's look in the process.