Metallic Makeup Is Going To Be Seriously On-Trend In 2022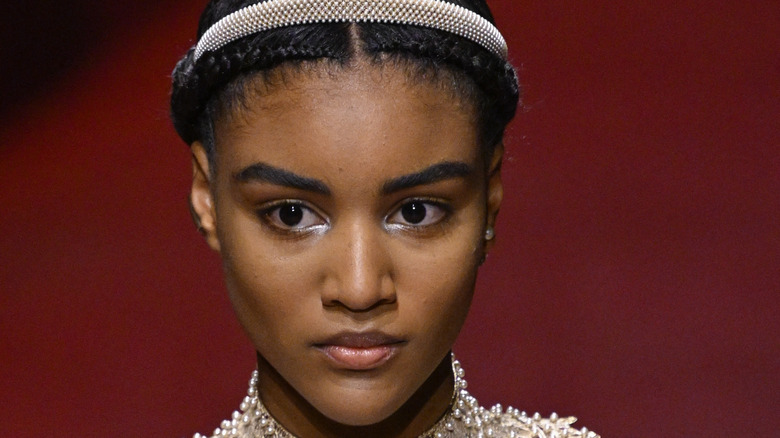 Peter White/Getty Images
We may receive a commission on purchases made from links.
Now that we're cautiously returning to a sense of normalcy and doing away with lockdowns, people are going back to glam. From graphic eyeliner to bold lip colors, eclectic makeup looks are basking in the moment right now. One trend dominating runways is metallic makeup. During Dior's Fall 2022 runway show at Paris Fashion Week, models were spotted wearing a matte nude eyeshadow base, with a sparkly silver metallic shade in the inner corner of their eyes (per Vogue). According to Marie Claire, the show's theme this year celebrated fierce femininity and displayed Italian artist Mariella Bettineschi's paintings.
For Dior creative and image director Peter Phillips, nothing says bold better than a sliver of silver. But Dior wasn't the only fashion brand to utilize metallic eye looks during Paris Fashion Week. Vaquera, as well as Bronx and Banco lit up the runway by applying silver eyeshadow on their models' eyelids (via Allure). Probably most influential to setting the current trends, "Euphoria" characters this past season were seen donning vibrant, complex eye looks, often wearing metallic eyeshadows with a mirror-like shine. 
While you may not be Alexa Demie or a runway model, there's absolutely no stopping you from stealing the show by rocking the latest metallic makeup trend. All it takes to wear metallic makeup is to invest in quality products and to be patient during the application process. In no time, you too will shine like a star.
Foiled eyeshadows will give a dazzling molten metal look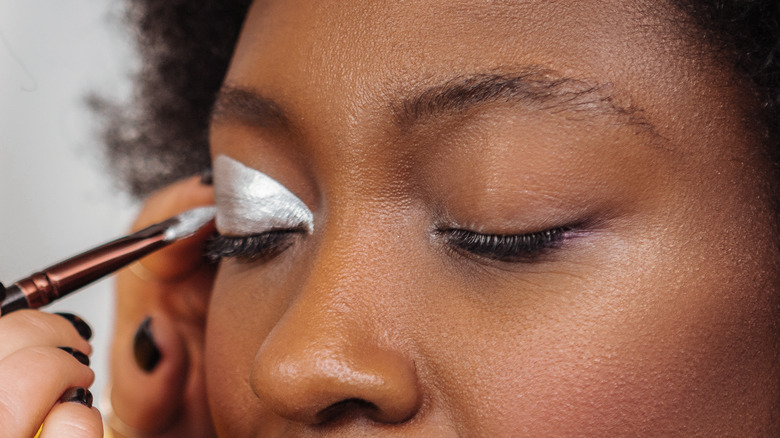 Dmytro Zinkevych/Shutterstock
Probably the easiest way to try out the metallic trend is to use a foiled eyeshadow, per iDiva. As the name suggests, foiled eyeshadows give off a reflective shine that is reminiscent of aluminum foil. Unlike glitters, foiled eyeshadows apply smoothly to the eyelids and don't emphasize the texture. It's a great way to amp up the drama on your eyes. Applying metallic eyeshadow on a brush and wetting the brush with a setting spray can help give the foiled effect. Today also recommends using liquid metallic eyeshadows like Danessa Myricks Colorfix Foils, MAC Dazzleshadow Liquid, and Kosas 10-Second Eyeshadow, while Elle suggests trying a cream formula like Victoria Beckham Lid Lustre.
If you're new to using metallic eyeshadow, Bustle has a guide full of looks you can try on your eyes. For those who are not afraid of experimenting with bold hues, try using contrasting colors like a metallic emerald green eyeshadow on the lid, and a metallic royal blue eyeliner on the bottom waterline. Green has become an especially trendy eyeshadow color now. So if you want to try green eyeshadow, but don't feel confident enough to pair it with a contrasting color, you can try blending a matte army green eyeshadow in the crease, and applying a green-gold metallic eyeshadow on the lid.
Other ways metallic makeup can make a stunning impact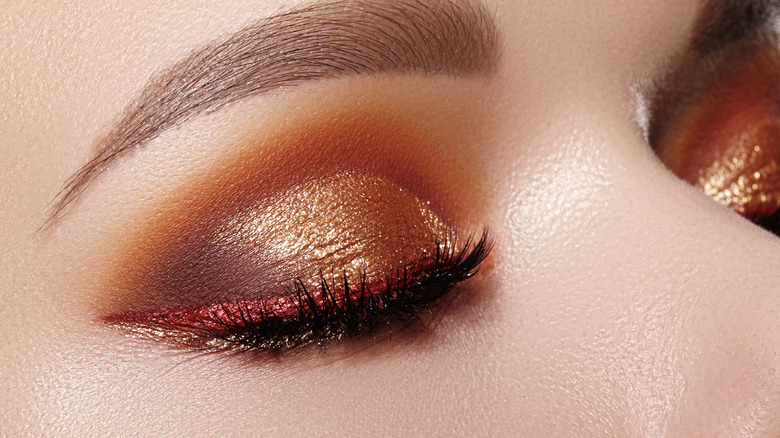 marinafrost/Shutterstock
Multichromes are in high-demand right now, and certain formulas offer a stunning metallic finish like Danessa Myricks Twin Flames Liquid Eyeshadow (per Elle and Bustle). A quick swipe of this liquid eyeshadow will give the ultimate shine, with an eye-catching color-shifting element. According to It's a Glam Thing, these liquid eyeshadows are also available in sets that contain complementary shades of Danessa Myricks Infinite Chrome Micro Pencil, a multichrome metallic automatic pencil eyeliner.
If you prefer a statement eyeliner over an eyeshadow, Elle suggests trying a silver pencil, like Byredo Kajal Pencil in Chaandee. Makeup.com recommends L'Oreal Paris Le Liner Signature Mechanical Eyeliner in Gold Velvet and Maybelline Master Precise Ink Metallic Liquid Eyeliner in Violet Nova. Gold eyeliners have specifically taken over runways this season, per Byrdie. For a subtle take, apply metallic eyeliner as a mini-wing, in the color of your choice. To take it up a notch, you can try graphic eyeliner by applying winged eyeliner and drawing a curved line that traces your crease line, starting from the tip of the wing.
Metallic lipsticks are also making a comeback, according to Stylecraze. The reflective sheen they add to your lips will help them stand-out in any setting. Lighter pinks and beige-nudes will complement lighter skin-tones, while berries and fuchsia pink are strikingly beautiful options for those darker skin-tones. 
Whether you go for gleaming eyes or lustrous lips, it looks like all that glitters is gold.