Why You're Never Too Old For Rainbow Hair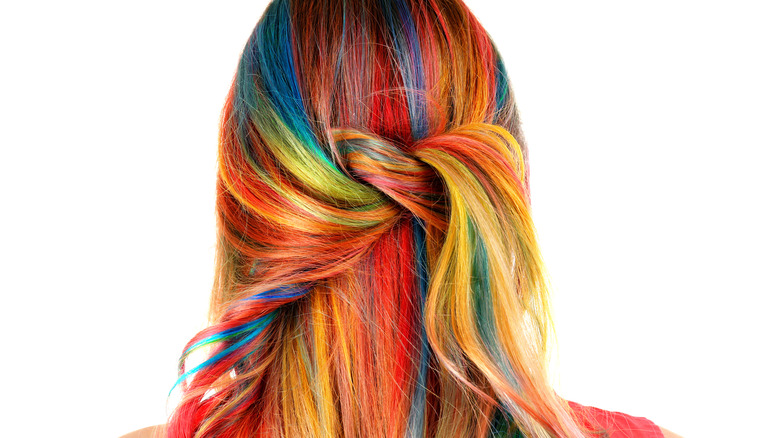 Africa Studio/Shutterstock
Rainbow hair is creative, daring, and so much fun! Whether you get it done at the salon or try a temporary hair color brand to look fresh and fab, bright hair colors never fail to make a statement. Just think of all the celebrities who have experimented with colorful tresses. Between Hailey Bieber's pink hair phase and Katy Perry's many bold hair colors, including pink, green, purple, and blue (via Glamour UK), famous people prove how exciting it can be to explore unconventional hair hues. And, of course, we can't forget about Avril Lavigne. The punk-pop star has implemented a variety of bold colors into her blond locks over the years and pleasantly shocked many fans in October 2022 by chopping her orange-tinted blond tresses into a sleek long bob, per Instagram.
Moreover, there are over a million posts dedicated to #colorfulhair on Instagram and a plethora of videos related to these daring hair colors on TikTok, too, as millions of people enjoy exploring colorful hair. But what no one tells you about vivid hair is that it looks great on people of all ages. Rocking bold hair is all about self-expression, so there's no age limit on who can flaunt the look.
Rainbow hair is more fun than traditional hair colors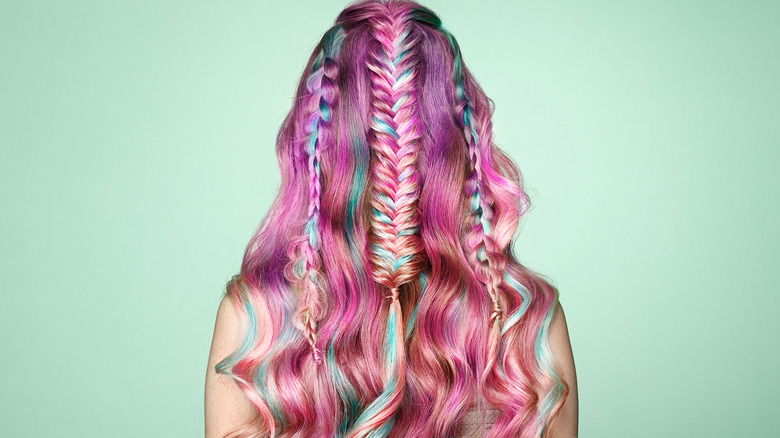 Oleg Gekman/Shutterstock
While some people enjoy embracing their natural hair colors, many beauty enthusiasts prefer to color their hair, especially if it's gray. So, if you're going to dye your hair anyway, why not have fun with it? Instead of going for a predictable blond or brown hue, you should consider trying a brighter, bolder color, no matter your age. For instance, Michele Saunders, a 75-year-old woman whose hair started graying when she was in her 30s, likes rocking light neon green locks. "When I found [the bright-green shade of] Electric Lizard, I felt that was my color — I love that it glows in the dark. Everywhere I go, I get compliments on my hair... I feel comfortable at my age, looking as I do. I have fun," Saunders told AARP.
Moreover, you can get much more creative with colorful hair than you can with conventional hues, as the vivid options are endless. For example, instead of dying all your hair pink, you can opt for "pink unicorn hair," where you'll have pink locks with some purple, blue, and teal strands in your hair, too. There are many fun two-toned looks, too, such as keeping half of your hair a traditional color like black and dying the other half a wild hue like blue (via Instagram). There are so many choices when it comes to colorful hair, so don't be afraid to be bold at any age!
Colorful hair is a great way to show your pride or embrace your emo side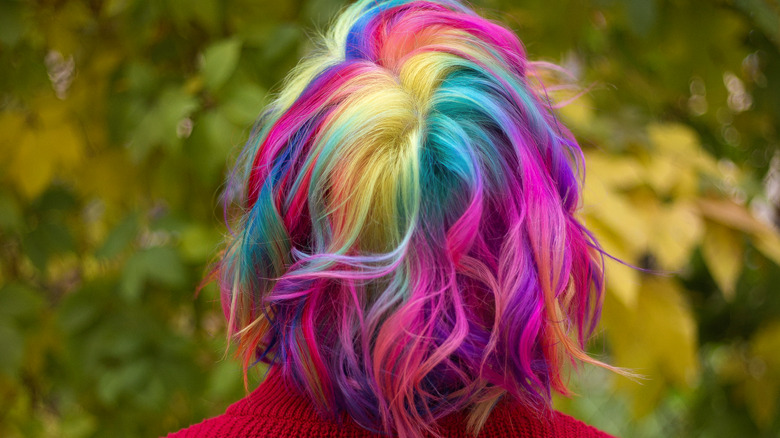 Svetlana Malyutina/Shutterstock
Not only is rainbow hair super creative and fun, but it's an excellent way to show your support for the LGBTQIA+ community. The rainbow famously represents the LGBTQIA+ community, per Brittanica, so rainbow hair is ideal for pride month events or for showing your pride all year. When we searched #pridehair on Instagram, we saw many people rocking bright, rainbow-inspired hair. Whether you want to flaunt a blue buzz cut with a colorful design, neon pink tresses with rainbow colors toward the bottom, or streaks of every color of the rainbow in your hair, you're never too old to use your locks to express your support for the LGBTQIA+ community.
Furthermore, colorful hair is perfect for showing off your love for punk, emo, or alternative music and subcultures. Many creative, colorful hairstyles popped up when we searched #althair on Instagram, as people of all ages are embracing the "alt girl" look in the 2020s, and vivid hair is crucial for rocking this style. While some people used to be uncomfortable or intimidated by people with rainbow hair, these edgier, bolder styles are now more accepted in society, thanks to the pop-punk resurgence and celebrities. After all, who hasn't seen the music video for "Emo Girl" by Machine Gun Kelly, featuring WILLOW? So, if you've always wanted colorful hair but were nervous about how society would react, now's the time to try it!