Best Temporary Hair Color Brands To Make You Look Fresh And Fab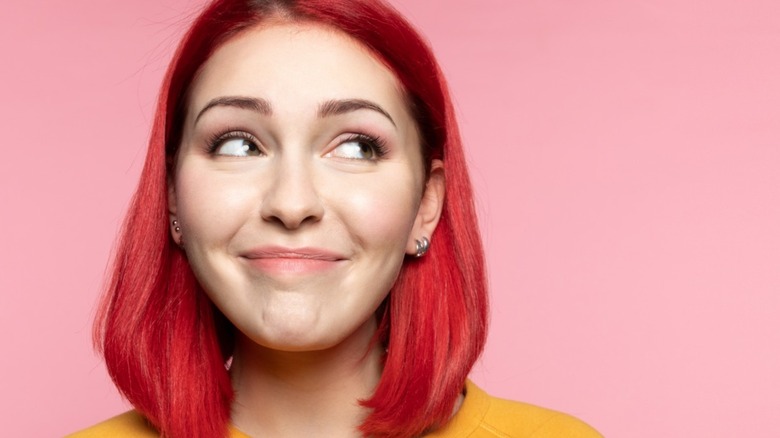 popcorner/Shutterstock
Thinking pink? Or perhaps midnight blue? Maybe you just need to cover some roots — fast. Or, you love your natural color, but wish it was just a little more. You can experience any number of these hair color changes, and without a permanent commitment, thanks to temporary hair color products.
Temporary hair colors, according to MHD, "are direct dyes made up of large color molecules that rest on the cuticle layer of the hair." Since the molecules are much larger, they do not seep into your hair and instead will wash away during your next shampoo session. They also note that in addition to adding a new hue to your tresses, temporary colors, can do things like "improve hair tone" or even "add shine."
Some semi-permanent hair colors are also considered temporary, as they coat the hair shaft with color in the same way. Alex Brownsell of Bleach London shares with Vogue that semi-permanent dyes can last a little longer, up to "six to eight weeks depending on the vibrancy of the color you choose, how frequently you wash your hair, as well as the condition and porosity of your hair."
The best temporary hair colors to try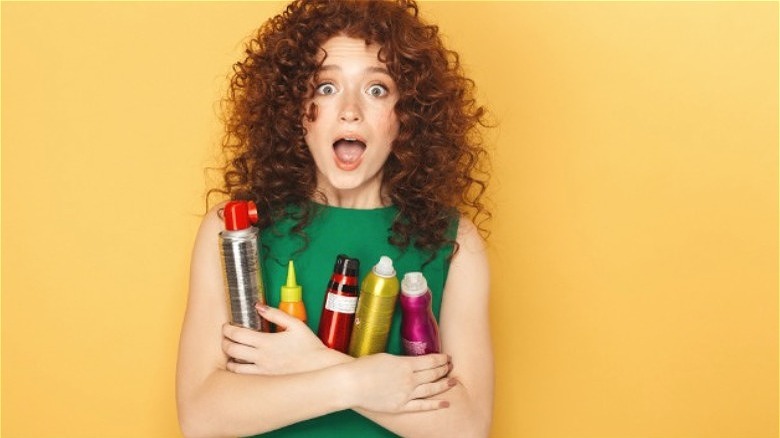 Dean Drobot/Shutterstock
Temporary hair color comes in a variety of application methods in addition to the regular hair dye formula you're used to, including hair mascara and colored hairspray, according to Good Housekeeping. The outlet likes the Joyous Professional Hair Dye Temporary Hair Color Stick, with a mascara-like application, citing how easy it is to apply more or less product to achieve the intensity of color you want.
If you're looking to cover your roots quickly and easily, Allure recommends L'Oréal's Magic Root Cover Up spray as well as Color Wow Root Cover Up, which is a powder applied with a small brush. To give your natural color a bit more shine and color intensity, Today suggests dpHUE Gloss+, which has a semi-permanent color boost that lasts up to 10 shampoos.
However, for fun, vibrant colors, the Manic Panic brand is well-known and InStyle likes their Dye Hard Temporary Hair Color Styling Gel. "The brand's temporary, washable, easy-to-apply dyes are all over the internet and in every mall in America," reports hair colorist Steph Perry via InStyle. Another option that Glamour recommends is Lime Crime Unicorn Hair Full Coverage semi-permanent hair dye, a cream formula available in over 35 shades that will last several weeks.
Keeping the temporary color you want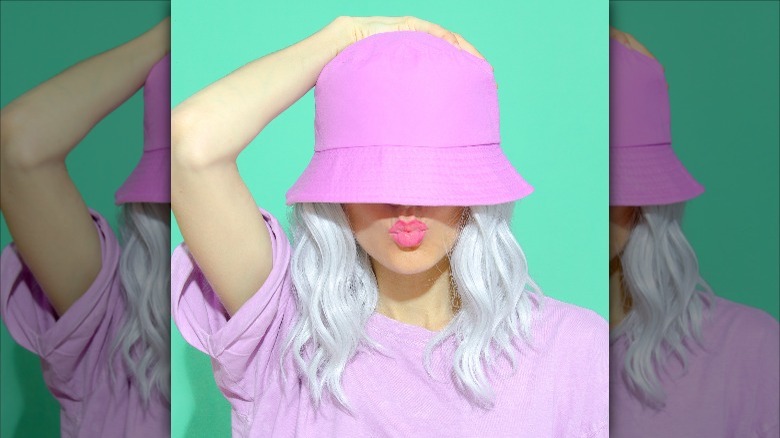 Eugenia Porechenskaya/Shutterstock
While you may not want it to last forever, you still want your new color to look great. Your base shade will definitely impact your final results, say Manic Panic's Tish and Snooky by way of W. "Pastels and neons are more vibrant on blonde or pre-lightened hair," they note. "Darker colors such as bold jewel tones look great on darker hair. that has not been pre-lightened [...] Red and purples tend to be the most versatile across the board." 
While temporary hair colors are designed not to last, how quickly your new hair color fades is dependent on a few factors. "The darker the temporary color and the lighter the hair, the longer it will take the color to wash out," explains Eva Scrivo Salon's Meri Kate O'Connor via Good Housekeeping. Certain colors will also fade at different rates, reports Vogue, noting that cooler shades like blues, greens, and purples tend to outlast warmer hues like pinks, reds, and oranges.
You can prolong the life of your temporary hair color, especially if it's the semi-permanent variety that can last a few weeks. "Many women shampoo every day, which will strip hair of oils and color," explains JB Shelton, educator for Bosley Professional Strength Haircare via Today, "Try to go every other day." Also in Today, celebrity hairstylist Richard Collins advises against spending too much time in the sun: "If you're doing any outdoor activities like hiking or going to the beach, be sure to take cover."