Hurricane Nicole Is Getting In The Way Of Tiffany Trump's Wedding And She's Reportedly 'Flipping Out'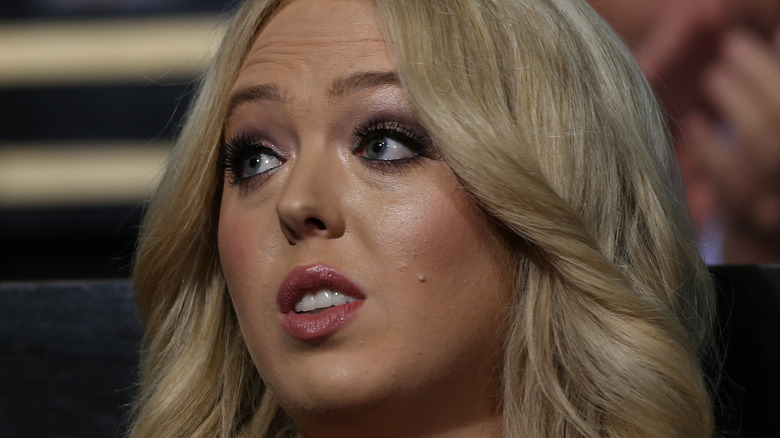 mark reinstein/Shutterstock
Tiffany Trump doesn't make political headlines in the same way that her siblings do. While her older half-sister Ivanka Trump and her husband Jared Kushner established themselves as presidential advisers and her half-brothers Donald Trump Jr. and Eric Trump have spoken out via Twitter, talk shows, and rallies in support of their father and the MAGA movement, Tiffany has largely stayed out of public politics. She also stayed out of getting named in the fraud lawsuit against Donald Trump and his three oldest children issued by the New York Attorney General.
Former Trump personal attorney Michael Cohen wrote a bit about the relationship between Tiffany and her family in his book "Disloyal: A Memoir," saying that she was treated differently and compared negatively to Ivanka, per Mercury News. But the relationship between father and daughter must be congenial enough as Tiffany has planned her wedding to billionaire business executive Michael Boulos to be held at her father's Mar-a-Lago resort club in Florida. But Hurricane Nicole — now a tropical storm — has swept into Florida, putting a damper on the plans and the bride-to-be is reportedly not happy.
Tiffany Trump has been planning a lavish wedding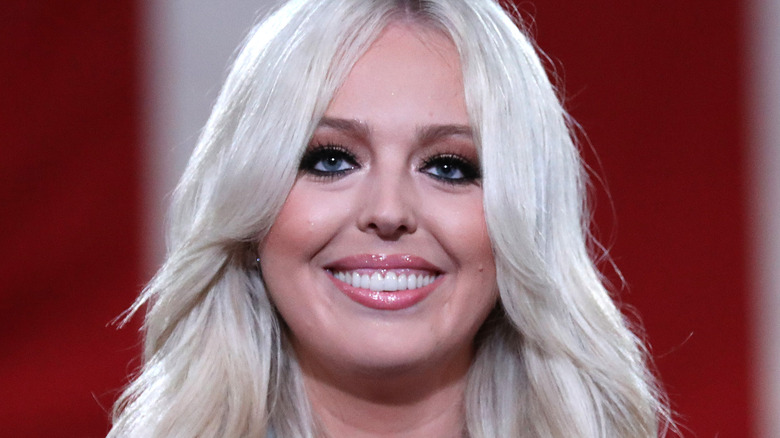 Chip Somodevilla/Getty Images
Hurricane Nicole made landfall on the east coast of Florida on November 10 around 75 miles north of Palm Beach, Florida, per AP News. Mar-a-Lago and the surrounding areas were under a mandatory evacuation order the day before the hurricane hit, and according to Page Six, Tiffany Trump — set to get married to Michael Boulos at Mar-a-Lago on Saturday, November 12 — is "flipping out" about the literal rain on her parade. The wedding has been in the works for months, and an insider told Page Six to expect an over-the-top affair: "This is truly going to be the big, glamorous, dream wedding."
A welcome dinner for wedding guests was planned for Friday evening and that still might go on, but other pre-wedding events, including a golf outing, had to be canceled. The storm may also have caused travel problems for some of the 500 invited guests since the Palm Beach airport had to close on Wednesday and cancel all flights. Rain and storms are forecast in the Palm Beach area through Saturday.
Recently re-elected Republican Governor Ron DeSantis announced on Thursday that every county in the state is currently under a state of emergency, per CNN. Donald Trump stayed put in Mar-a-Lago during the evacuation order, according to The Daily Beast.