Why Makeup Artists Love NYX Professional Makeup Glitter Primer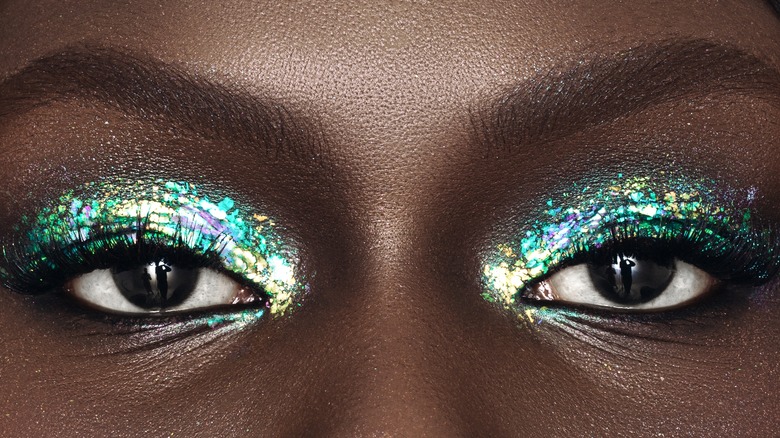 Wirestock Creators/Shutterstock
We may receive a commission on purchases made from links.
In the wake of the rise of "Euphoria" makeup, bold glitter as part of our beauty routines is clearly here to stay. From light shimmer for daytime to bold loose glitter shadows for nights out, many of us want to run the gamut of glittery looks. Makeup artist to the stars, Mary Phillips, told Refinery29 that glittery eyeshadow is a favorite fall beauty look for many celebs this season. She says, "All of my clients want this shimmery, lash-to-brow, wet washes of shimmer ... I love that glitters are coming back because it's a subtle way of adding something to your normal makeup routine — there's something fun about it."
We can all agree that we love glittery eyeshadow, but our eyelids often do not. Loose pigment can be the best way to get that especially sparkly look, but it can also be difficult and messy to work with (via Byrdie). Luckily, there's a product that can help us keep our eyeshadow in place even if it's the sparkliest of the sparkly. That product is NYX Professional Makeup Glitter Primer.  With this product in your makeup bag, like Taylor Swift, you'll be able to "make the whole place shimmer."
What makes this eyeshadow primer stand out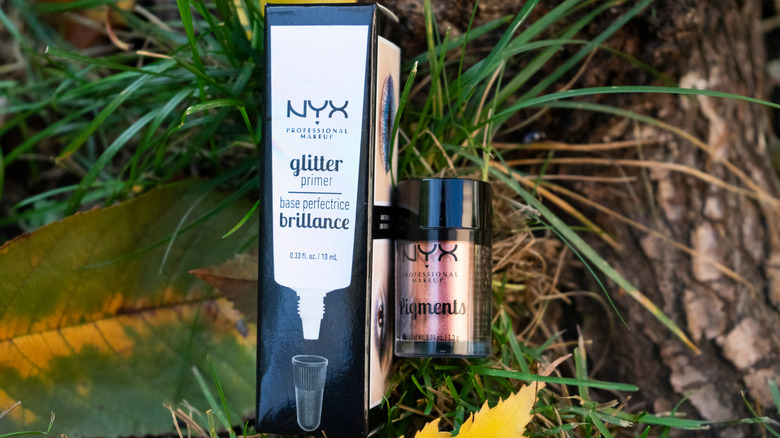 Ana Maria Tone/Shutterstock
The NYX glitter primer has truly changed the game when it comes to applying glitter eyeshadow (via Makeup). Nobody likes getting fallout from their eyeshadow, but glitter fallout is unarguably the worst fallout of all. Who wants glitter all over their face? No one, which is exactly why glitter bombs were invented. This NYX eyeshadow primer feels just like any other. It's smooth and super simple to spread onto the lid before going all out with your glittery look. Yet, it has much more grip, so it's perfect for laying a base for loose glitter.
Glitter eye makeup can be difficult to keep on, so of course, you need a heavy duty primer to keep it in place. Come to think of it, though, wouldn't it be better to keep all your eye makeup in place with a heavy duty primer? The answer is yes, and this primer also works great for underneath normal powder eyeshadow or even eyeshadow sticks. This primer has nearly 15,000 5-star reviews on Amazon (via Amazon). If that's all not enough, though, this primer is less than $6, so you can look like a million bucks even though you're only spending five.
How to use this eyeshadow primer to elevate your makeup
While glitter eye makeup has been on the rise for a while now, it made a major splash at fashion week, proving that it's going to be a major 2023 beauty trend (via Glamour). Consequently, we're gonna need all the help we can get when it comes to making glitter a part of our beauty wheelhouse. So, how do you apply this magical primer? It's actually super simple. Start by applying the primer to a flat shader brush (via Makeup). Gently pat the primer into your lid with the brush. Once the primer is evenly spread, use the same brush to tap your loose glitter across your lid, and you're done. Of course, a little setting spray never did anything but add some extra protection. We recommend Morphe Continuous Setting Mist for extra hold.
If you choose to make the NYX glitter primer your go-to no matter the makeup, you should apply it the same way and apply your shadow normally on top. Once you start using this primer, you'll love the creamy, light feel and the easy application. Most of all, though, you'll love how long your makeup stays in place. Just add a little sparkle to your look, and (to paraphrase T-Swift) best believe you'll still be bejeweled into the wee hours of the morning.