The Best Skincare Products For Radiant Skin, According To Science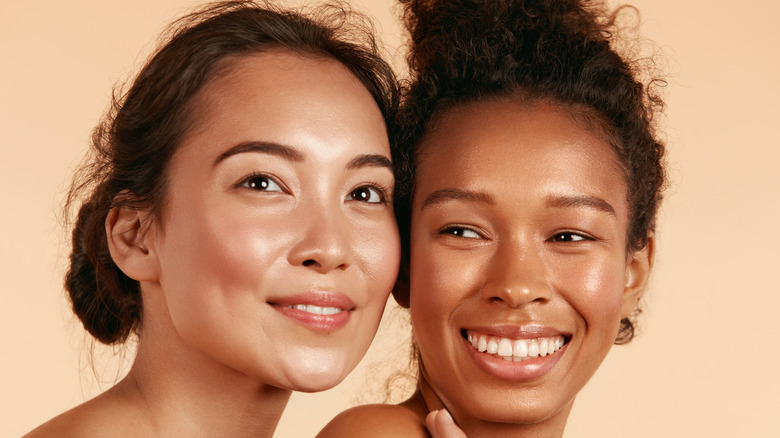 Puhhha/Getty Images
We may receive a commission on purchases made from links.
While solving all your skin woes such as acne, redness, or hyperpigmentation is a pretty decent feeling, is there anything better than going the extra mile and achieving bright and radiant skin? Receiving compliments should never be the goal, but sometimes you just want the pleasant surprise of people noticing your glow, like Fleabag at her mother's funeral.
There are tried and true ingredients that are known to deliver glowy skin, but with the vast amount of skincare products, knowing which one to buy can be tricky. The skincare industry is oversaturated with brands and products, especially now that every celebrity has decided that they need to tap into the underrated market of skincare (Pharrell, who holds the key to the fountain of youth, having a skincare line makes sense. But Brad Pitt?)
With all the skincare items available, building a consistent routine of science-backed products will provide you with the radiant look you want.
The best face wash, serum, and toner for radiant skin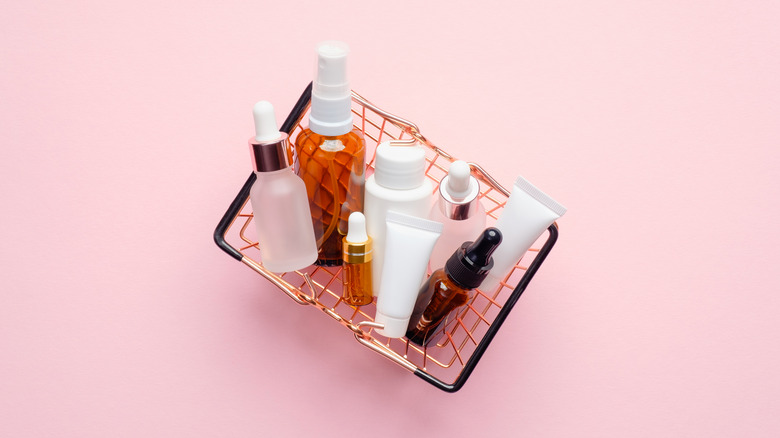 Photoguns/Getty Images
La Roche-Posay's Pigmentclar Brightening Foaming Cream Cleanser is just one product of the French pharmacy brand's that delivers great results. It's formulated with glycerin, a humectant that hydrates the skin, and Lipo-Hydroxy Acid, an offspring of salicylic acid, which helps to exfoliate, shedding dead skin to reveal a brighter complexion. Healthline states that it's a great exfoliating cleanser thanks to its brightening properties and the fact that it doesn't dry out the skin.
If you've been following any skincare discussions on the internet, you've probably come across retinols, a powerhouse ingredient that increases collagen production and smooths fine lines and wrinkles (via Cleveland Clinic.) The Inkey List recently created a line, called SuperSolutions, in conjunction with a team of dermatologists. Its Scar, Mark and Wrinkle Solution contains 1% retinol and evens out tone and texture. Consumer trials showed that after only 28 days, 86% of users found that their discoloration and texture had improved.
Any fan or casual viewer of Vogue Beauty Secrets has seen a common product that models and celebrities often use: the Biologique Recherche Lotion p50. The exfoliating toner is a cult classic due to its powerful ingredients that seemingly transform the skin into a smooth, radiant complexion. The toner has a cocktail of various exfoliants, like lactic, malic, and citric acid, which help to remove dead skin and renew the complexion. It also maintains the pH balance of the skin and is not meant to be used with retinol.
The best moisturizer, sunscreen, and oil for radiant skin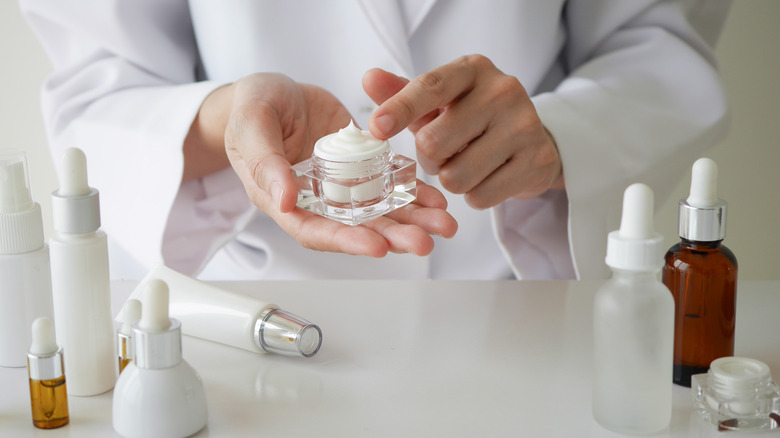 Paulynn/Getty Images
Obtaining radiant skin doesn't have to break the bank. The e.l.f. Holy Hydration Face Cream is only $13, yet it was created with amazing ingredients that are highly effective. The product contains hyaluronic acid and panthenol, two hydrophilic ingredients that draw moisture to the skin, according to The Derm Review. The product earned a 4.6 rating on Target, with reviewers saying it leaves their face feeling moisturized and looking balanced.
For a sunkissed glow and sun protection, try the Tula Protect + Glow Daily Sunscreen. The sunscreen won Best SPF at the Health 2020 Beauty Awards thanks to its formula that's chock full of probiotics, which helps with inflammation and premature aging, Forbes reports. It also contains fruit enzymes, which renews the surface of the skin and wards off breakouts, says dermatologist Dr. Alicia Zalka in an interview with Byrdie.
No "best of" skincare list is complete without something from The Ordinary. Its 100% Organic Cold-Pressed Rose Hip Seed Oil. The oil is unrefined with no additives, so you get all the potency of rose oil in one product. Advanced Dermatology & Skin Cancer Associates hypes up the many benefits of rose oil, saying the antioxidants and vitamin C provide anti-aging benefits and even out the skin while oleum acids restore the barrier. Reviewers agree, saying that it's worked wonders for their dry skin and has reduced the appearance of scars.