What You Need To Know About Brad Pitt's Genderless And Wine-Inspired Skincare Line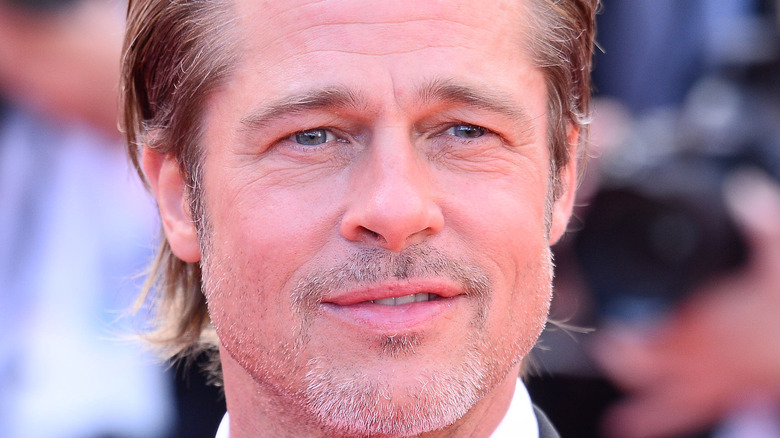 Isaaack/Shutterstock
From Scarlett Johansson's The Outset to Jennifer Lopez's JLo Beauty, it seems like every celebrity is coming out with their own skincare line these days. Add one more celebrity to that list — Brad Pitt. Pitt, who has been known for his rugged appearance, is now taking on a new foray into a genderless skincare line, per Vogue U.K. The actor candidly admitted he had not been into skincare for much of his life, but claims to have become more consistent with his routine, thanks to his makeup artist.
Pitt told Vogue U.K., "I grew up with a country mentality, kind of you know, Dial Soap once a day and then move on. And I think that we're learning that if we love ourselves a little better, then there are long-lasting benefits to that. So just age healthy, age in a healthy manner." He believes more men might become invested in having skincare routines if they see fellow men promote skincare products that appeal across gender lines.
But Pitt told Harper's Bazaar that this is no other celebrity skincare line to him and that he sees it as an "an anti-aging cosmetics range for every man and woman."
Brad Pitt's Le Domaine will feature wine-infused skincare products
Brad Pitt's new skincare brand called Le Domaine is like a refreshing glass of wine for your face — literally. The launch of Le Domaine includes The Serum ($385), The Cream ($320), The Fluid Cream ($310), and The Cleansing Emulsion ($80). According to the company's website, the products contain two patented antioxidants called GSM10 and ProGR3 that come from grape seeds and vines. The products claim to restore firmness and radiance, while smoothing the skin's surface (via Harper's Bazaar). The packaging lids even resemble cork tops found on wine bottles.
Pitt especially recommended The Cream to Harper's Bazaar, saying, "I really like the texture because it's creamy, moisturizes quickly, and makes my skin much more comfortable under the California sun." The idea of a wine-infused skincare line came from his background in winemaking. Pitt and ex-wife, Angelina Jolie, had bought a property called Chateau Miraval in 2012, using the vineyard located in the South of France for family vacations (per People). Through his work with the Perrin family, Pitt helped restore Chateau Miraval and then co-founded Le Domaine (per Harper's Bazaar). They also enlisted guidance from Dr. Pierre-Louis Teissedre whose expertise includes the effects of wine-derived antioxidants on the human body.
The skincare line is rooted in sustainability. In the process of making wine in the vineyard, any leftover byproducts are then recycled and used in Le Domaine skincare products.
Twitter reactions are divided on the luxury skincare line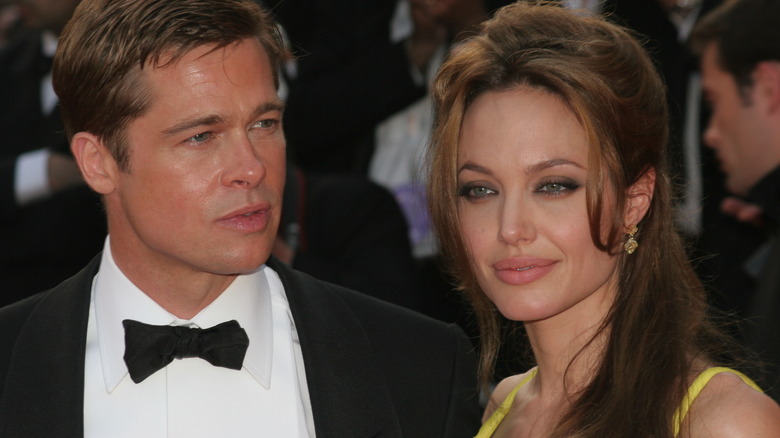 Denis Makarenko/Shutterstock
The launch of Le Domaine was not without controversy. Many on Twitter are reacting to the skincare line that features luxury price tags. Megan Collins tweeted, "I finally read this totally uncomfortable British Vogue piece on Brad Pitt's new skincare line. Did no one in the media train him? He seems SO embarrassed to be talking about his skincare, which makes him... not a great ambassador for a skincare line?!" In his interview with Vogue U.K., Pitt refused to demonstrate how to use his products, said he didn't like to get facials done and didn't know what a gua sha was.
Another Twitter user pointed out that "all skincare is genderless" and thought that the launch serves as a distraction from the details that emerged regarding his alleged "harassment" of ex-wife, Angelina Jolie, and his children. Currently, there is an ongoing legal battle between Pitt and Jolie regarding the Chateau Miraval property (per Wine Spectator). Harper's Bazaar reports that the former couple had started their own wine company called Miraval, in which Wine Spectator listed the company's rosé as the world's best in 2013. Jolie no longer wanted to be involved in the business venture and was sued earlier this year after selling her share to a Russian businessman named Yuri Shefler, according to Wine Spectator. Jolie has recently filed a countersuit against Pitt for $250 million in damages.