The Best Way To Apply Your Highlighter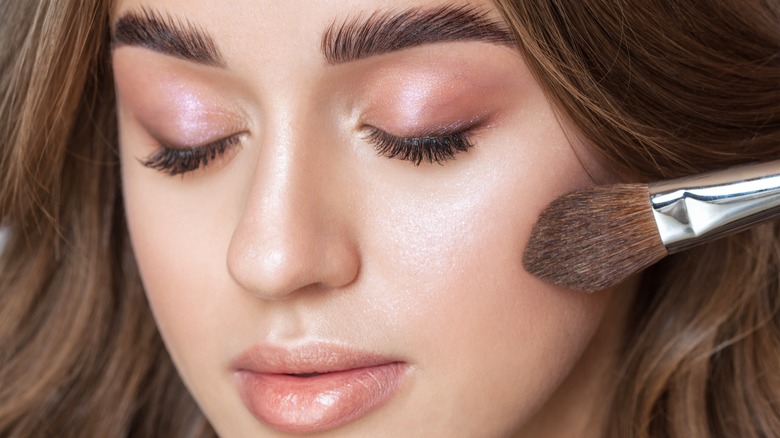 dimid_86/Shutterstock
A glowy pop of shimmer on the skin is occasionally welcome, even for those who generally prefer a mega-matte makeup application. One way many makeup wearers achieve that glow is through highlighter. According to Maybelline New York, highlighter does more than just add a glamorous strobe of shine. It also "lifts" your features and emphasizes certain parts of the face, like the cheekbones, once the light hits them. Even if you don't wear makeup at all, adding a bit of highlighter is a foolproof way of enhancing your natural beauty.
There are some things to keep in mind if you want to achieve the highlighter application of your dreams. While there are no rules when it comes to makeup, there are techniques you can implement to get the most out of your look. Whether you prefer a soft and subtle glow or want to be drenched in shimmer, knowing the best way to apply your highlighter is handy in achieving that desired glowy complexion.
Layering your highlighter is the secret to popping shine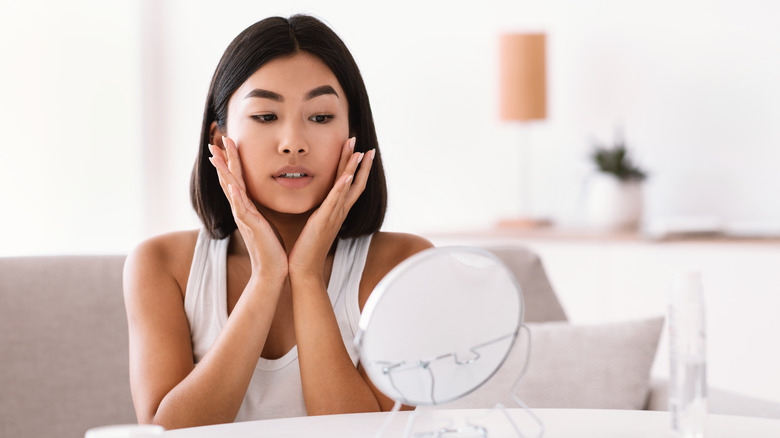 Prostock-studio/Shutterstock
Most people want the result of their makeup application to look believably natural, and applying highlighter the correct way is a part of that. Celebrity makeup artist Tobi Henney told Byrdie that to get the best out of your highlighter, use a cream-based product as a base layer of sorts before going in with a powder highlighter. The cream provides natural vibrancy while the powder highlight completes the look and really makes it shine (no pun intended). Using the cream highlighter alone may result in a slippery application, but the powder on top? Perfection.
For the best highlighter application, dab some cream highlighter product with your fingers on your cheekbones. According to Allure, using a cream-based makeup product on top of powder can give a patchy final result. In this case, you want to apply the cream first before applying any setting powder. Then, use a fan brush to layer powder highlight on top of that cream product. Don't forget to strobe a bit of that powder highlighter on the bridge of the nose and the top of the lip.
Highlighting mistakes to avoid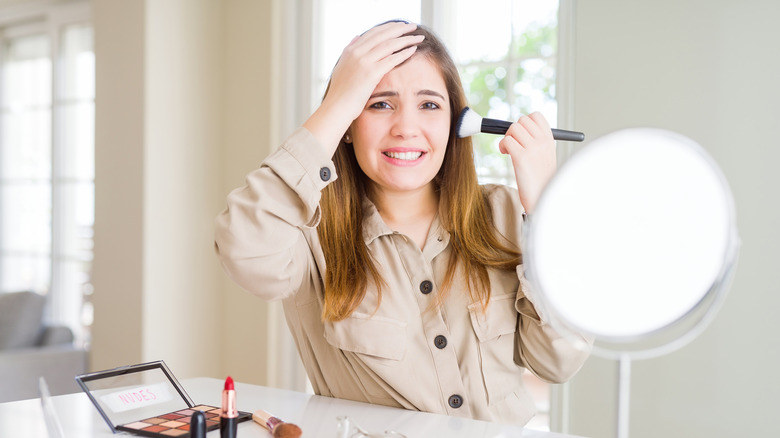 Krakenimages.com/Shutterstock
There may be some highlighter mistakes you didn't know you were making. You must be strategic with where you place it, or you could quickly look more like the Tin Man than chic. Also, overdoing the highlighter and applying it to the incorrect parts of the face can easily give a greasy, unwashed appearance instead of a fresh and glowy complexion (via Allure). Therefore, knowing the best way to apply your highlighter to achieve the iridescently glam finished look you are going for is essential.
For beginners, it's best to not apply highlighter to any other areas of the face besides the cheekbones and bridge of the nose. Some pros prefer to apply highlighter to the temples and above the eyebrow for a lifted look or under the eyes to disguise dark circles, per Cosmopolitan. However, using a heavy hand and the wrong products can easily make the final look appear overdone and oily (via Allure). Instead, start small and build the highlighter as needed. You can always add more product, but removing makeup once applied is more complicated. And as always, don't rush through it. A strategic highlighter application is the key to a perfectly glowy complexion.