Highlighter Mistakes You Didn't Know You Were Making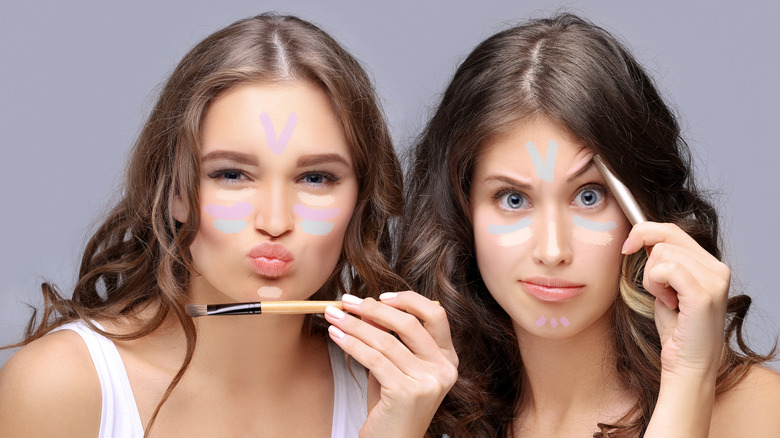 Shutterstock
Even if you don't wear a lot of makeup, chances are you've heard about highlighting or strobing your face (via Bustle). Although it's not an especially new cosmetics concept, it seems that most makeup brands these days offer a kit with an array of light highlighters and bronzers. Tutorials for how to best use the popular makeup trend to accent the places on your face you want to highlight abound across YouTube and TikTok, from personalities like James Charles and Jai Mariah.  
A highlighter can be a lovely little cheat for getting glowing skin even if yours isn't actually radiant despite your best skincare efforts (via Cosmopolitan). When used correctly, highlighter can help you achieve a dewy look, but Loreal Paris USA warns against highlighting with too heavy a hand. Unfortunately, it's pretty easy to make several common highlighter mistakes, which could leave you looking overly shiny instead of accenting the high points of your face. Don't despair, though, because you can correct these mistakes and achieve the dewy, glowing look you want.
Here's how to avoid some common highlighter pitfalls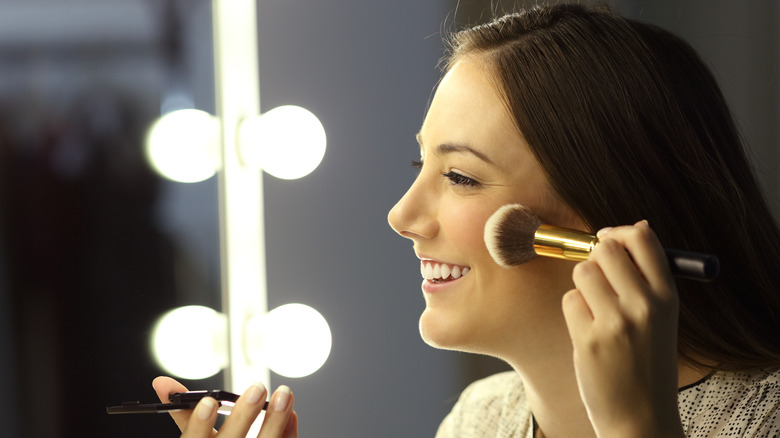 Shutterstock
Bustle noted that highlighter could make you look oily instead of radiant. Thankfully, the fix is easy. The publication suggested applying your foundation first, then highlighter, and finish with blush. If you happen to find that you're always heavy-handed with highlighter, you could mix a strobing cream with your foundation for a more natural look (via Cosmopolitan). You may have chosen the wrong highlighter color altogether. According to Loreal Paris USA, you should choose a product that is about two shades lighter than your natural skin color. If you regularly look like you went crazy with the glitter, there's a great way to correct that mistake too. Bustle recommends you try a creamier powder from a higher-end collection that blends well with your foundation instead of a cheaper alternative.
Another thing you might struggle with while using highlighter is where exactly to apply it. It can be tough to figure out where it goes. Above your cheekbones, the bridge of your nose, the inner corners of your eyes, and on your cupid's bow are great places to start (via Loreal Paris USA). If there's a feature you don't love, though, or you have enlarged pores or a blemish in the area, you should skip highlighting it. 
Although it can seem intimidating at first, you will find yourself highlighting your face like a pro with a bit of practice.