What The COVID-19 Vaccine Can Do For Pregnant Women And Their Newborns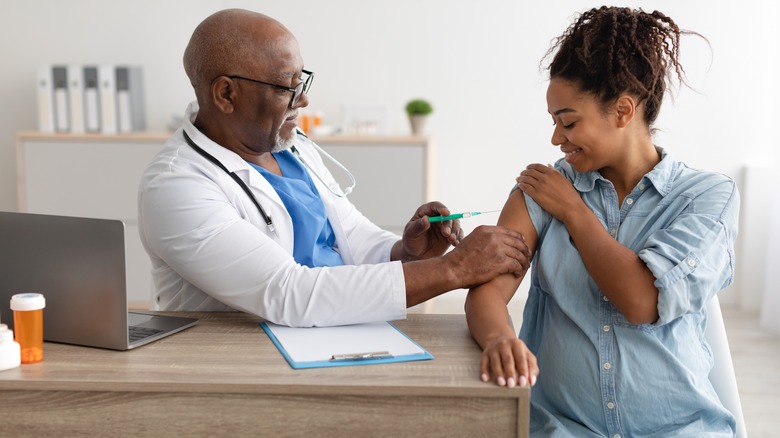 Prostock-studio/Shutterstock
Since the COVID-19 pandemic began, it's been well-documented that pregnancy is a risk factor for having severe complications when the virus is contracted, though not a risk for being more likely to contract the virus.
"The mother's cardiovascular system is taxed during a typical pregnancy," reproductive immunologist Elizabeth Ann L. Enninga, PhD tells Mayo Clinic. "Additional stress, such as SARS-CoV-2 infection, can increase serious complications, including preeclampsia and gestational diabetes."
The Centers for Disease Control (CDC) maintains that in pregnant people, the coronavirus is likely to increase the chances of having preterm labor. It also increases the risk of delivering a stillborn baby. Enninga explains, "The immune system also can overreact, causing excessive inflammation while attempting to prevent infection. Thus, pregnant women with COVID-19 are seen in the intensive care unit (ICU) at risk for preterm birth and cesarean delivery due to severe maternal disease."
Consequently, the best thing you can do to keep your pregnancy and baby healthy is to get the COVID-19 vaccine.
How COVID-19 vaccine boosts and protects both mom and baby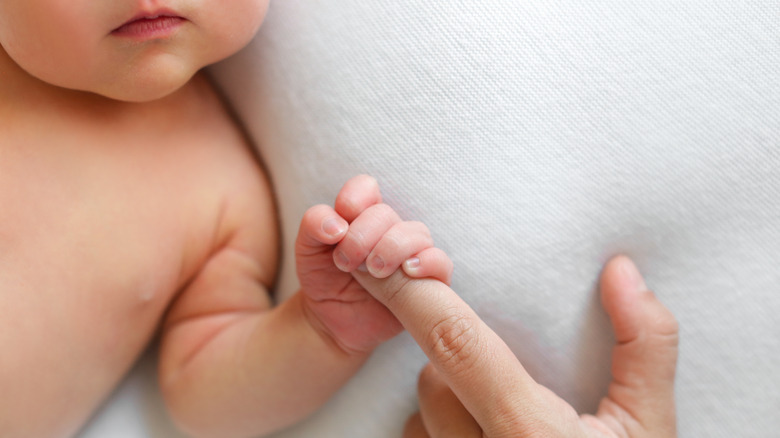 Anastasiia Gridneva/Shutterstock
A study done by Pennsylvania Hospital in Philadelphia found that compared to women who contracted the virus in the past, those who got a double dose of mRNA vaccines had ten times the antibody protection over those who contracted the virus naturally (via The Bradford Era). Furthermore, antibodies were detected just 15 days after receiving the first vaccine dose.
"These findings suggest that COVID-19 vaccination not only provides robust protection for mothers during pregnancy — it also provides higher concentrations of antibodies to babies than COVID-19 infection," explained Dr. Dustin Flannery, the study's lead author and attending neonatologist at Children's Hospital of Philadelphia (via U.S. News & World Report).
Additionally, 95% of newborns who were born to either moms who were vaccinated or moms who already had the virus were found to have antibodies in their cord blood. In babies whose moms were vaccinated, the number of antibodies was ten times higher than the number of babies whose moms had a previous COVID-19 infection.
Senior study author and chief of newborn medicine at Pennsylvania Hospital, Dr. Karen Puopolo says, "Patients should plan to get vaccinated with ample time before their due date, so that they — and their babies — can benefit from a robust immune response."