The Viral Mani That Practically Pops Off The Nails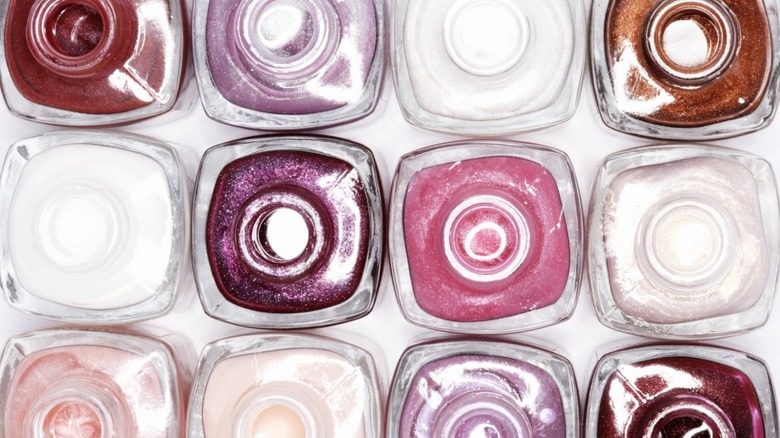 Martin Poole/Getty Images
There's something to be said for going a little old-school when it comes to beauty trends, and the latest viral design taking over your Instagram feed is proof: pop art nails. Inspired by the retro art movement of the same name, pop art nails bring to mind the work of at least two famous artists, Roy Lichtenstein and Andy Warhol, notes NailPro. 
You'll also find the design labeled as comic-book or cartoon nails, says Scratch nail magazine, as the detailed artwork is also reminiscent of something you might have seen in an Archie comic or while watching "SpongeBob SquarePants."
Whatever term you use to describe the nail art, the result is the same: a multi-dimensional looking design that seems to "pop" off the nail in a vibrant style. It's a customizable look, too, which is one of the reasons the design is trending, shares nail artist Elle Gerstein via Allure. "I love how versatile it is, not only with the colors but with the nail shapes being used." The look is also fairly easy to create on your own, as long as you have a steady hand and a small brush.
Create the nail art trend at home
To start, you'll want to pick your basic nail shade. "The comic book look definitely comes to life with a vibrant colour palette," observes Beauty Crew. Apply two coats of your base color and allow to dry completely.
Next, you'll need a small brush, according to nail artist Kelly Scothorn, Mapgie Beauty brand partner, in a pop art nail tutorial on Scratch nail magazine. "Using a striper or detailer brush, apply black ... around the outside edges of the nail," Scothorn suggests. Let this dry completely, too.
Finally, you'll want to add the dimensional highlights that really make the look come alive, using the detail brush. "You can add dashes, exclamation points, and commas," suggests nail artist Elle Gerstein via Allure. Nail artist Damisa Ramdin shared with Brit + Co., "The highlights should go where the natural light hits the nail — it is meant to resemble an animated highlight." You can use white, black or other color for the details, or a combination of any of these hues. All you have to do is open up Instagram for a whole lot of inspiration!
The popularity of pop art nails
The pop art nail trend is all over Instagram, and NailPro revealed one of the first to post was nail artist Paris, who captioned the look, "They don't look!! THEY ARE!" With hundreds of thousands of likes, one of her followers correctly commented, "You just may have started a new trend."
As various nail artists put their own spin on the pop-art, comic-book, cartoon nail trend, more fans of the look emerged on Instagram. "They're so true to pop art they don't look real," remarked an admirer on Instagram, while another on the same post shared the popular opinion, "I'm in love w/these cartoonish nails."
Others pointed out how the black outline and highlights make the nail design really pop, sometimes in an unbelievable way. "LMAO questioning what's real in life," wrote one fan on Instagram. Another remarked, "These are amazing! They play tricks on your eyes that's for sure."