Is A Powder Cleanser Right For You?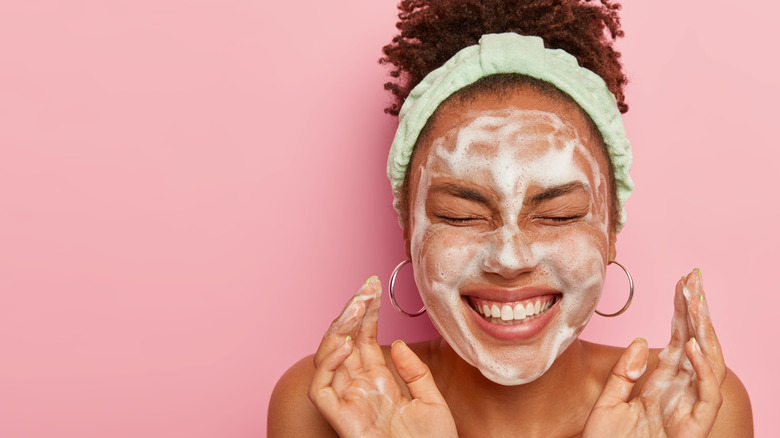 Cast Of Thousands/Shutterstock
We may receive a commission on purchases made from links.
There are so many factors to consider when picking out the right face cleanser for your skin type. Will the ingredients break you out? Will the cleanser strip the skin or make you oily? Many shoppers keep these questions in mind while on the hunt for a new product to add to their routine. After researching and researching, they may settle on one that they end up having a reaction to or one that doesn't cleanse their face properly.
Some of these concerns may be addressed by switching to powder cleansers instead. According to L'Oréal Paris, most powder cleansers have a fine, smooth texture. However, many brands create their powder cleansers differently, so some exfoliating cleansers may be a bit rougher. The powder cleanser can have a creamy, foamy, or paste-like consistency when water is added. Simply place a bit in your hand, turn on the faucet, and mix to your heart's desire.
Depending on whatever skin issue you want to target, you can add as little water as you want, creating as dense or as loose of a cleanser as you prefer. As an added bonus, powder cleansers are also travel friendly: You won't have to worry about TSA limits or your favorite clothes being covered in a liquid cleanser.
Should you try a powder cleanser?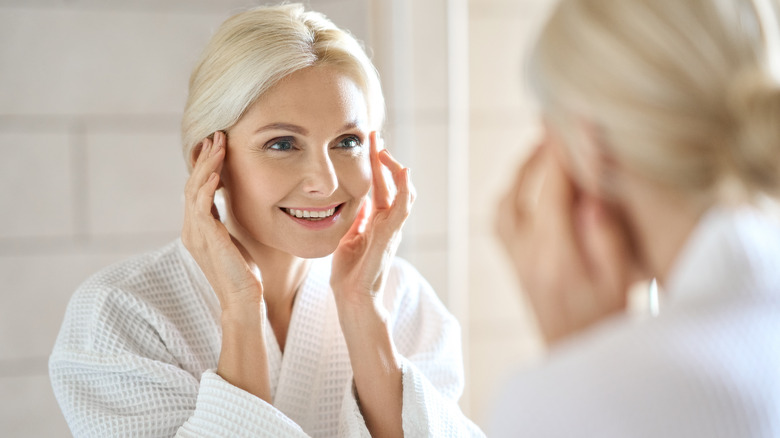 Ground Picture/Shutterstock
Due to the fine granules that exfoliate the skin in powder cleansers, they are suitable for people that have an oily or combination skin type (via Elle). Exfoliation, both physical and chemical, helps to reduce excess oil production in the skin by getting rid of dead skin cells and sebum that build up and increase the amount of oil on our face.
If you have dry or sensitive skin, it's still possible to try a powder cleanser, particularly if it's explicitly created for your skin type. For dryer skin, choosing a cleanser with hydrating ingredients such as aloe vera will help to keep the skin moisturized. Refinery 29 recommends adding an oil cleanser, along with water, for a more moisturizing wash.
Powder cleansers can work especially well with sensitive skin thanks to the level of control the user has over the product. You can add a lot more water to the powder to give you a gentle cleanse. Plus, since many powder cleansers double as an exfoliation method, you can skin harsh physical and chemical exfoliants that may cause adverse skin reactions.
The best powder cleanser for your skin type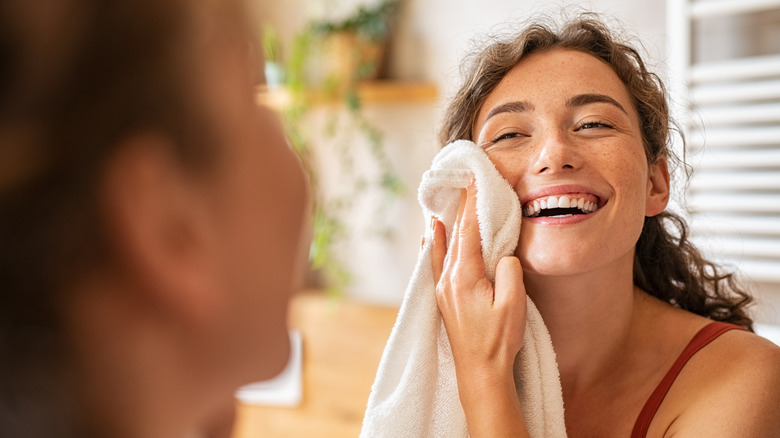 Rido/Shutterstock
For dry skin, try the Selenderm Facial Cleansing Enzyme Powder. Formulated with extracts such as aloe vera leaf powder and licorice extract, this cleanser provides a powerful clean while hydrating the skin. The acid ingredients are mild, helping to cleanse the skin without irritating it.
For oily and combination skin, pick up the DHC Face Wash Powder. When mixed with water, the powder creates a gentle, foaming lather, washing away dirt and excess oil. While honey helps to hydrate the skin, lavender and licorice extract work to calm it. The cleanser also contains protease enzymes, which gently exfoliate the skin, revealing a smoother and brighter complexion.
Those with sensitive skin should try the Dr. Oracle Snow Queen Enzyme Powder Wash. Using fruit enzymes such as papaya and pineapple, this powder wash provides a gentle cleanse and encourages skin cell turnover. It's also free of harsh chemicals such as sodium lauryl and laureth sulfates, so your skin won't be irritated.
People with acne-prone skin should use the Josie Maran Argan Exfoliating Cleansing Powder. The salicylic acid in the cleanser works to get rid of and prevent any pesky pimples that may come your way. While crushed argan shells help to exfoliate dull, dead skin, the rice powder gently brightens skin, reducing the appearance of uneven skin and age spots.