The NARS Mascara You Need To Try For Dramatic Eyelashes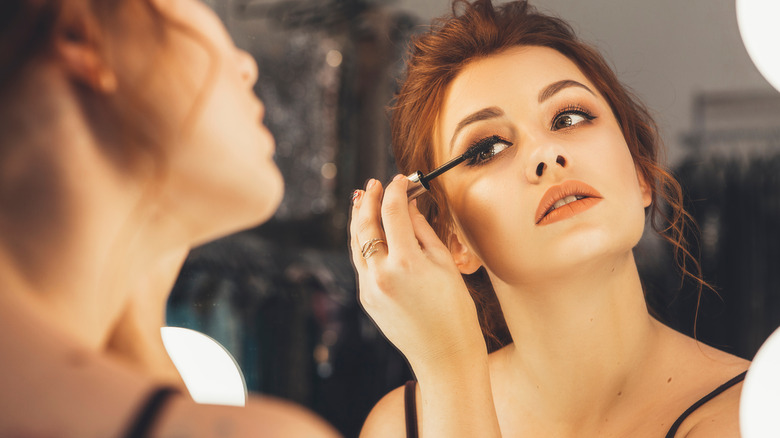 Anna Demianenko/Shutterstock
If you were stuck on a deserted island and could only have one makeup product with you, what would it be? Chances are that many people would say mascara. In fact, according to Statistica, over 106 million people in the United States wore mascara in 2022 alone. A genuine fan-favorite makeup product, mascara continues to rise in popularity, and the trend is only expected to increase within the next few years.
Whether you wear a subtle amount of mascara to accentuate your naturally long lashes or coat several layers to create a dramatic look, there is a mascara formula for everyone. And if you're obsessed with dramatic lashes, run, don't walk, because NARS has a mascara especially for you.
NARS, the makeup brand responsible for best-selling makeup products adored by celebrities like Taylor Swift and Gigi Hadid, has a significant cult following in the beauty community (via Refinery29). Known primarily for its naughty, NSFW product names, NARS released a new scandalously-named mascara that's said to achieve maximum volume.
NARS' Climax Mascara is the volumizing mascara you need in your life
Many people love the look of a dramatic lash, and that's easily achieved through lash extensions and strip lashes. But, what if you wanted to get thicker lashes without false lashes? Introducing NARS' Climax Mascara, a product that "goes all the way — from roots to tips and back again — for buildable intensity without clumping or smudging," according to NARS. The bristles on the thick mascara wand are ribbed, which helps it reach every lash in one simple coating. However, it doesn't stop there. This mascara is said to not only thicken and elongate the lashes but curl them, too (via Glamour).
NARS' Climax Mascara earned rave reviews from five beauty editors at Byrdie, who had the chance to try it out before anyone else. Amy Lawrenson, U.K. Editorial Director at Byrdie, had nothing but praise for this mascara in her exclusive rundown. "If standout lashes are your thing, then Climax should most definitely be the next mascara you buy. You won't be disappointed — I promise," Lawrenson said. What's more, over 3,000 customers gave the mascara five stars on the NARS website, with many calling the product "amazing," "perfect," and "excellent."
How to apply Nars' Climax Mascara
Applying NARS Climax Mascara is similar to the way you would use any other standard mascara product. Many prefer to begin their eyelash routine by curling the lashes with an eyelash curler. If you don't have one on hand, don't worry — there are ways to curl your lashes without an eyelash curler. You may wonder if you can go in with your eyelash curler after the mascara has already been applied, but that's a big no-no. Doing so can cause eyelash breakage, according to SELF.
Once your lashes are curled, grab your Climax Mascara, look up at the sky, and coat your lashes from the base of your lash line to the tip of your lashes. Give the eyelash wand a little wiggle as you go so that each lash gets fully coated. You could stop there with one full coat, or go in with one or two more for added fullness. Be careful not to overdo it, though, or you risk flaky, mascara-saturated lashes (via Today). Don't forget to give some love to those bottom lashes, as well. By the end, you'll know precisely why the mascara was appropriately named "Climax."